End of July already!
Once again a busy month.
We didn't have many fire call outs, as you would expect in winter.  One to a fire in the wheel of a truck that had already been put out by the efficient driver by the time we got there.  Stand down!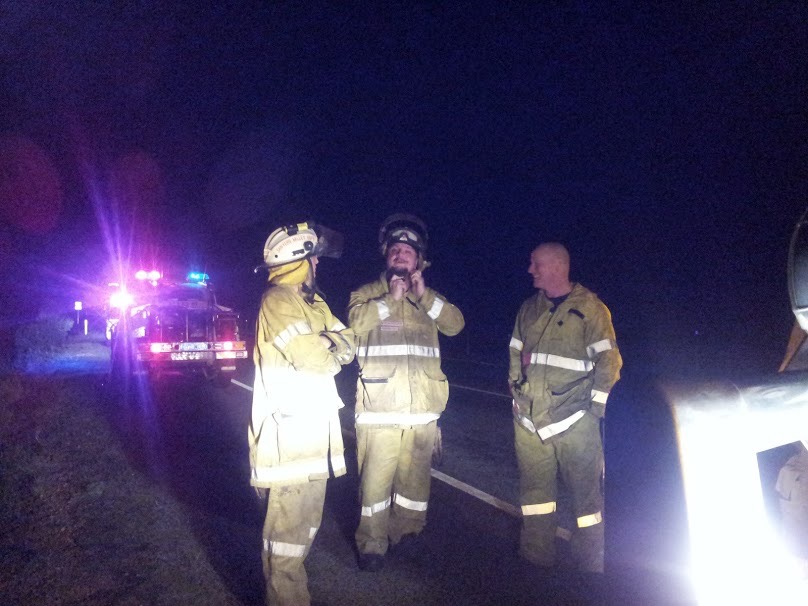 The other call was to a pile of rubbish that had got alight somehow and was soon put out by the attending brigades.  The 1.4 came home with some oranges in the back after a trip through an orchard for that one!  They were delicious.  :D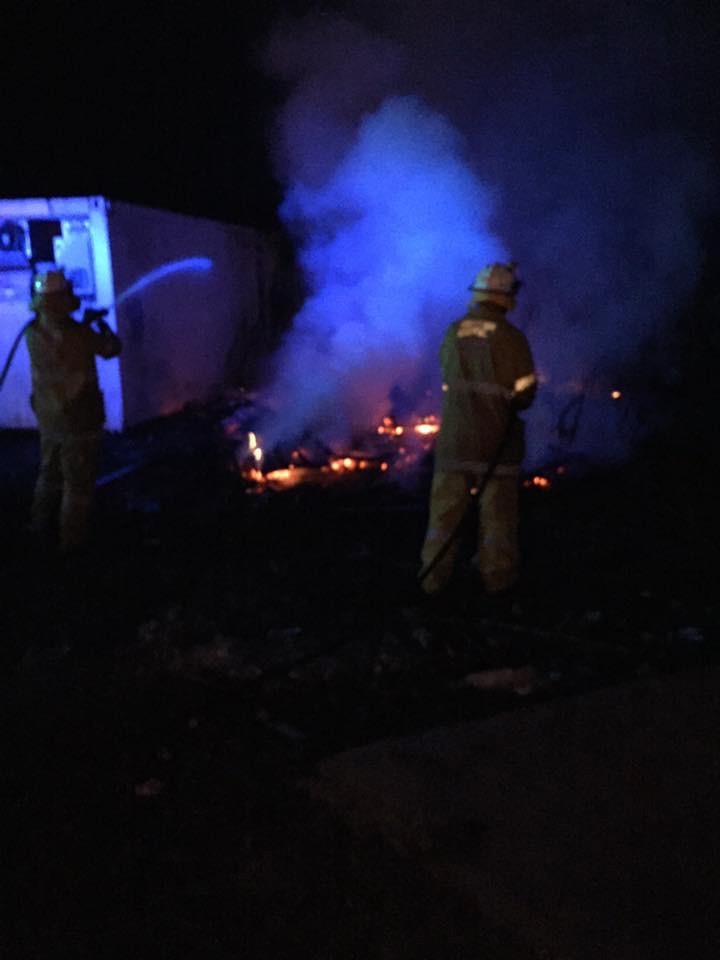 On election day, we went to the local primary school, our polling place, to do some chatting about fire preparation and some recruiting.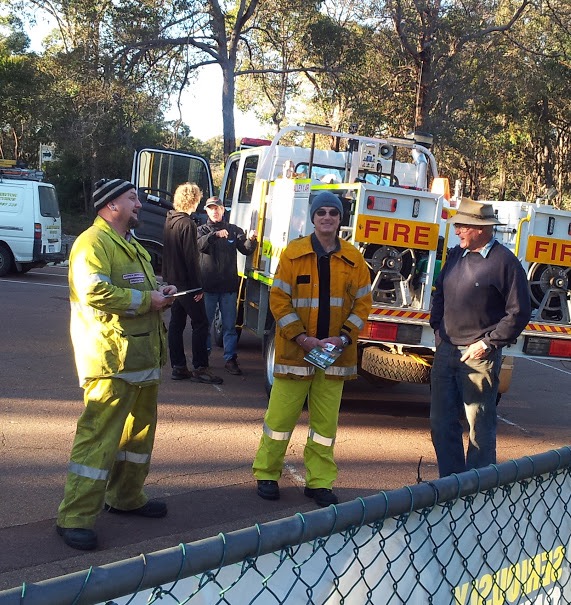 And we also held a very successful wood raffle at Mundaring Markets. More money towards our automatic hose reel!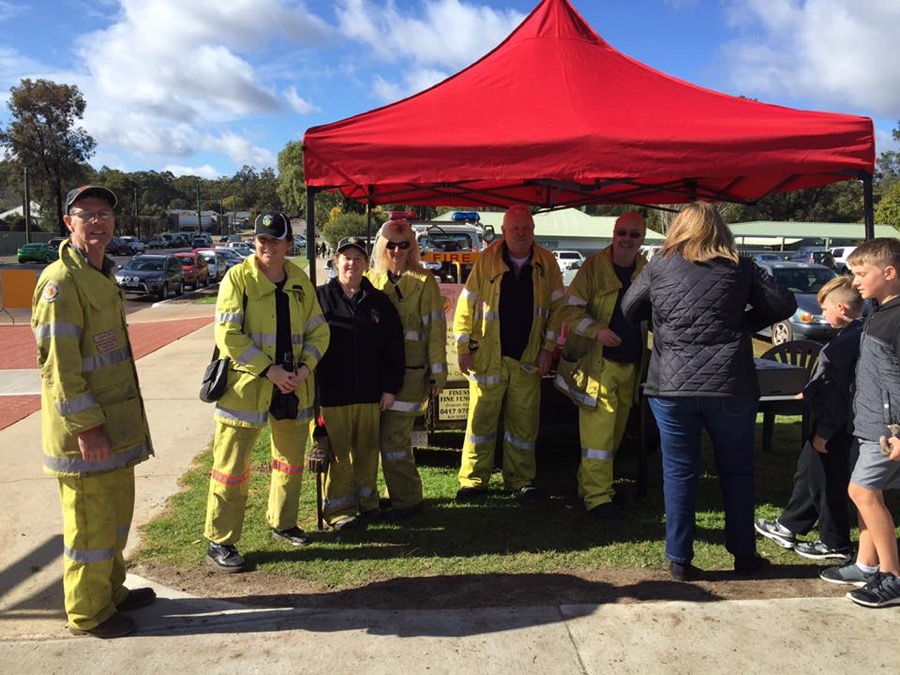 The instigation in Mundaring Shire this year of skills refresher forms for all active members has seen the trainers of the Brigade rise to meet the challenge. We have already got some people signed off, though of course we plan on refreshing these very important skills through the off-season ready to hit the fire-ground running next summer.
Drafting water from lakes and dams has been a good skill to refresh.  We don't often need to draft here because our area has plenty of hydrants, but it is a skill that you really need when you need it.
Here's Captain John showing us how not to get the drafting started. :)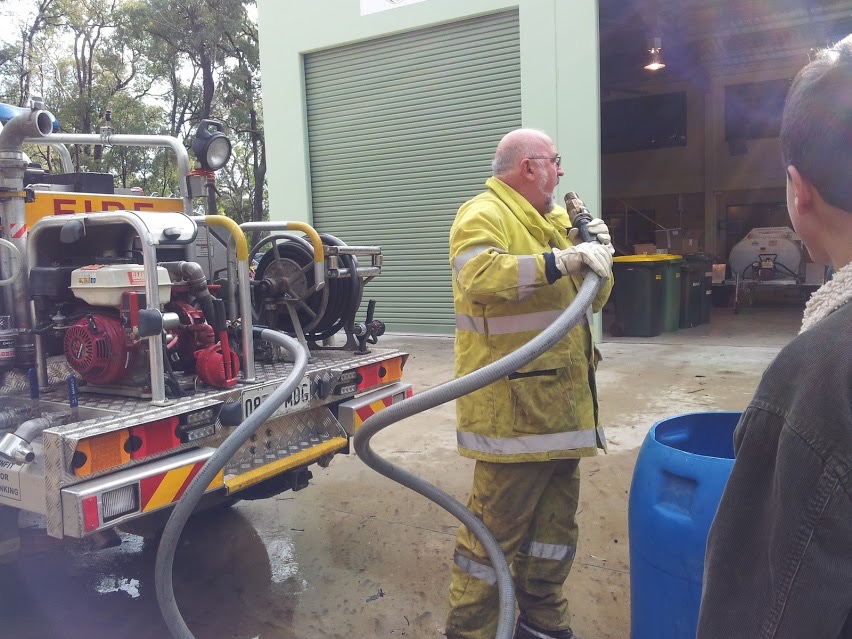 And how to do it properly!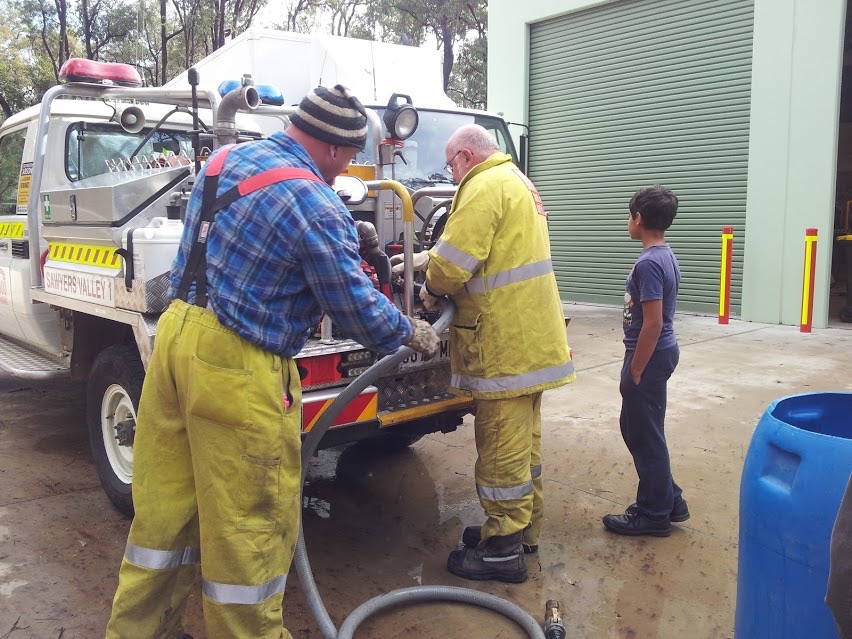 The next weekend, Keith took over the training of the attending team to great interest from all concerned.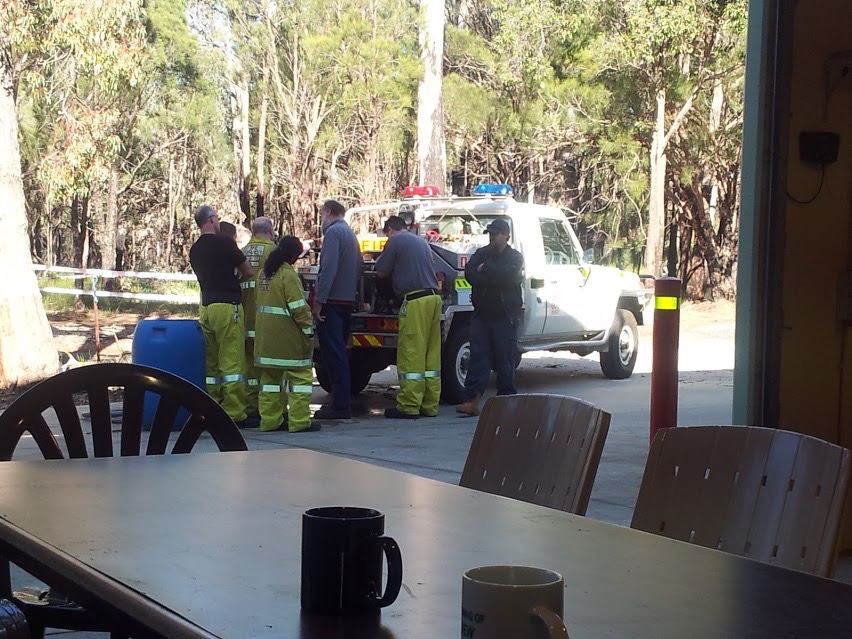 We had some exciting news that our 1st. Lt. Angus Hay has been shortlisted for the Murray Lang Bushire Service Award.  Angus is a hardworking member of our Brigade, always available to turn his hand to anything that needs doing, and a patient teacher of new recruits on and off the fireground.  On the very last Saturday of this month, a team will be coming to film our station as part of the award. How exciting!  Good luck Angus!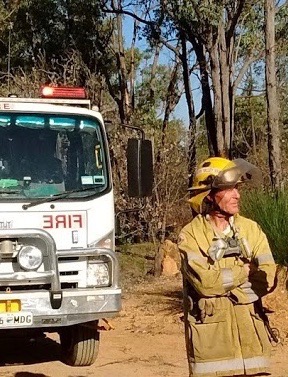 There are many hard working members of our Brigade.  Award nomination possiblities come up at times, so keep alert and if you admire a member of the Brigade and think they need recognition, get writing!  Right now there is one for Volunteers of long standing via the 2016 Volunteer Service Awards.  Is there anyone you know who could fit the bill?  If you don't write about them, maybe no one else will ever know how great they are.    
Last week, Jen and Steffo opened their home to the members of the rather informal fundraising crew.  Some great ideas were had, and some very nice wine and nibblies were consumed.   More on our plans soon, but in the meantime, a hint; start boning up on your trivia knowledge!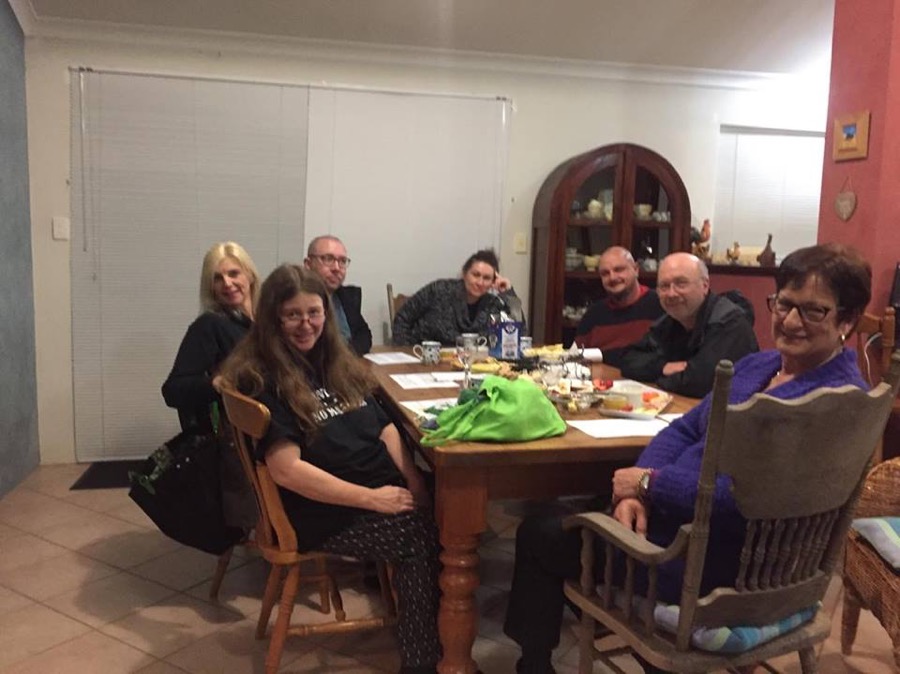 Our station has had work begun on a paved entrance.  No more bumpy turnouts!  Good work, construction team!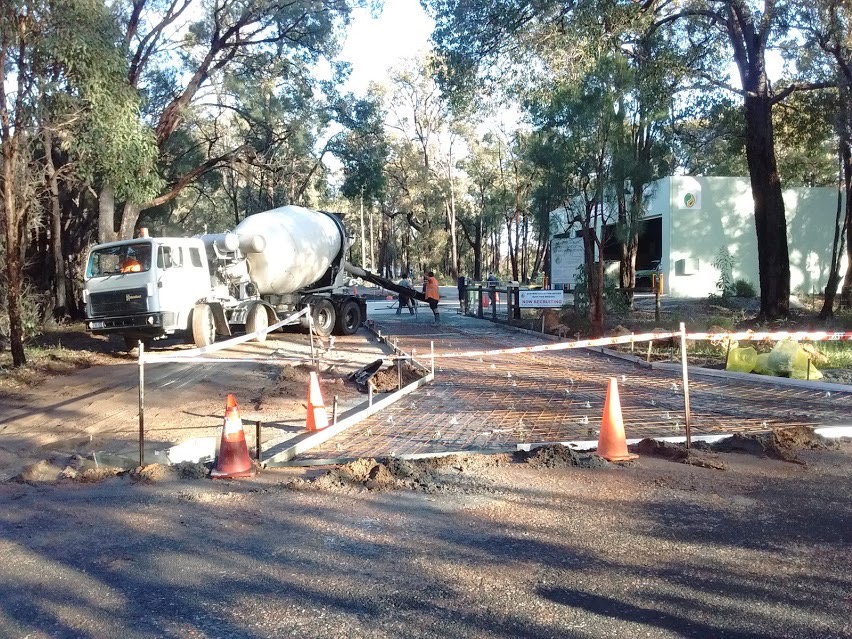 The other Saturday, all six of the currently-active lady Firefighters were at the station so we just had to get a photo.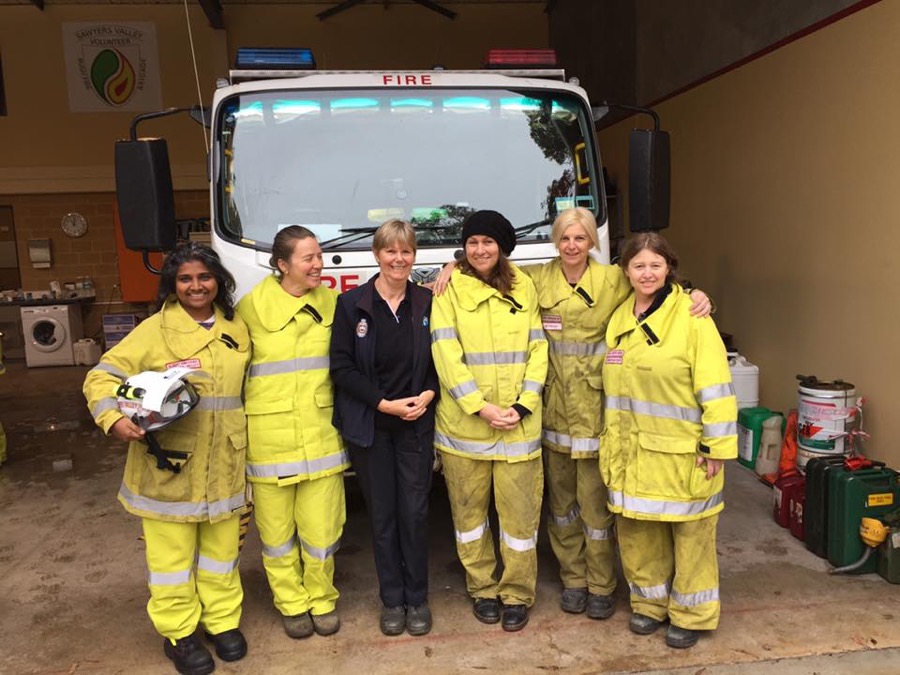 That was a very busy morning, but then they all seem to be busy these days.  We're loving all the good energy buzzing around on Saturday mornings.  Keep up the enthusiasm, team!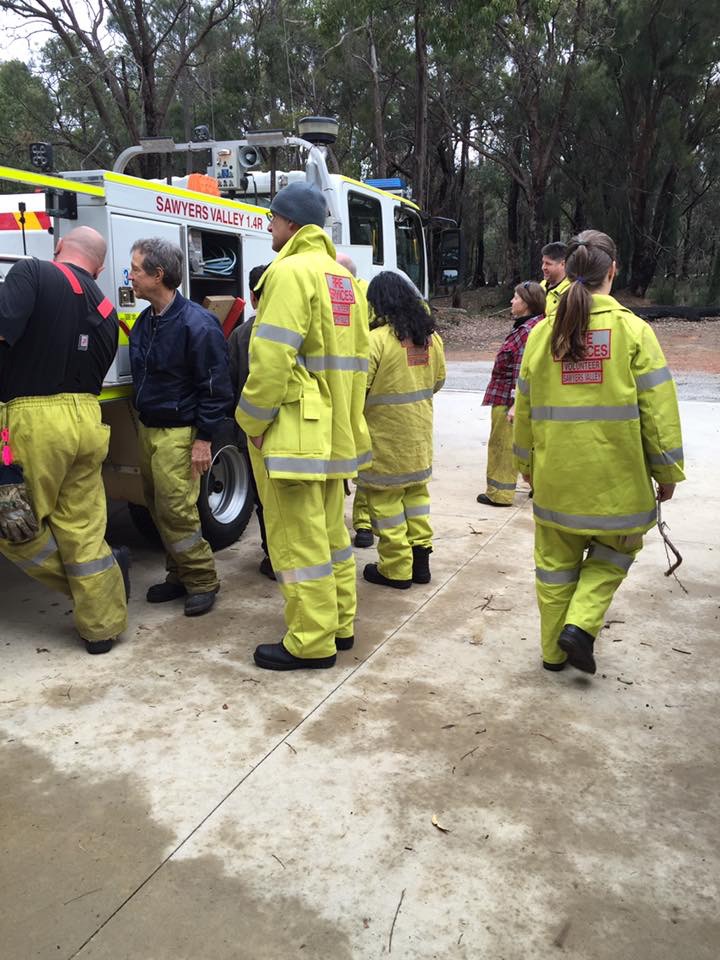 Socialising is going well too, with a jolly and well-attended bonfire night.  That's one fire we didn't have to hurry to put out!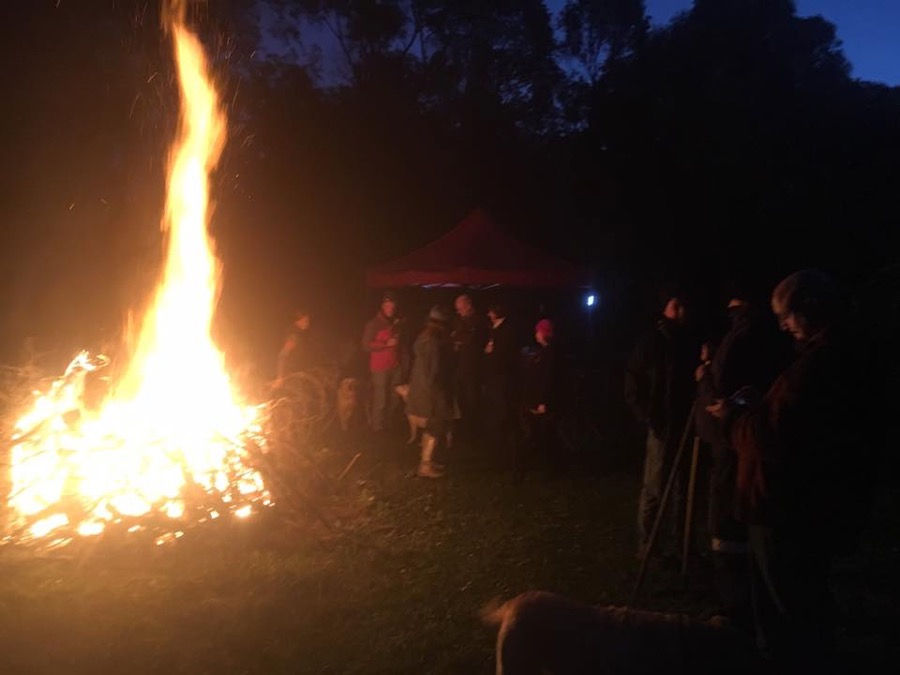 Next month we are hoping to get a few music lovers together to go to the local Mundaring Folk and Blues club.  Members, keep your eyes on the Brigade email for that!
A warm welcome to Phil and Janet, who have joined the Brigade.  We and your community very much appreciate your offer to do good things for us all.  We are looking forward to getting to know you better.  The bonfire was a great start!   We missed getting a good photo of Janet because she was bending over patting Kelly the Labrador, but here's Phil and Janet chatting to Angus.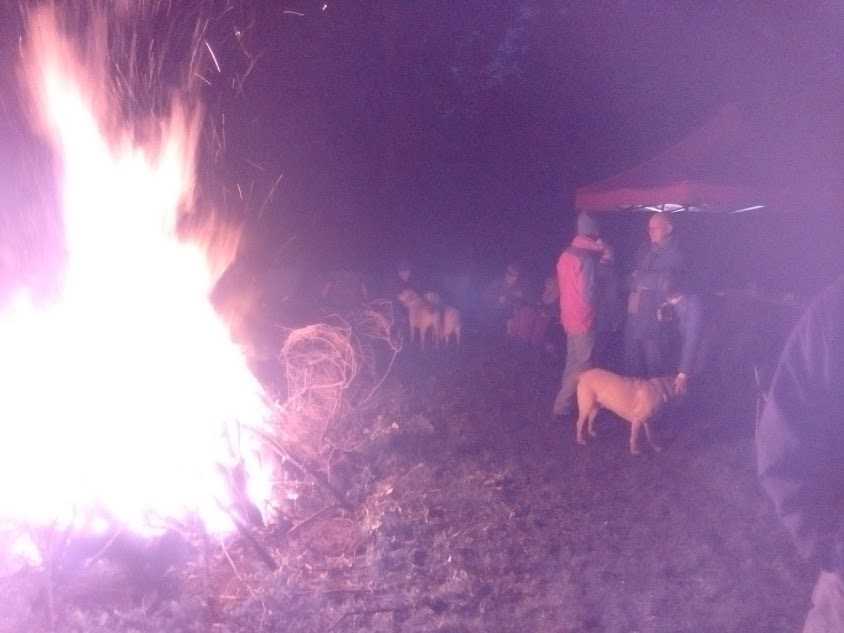 Gee, is this a Fire Brigade or a Labrador Club?  :D
Plenty of good stuff on the horizon for our Brigade, so keep watching this space!         
Great photos this week provided by Andrew, Craig, Nikki, Elton and Tina.  Remember, if you have a good photo, send it to Tina!