November 2018
Fires
As to be expected there were a number of incidents this month, though we do not have photos for all, some of the incidents included a caravan fire, power pole fire  and our regular bushfires.
Power Pole Fire - Sawyers Rd
Sawyers Valley was called out to a report of a bushfire on Sawyers Rd. Earlier residents may have observed a loss or flicker in their power, a common occurrence in the hills with a common cause found at the scene, a possum.
A passersby had extinguished the fire before we arrived, though we would like to caution against such actions, when it comes to fires associated with power poles or in their vicinity. You never know if there are fallen powerlines as a source of the fire that are yet to be detected.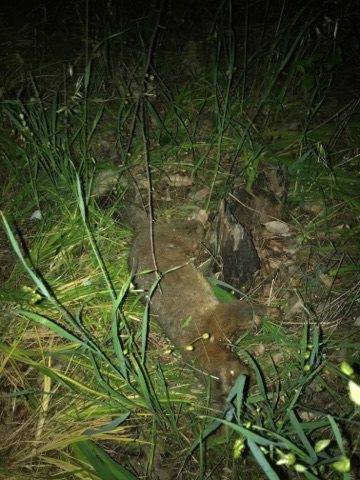 Thank you to the members of the public who slowed down and passed our vehicles with caution.
Mundaring and Bailup Rd Wooroloo - 26/11/18
Sawyers Valley and possibly every brigade in the shire, along with assistance from Gidgegannup for the second fire, were called out to two incidents in the afternoon, one in Mundaring followed by Wooroloo. Here are a few photos of the crews blacking out at the Wooroloo fire which resulted in 8 Ha being burnt.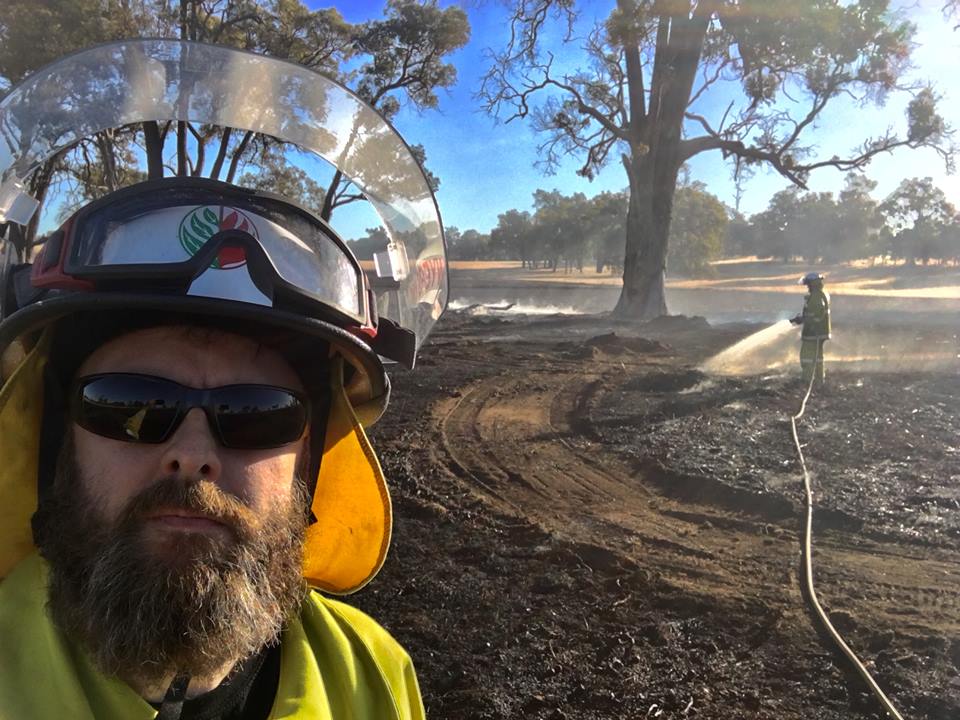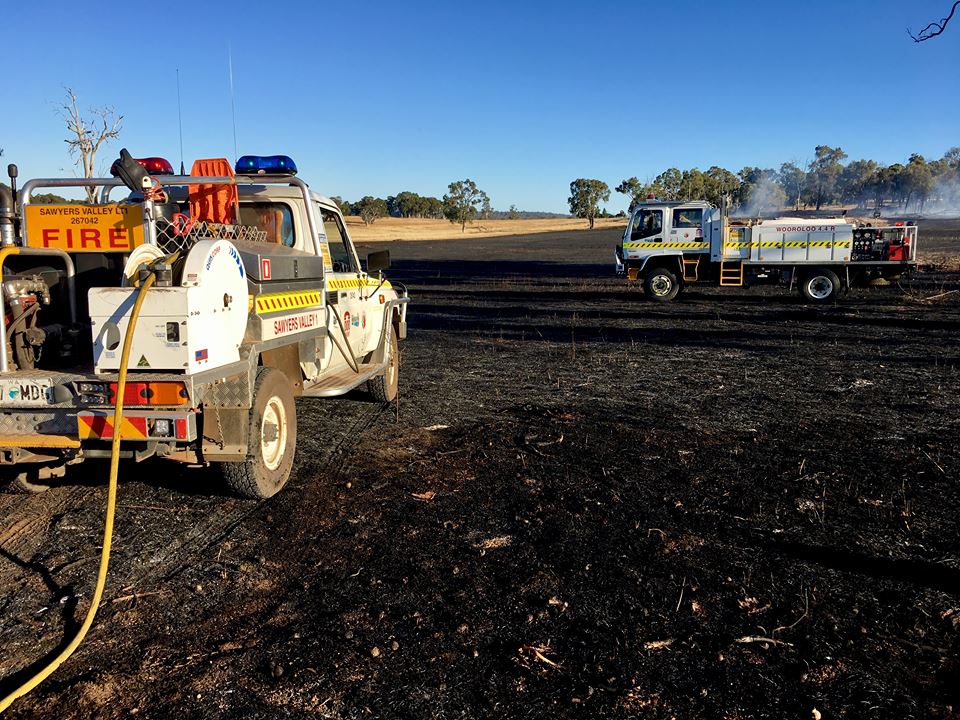 We would like to thank all the volunteers who dropped what they were doing to protect the community, and the employers who supported them by allowing them to leave work to assist at a difficult time in the day.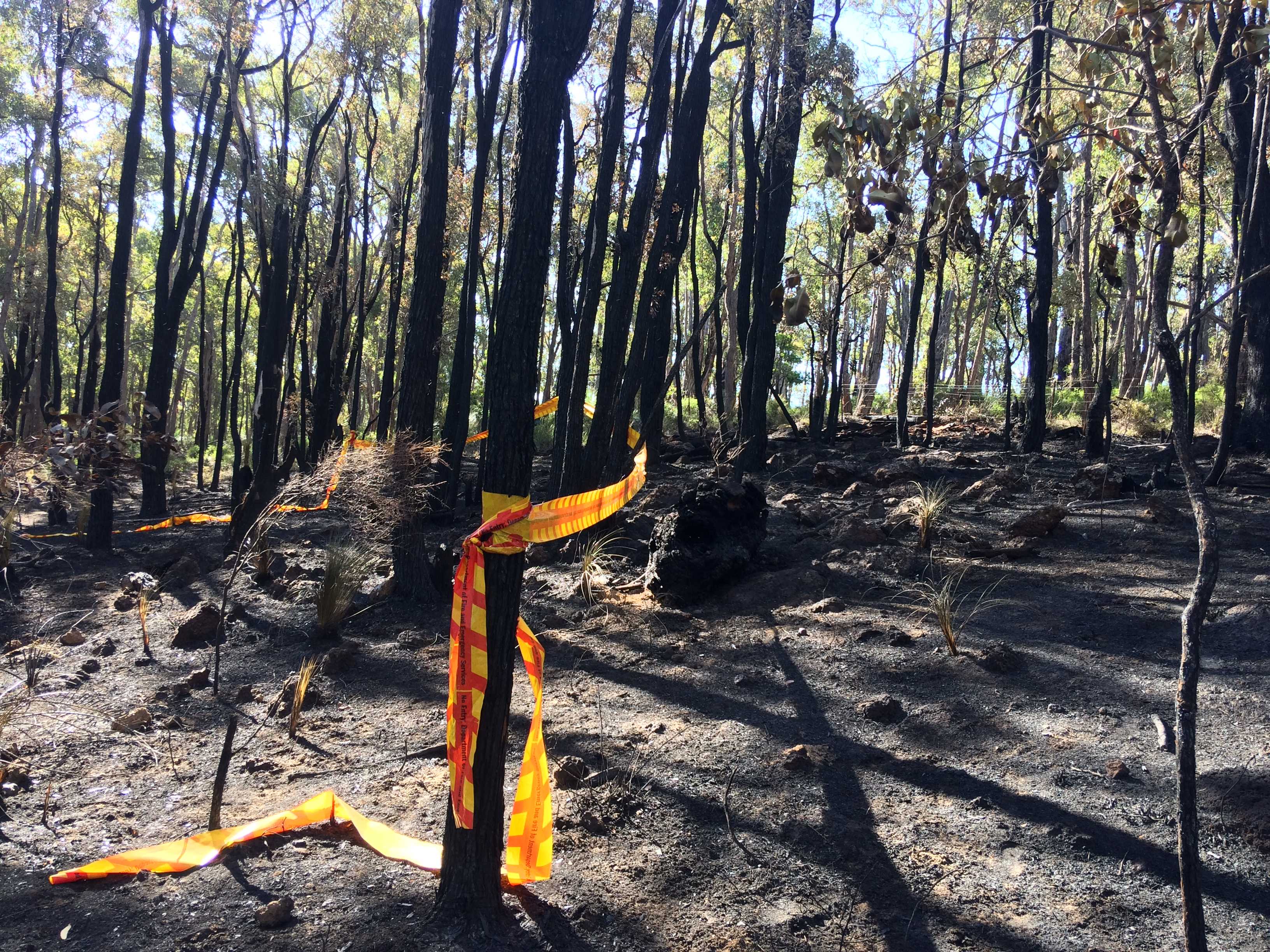 Patrolling the fire in Mundaring the following day, emphasised how important it is to have good firebreaks for emergency vehicle access.  This was definitely a challenge to navigate with ease.
Goslin St Sawyers Valley - 30/11/18
Sawyers Valley was called out to a grass fire on a property, burning uphill with the wind behind it. Amazingly the firebreaks prevented the fire spreading to the surrounding properties along with the swift action of firefighters, though additional internal firebreaks between paddocks and surrounding the home are also a good idea to prevent the damage of buildings and fences.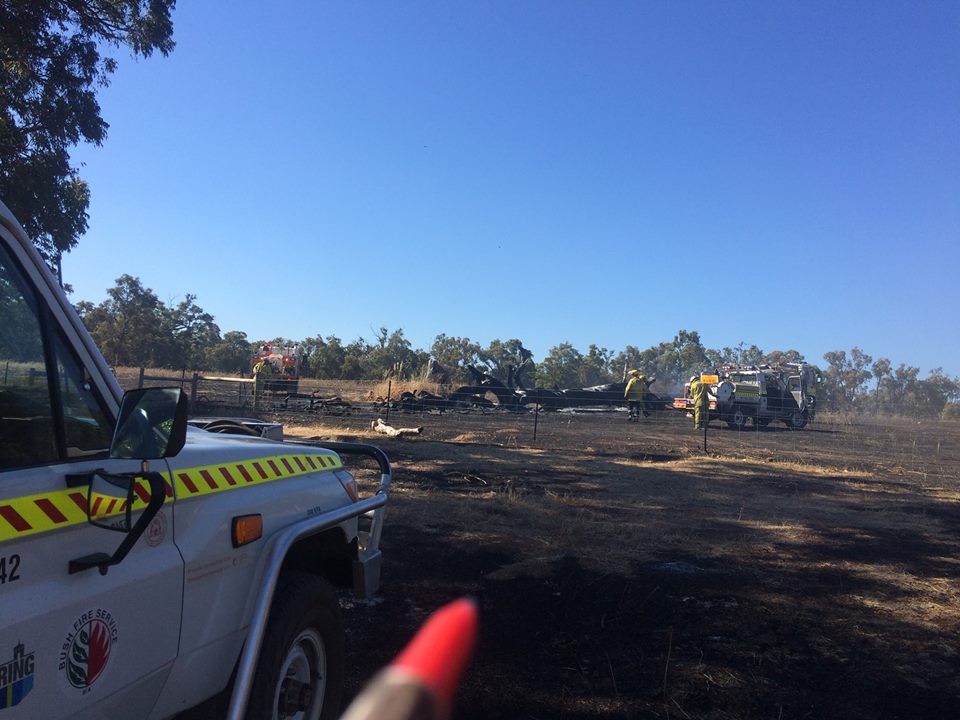 Usually when blacking out we need to roll over logs to fully extinguish, a little challenging when it is more than a few tonne, luckily the bulldozer gave us a hand after putting in extra breaks for containment. Looks a little like the firefighter vs bulldozer.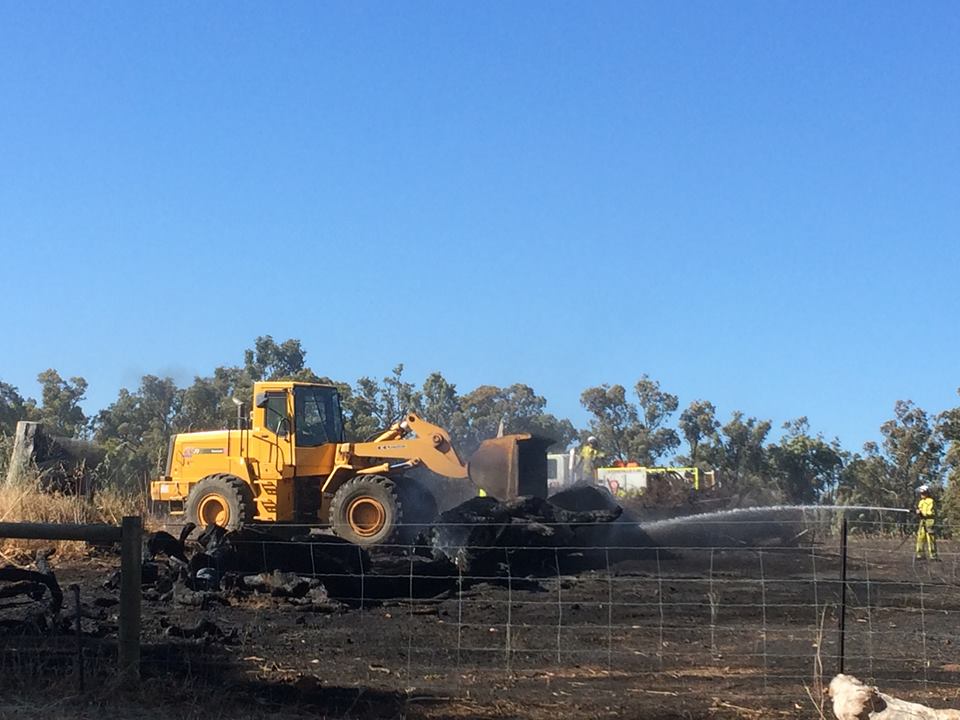 Thank you to the swift assistance by Mt Helena, Stoneville, Mundaring, our deputies and local contractors to successfully contain the fire.
Hazard Reduction Burns
Martin Rd
This burn was completed over 2 different days, which can often be the case.  Looks easy.
Day 1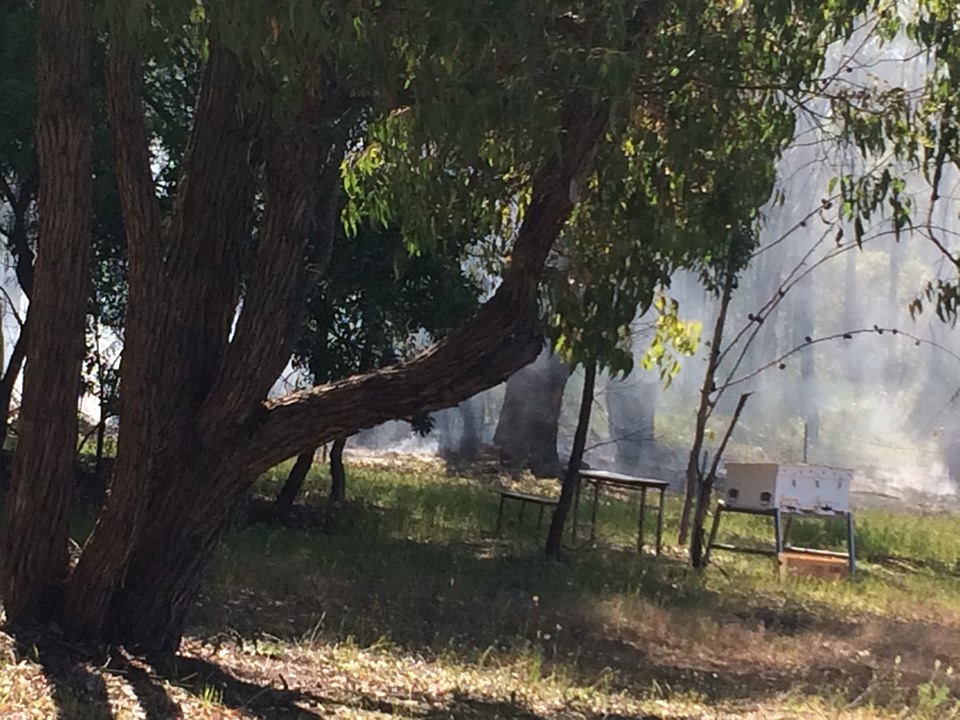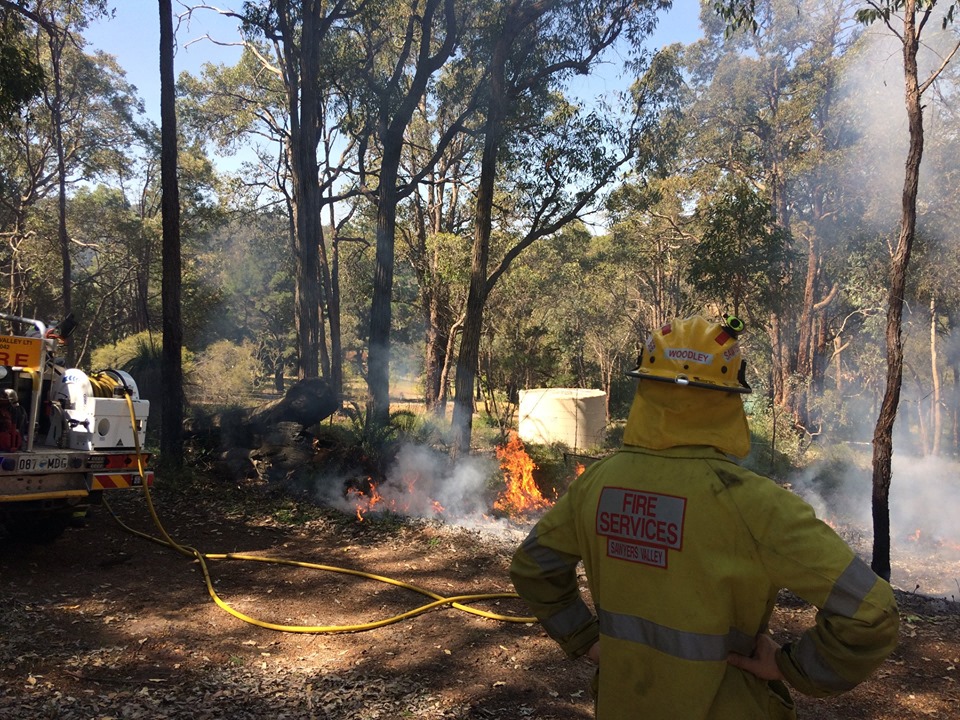 Beehives next to smoke and dressed in yellow, what could go wrong?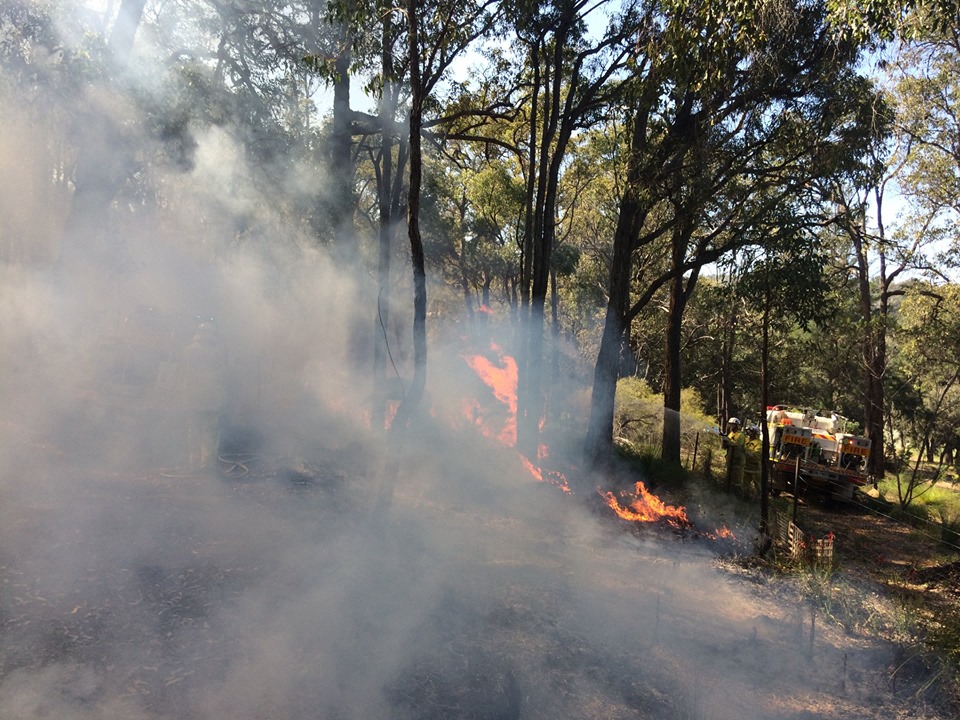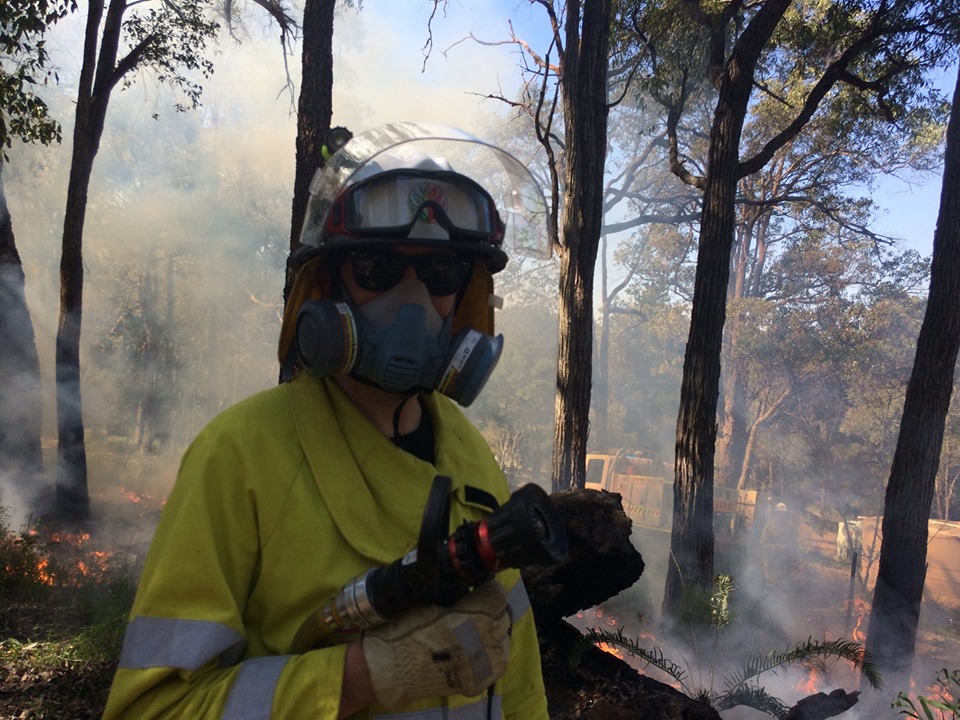 Who is that masked man? That would be Dave.
Day 2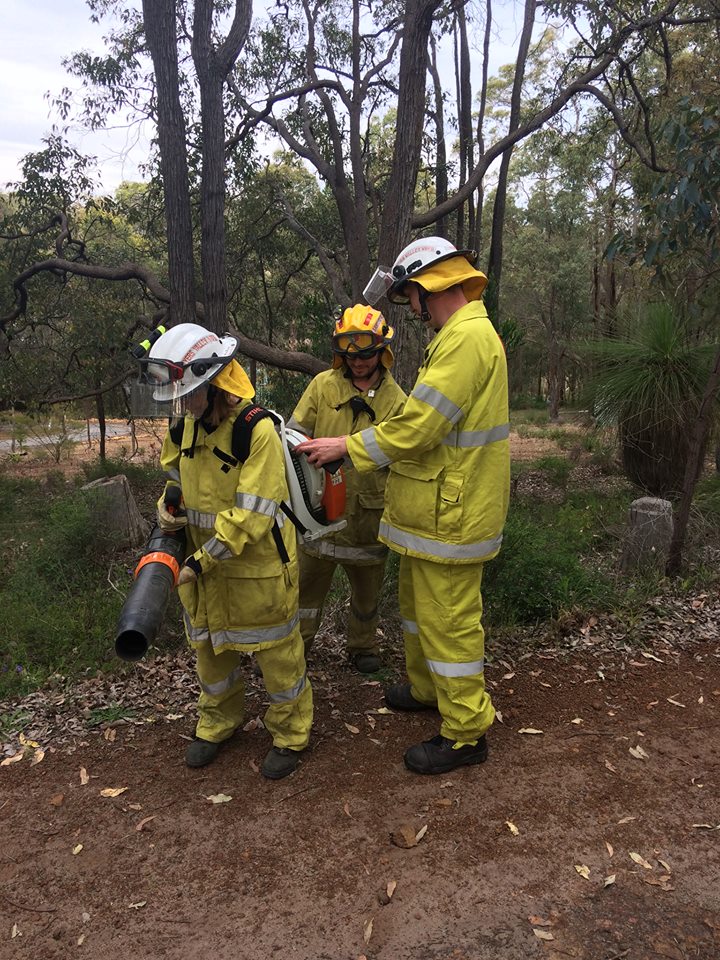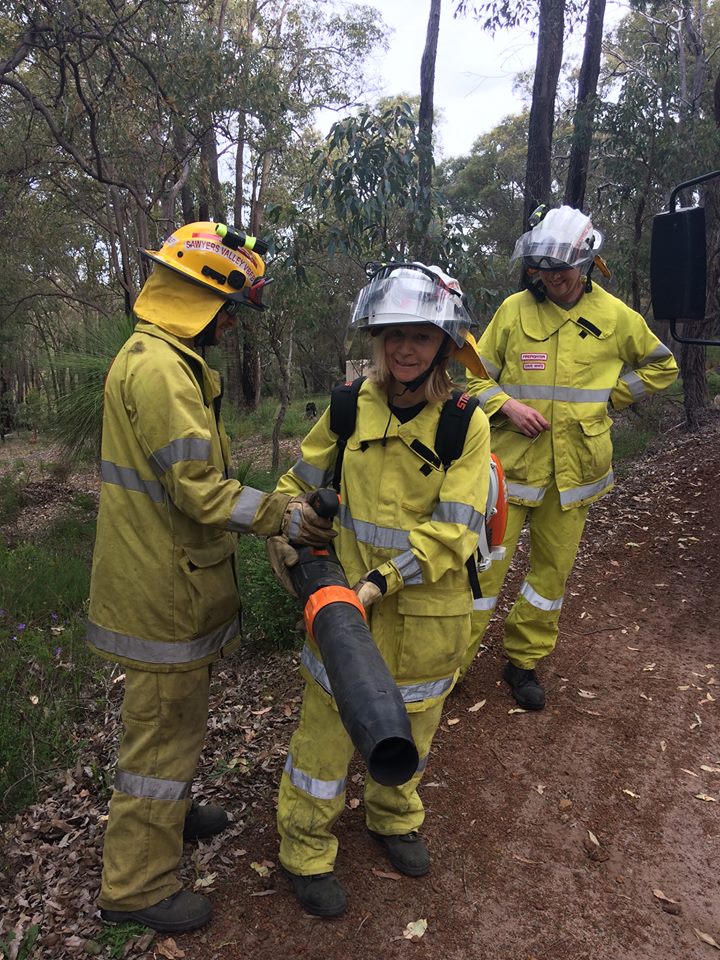 We had a little trouble starting up the blower vac, great tool for clearing debris from the base of trees and fencing.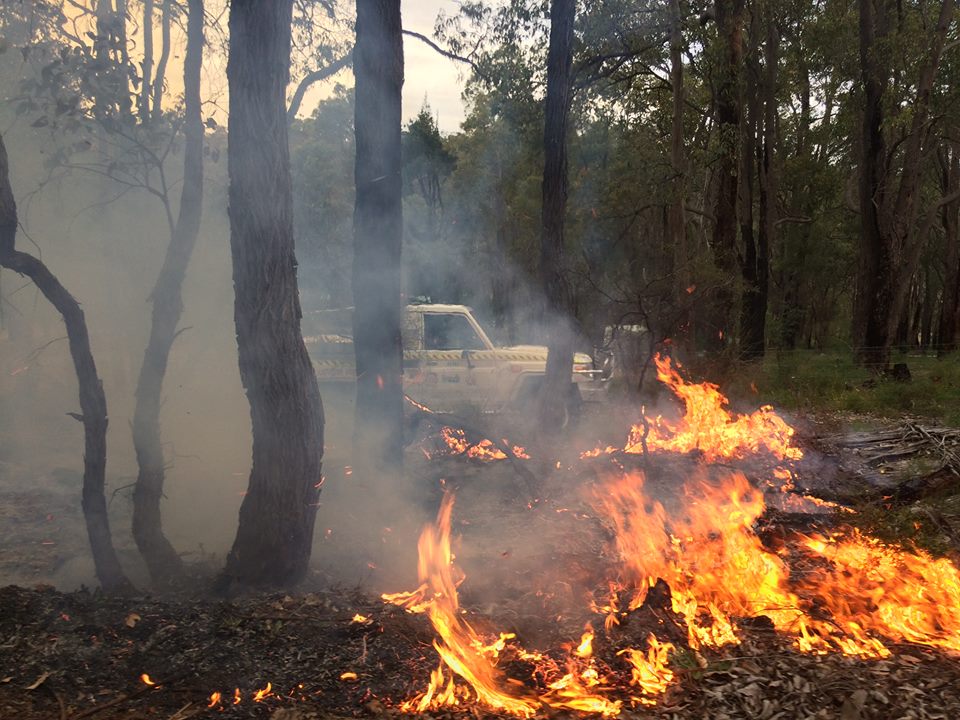 The burn was successful with no hopovers into the nearby forest.
Anthony Pl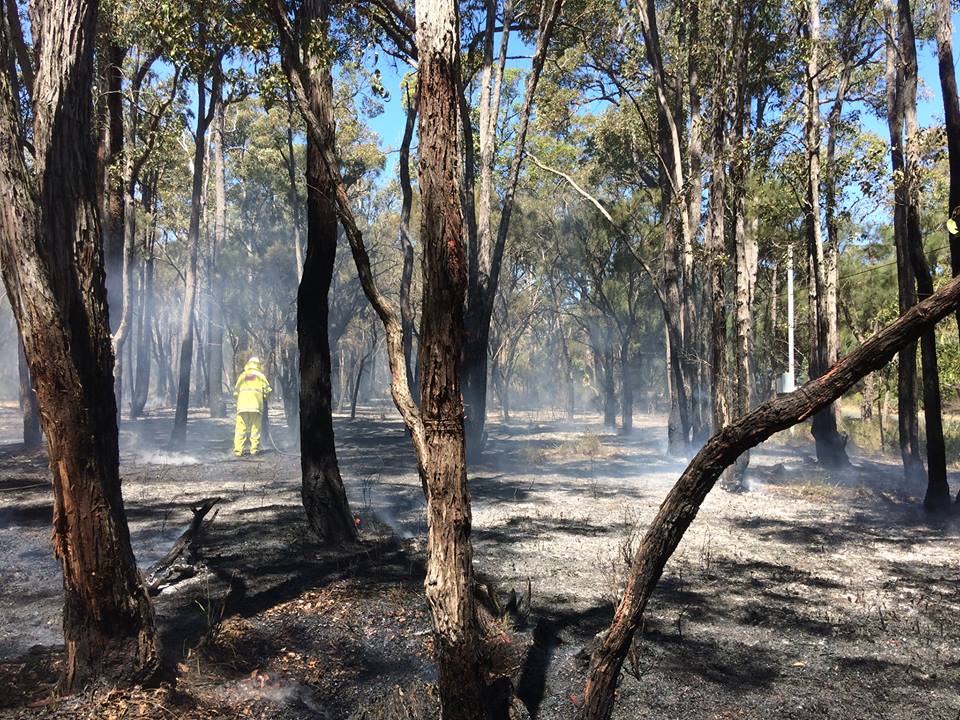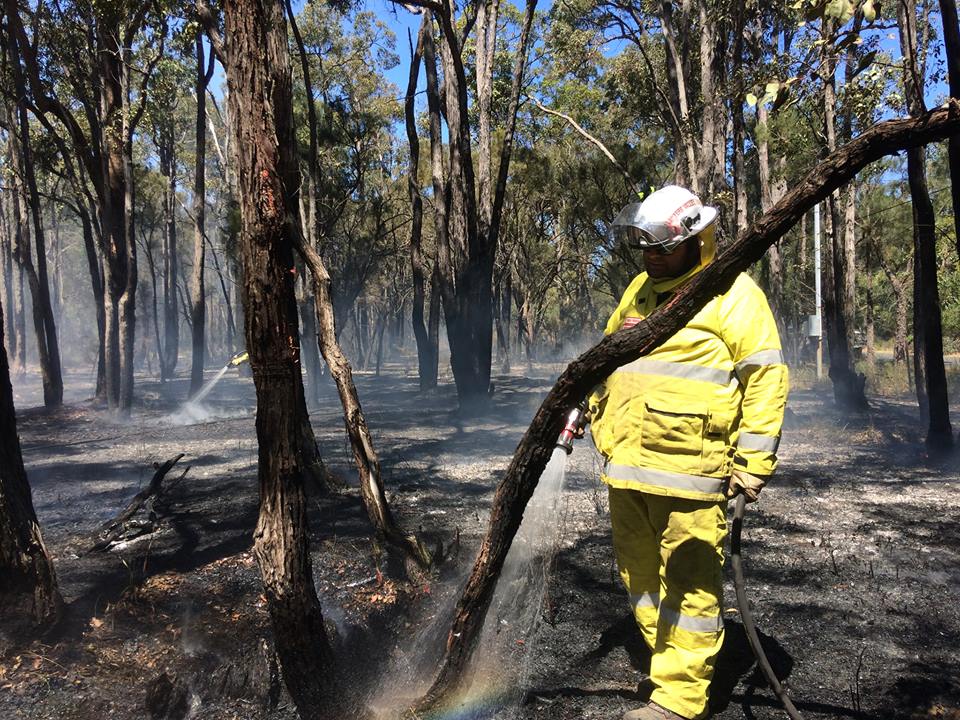 Nick and Ben blacking out after the burn. 
Hopefully the area is a little safer after reducing the fuel load.  A very clever bobtail left the area in great haste at the beginning of the burn, never knew they could run so fast.
Old Sawyers Rd Reserve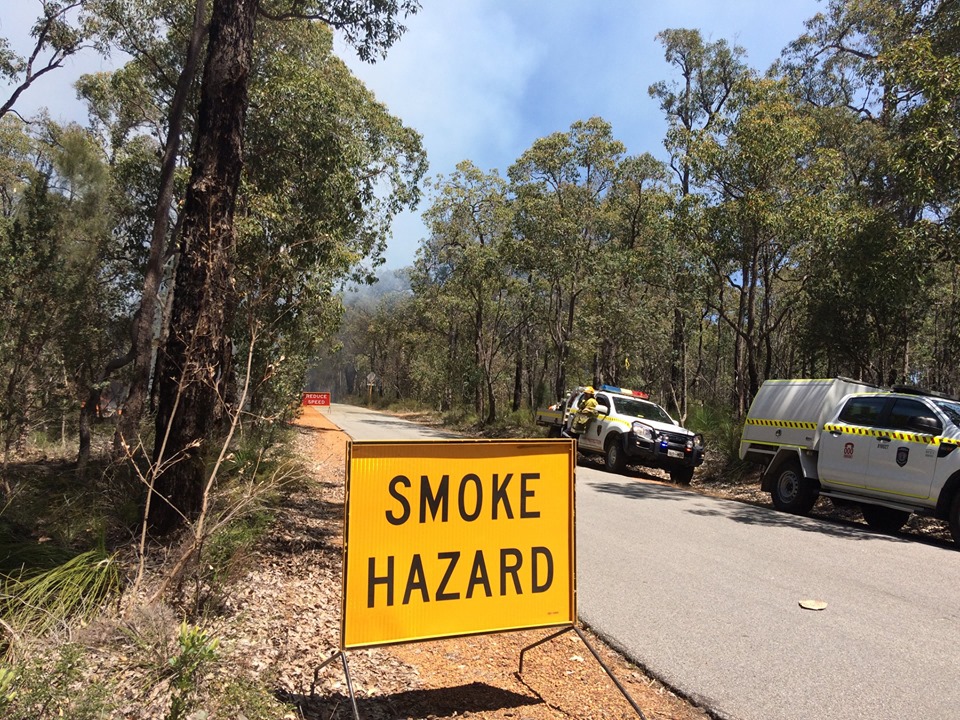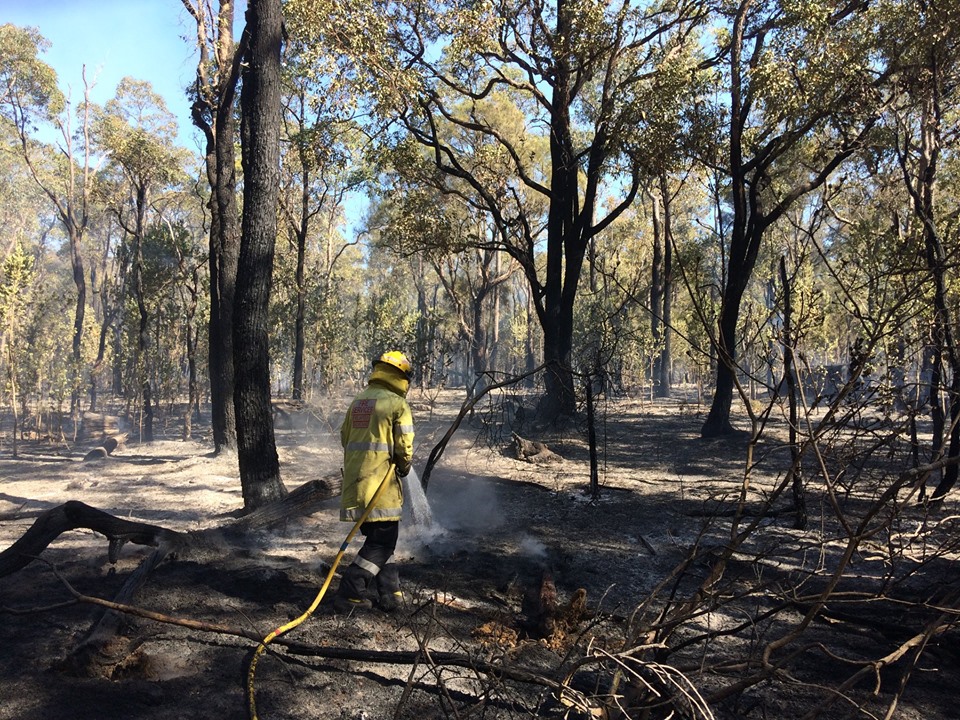 A very warm day to be raking, though Rod from Darling Range made it look easy barely raising a sweat. A interesting burn with the combined efforts of local brigades, DFES and even a truck from the Chittering shire.  An important burn to complete considering the proximity of the school and homes.
Training
The Swan Rural Urban Interface Exercise
Sawyers Valley was deployed as part of a Task Force, assembling at the Swan Emergency Services Facility.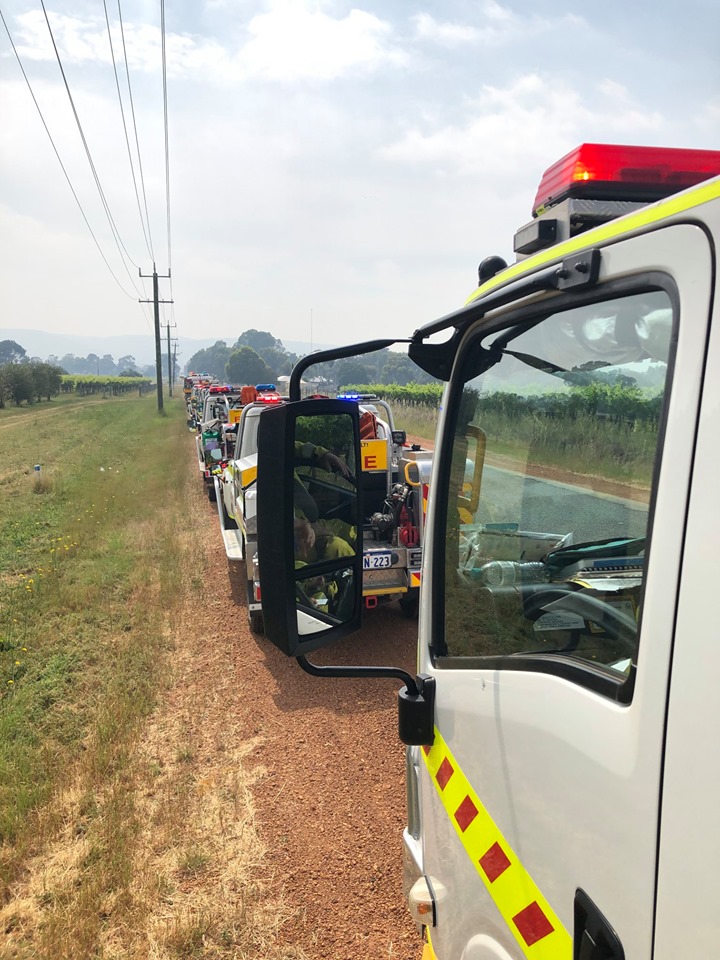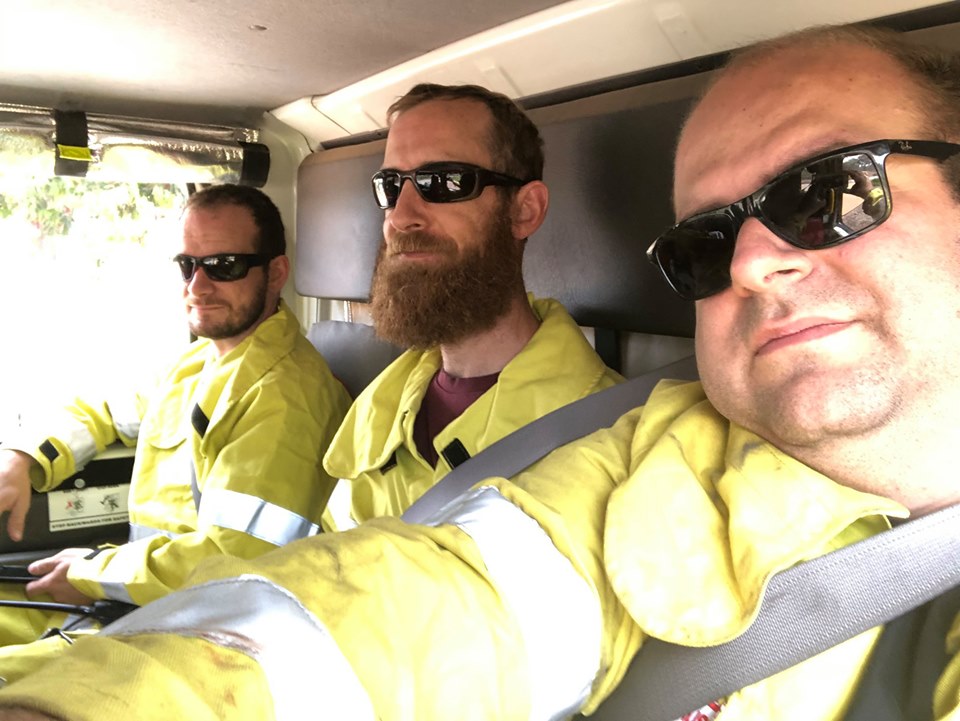 The Yellow Brothers? Adrian, Chad and Ben R.