October was a busy month
5 Minute Fire Chat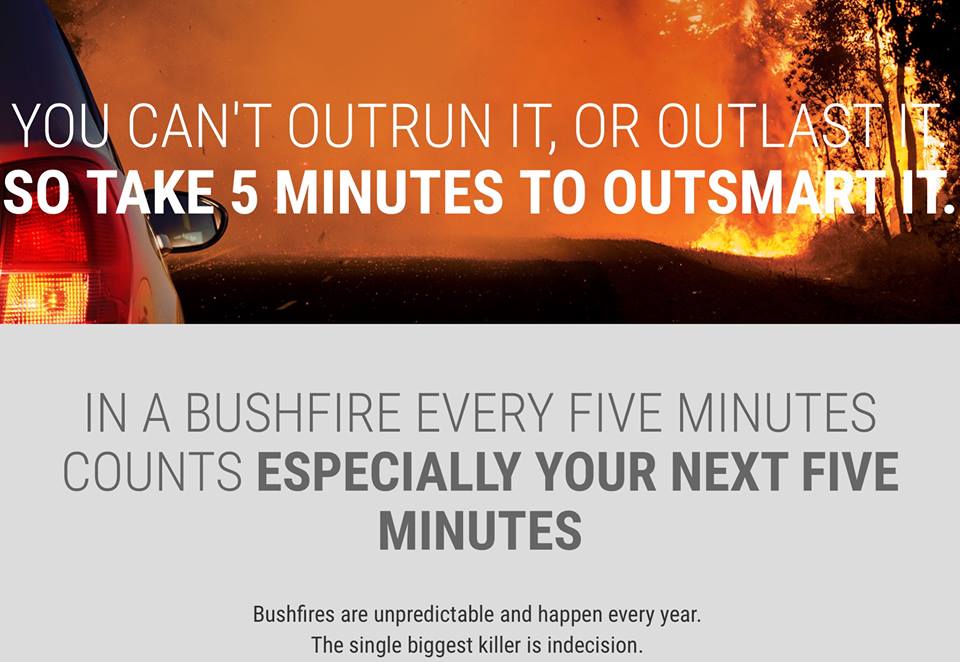 Firstly we would like to encourage everyone to check out the latest release by DFES, it may help save your life. Here is the link: https:// www.dfes.wa.gov.au/firechat/Pages/default.htm 
Restricted Burning and Permits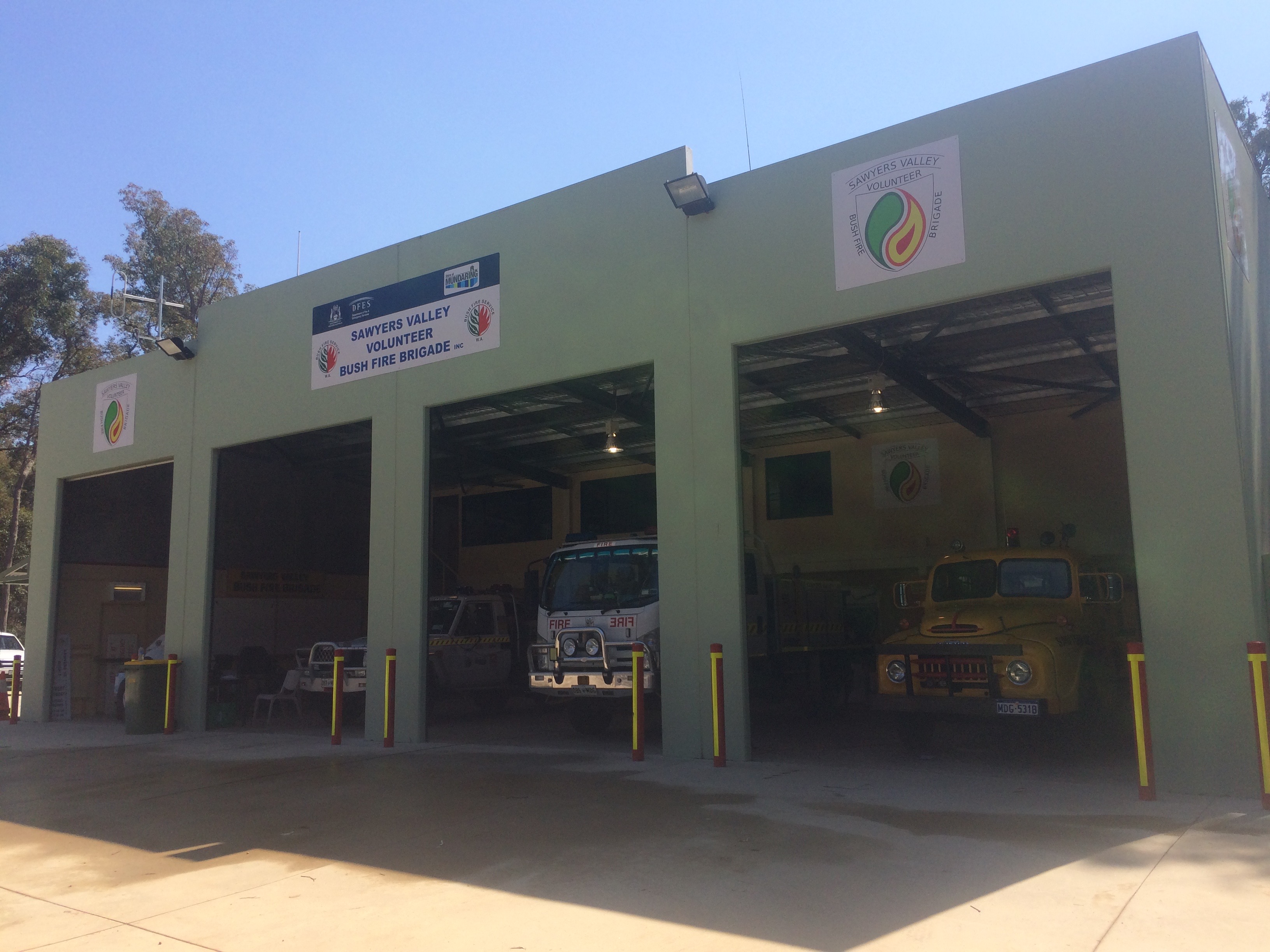 Our station on Ashstead St, Sawyers Valley is open every Saturday from 9:30 to 10:30 am for permits.

Restricted Burning is in place for October and November. You may only burn a single 1 sqm pile after 6 pm without a permit. To burn any other time or a larger area you require a permit, which is free of charge.
Congratulations to Our Newest Firefighters
We have added a few more Daves to our fully fledged firefighters rosters this month.  Dave R. is a returning member who recently retrained, graduating at the Mundaring Firefighters School.  Dave W. is a very keen new firefighter who also graduated and has already attended his first call out.  Great to welcome you both.
Below left: both Daves checking the vehicles.  Below right: Dave W. having a screaming great time training on the Powerline track in the 1.4.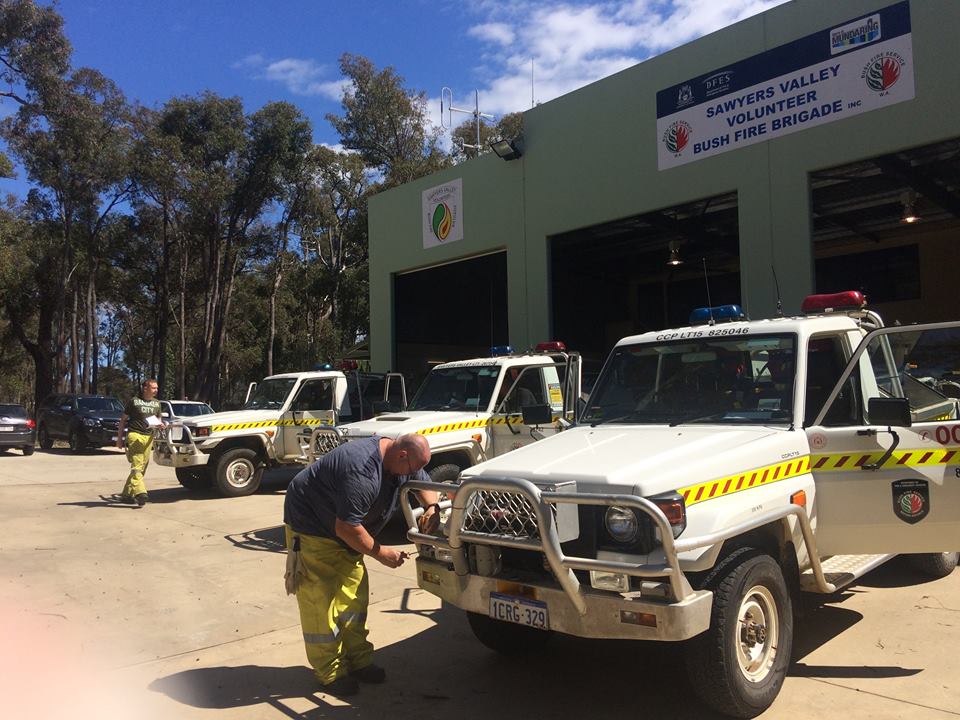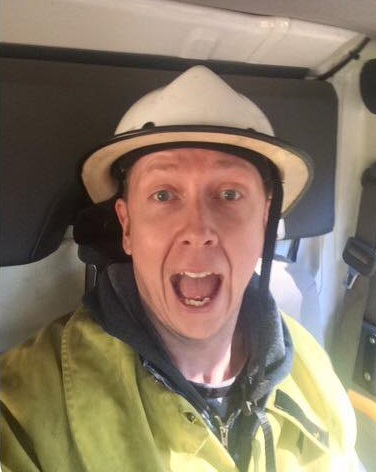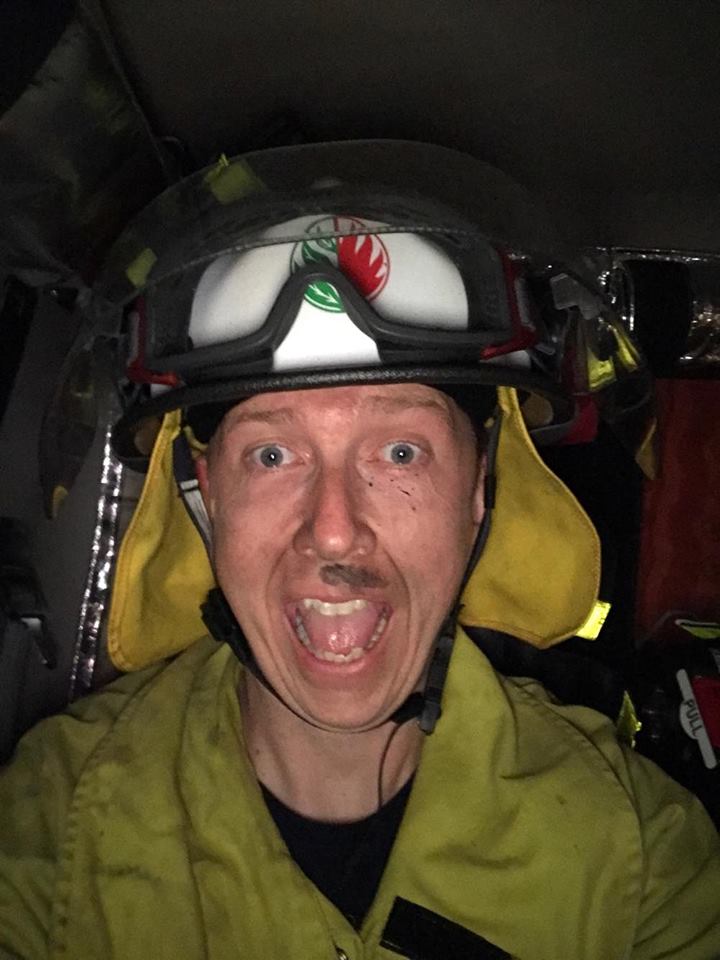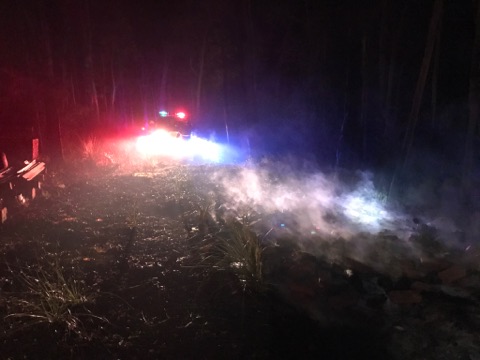 Dave is still having a screaming good time after a fire call.
Rudy's Ride
A few of us had the great privilege to meet Canadian Fire Captain Rudy Pospisil, who is riding from Perth to Melbourne, continuing his circumnavigation of the globe, raising funds for the Peter Mac Cancer Research Centre.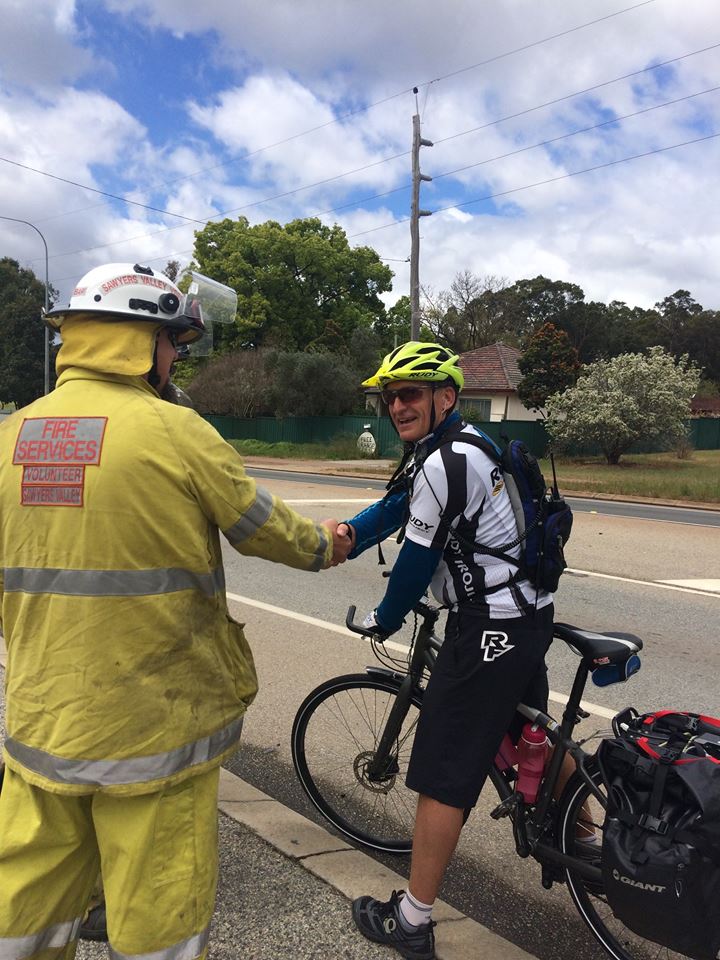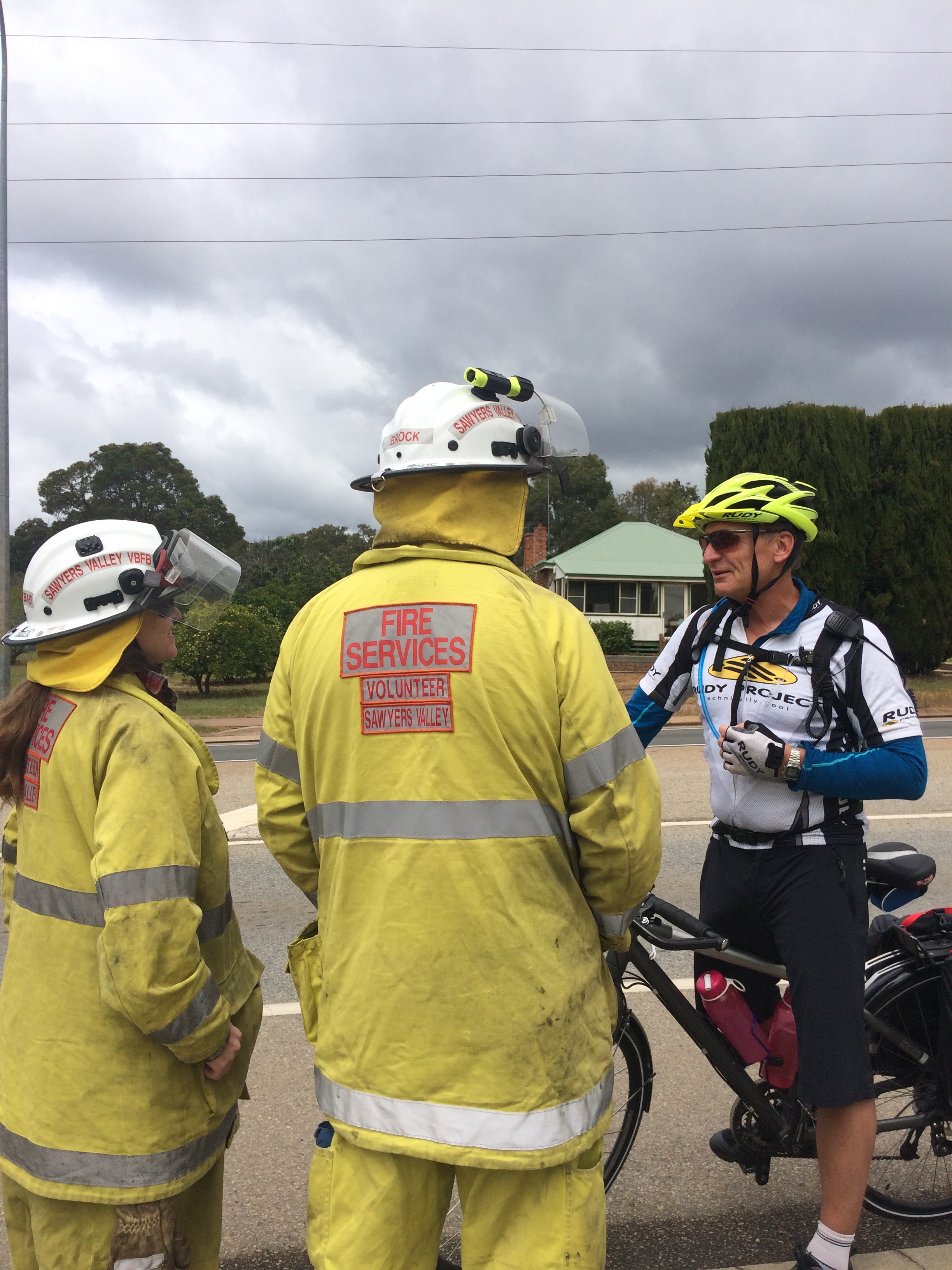 Rudy is quite an inspiration and took the time to enquire if our volunteers were well supported by health insurance.
We wished him all the best with his trip across the Nullabor and he assured us he had plenty of music and audio books to keep him focussed on the ride.
Good luck Rudy!
Please support Rudy on his ride, you can make a donation via his page, all donations over $2 are tax deductable.
www.rudysride.org.au
https://www.petermac.org/
Rural Urban Interface
Sawyers Valley participated in a large scale training exercise with other Mundaring brigades in Chidlow.  This is the first RUI exercise our new Mundaring chief has conducted since he was appointed earlier this year.  By all accounts it just as exciting and chaotic as a real large incident.  A few mock injuries and burn overs were thrown into the mix.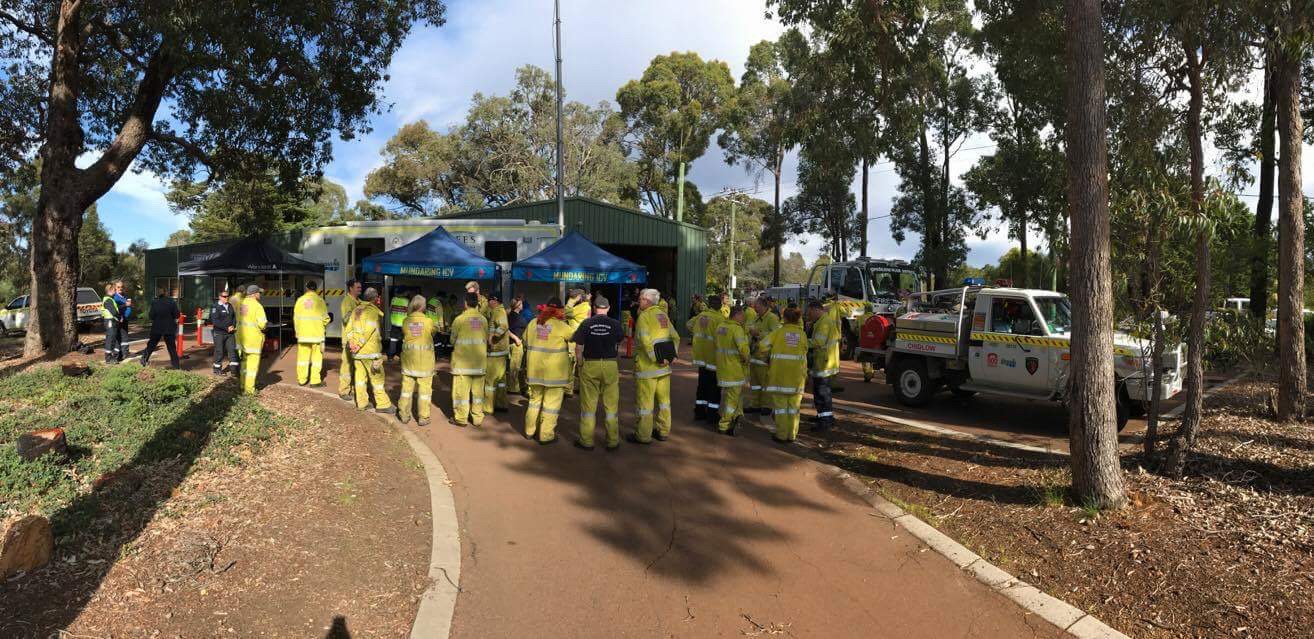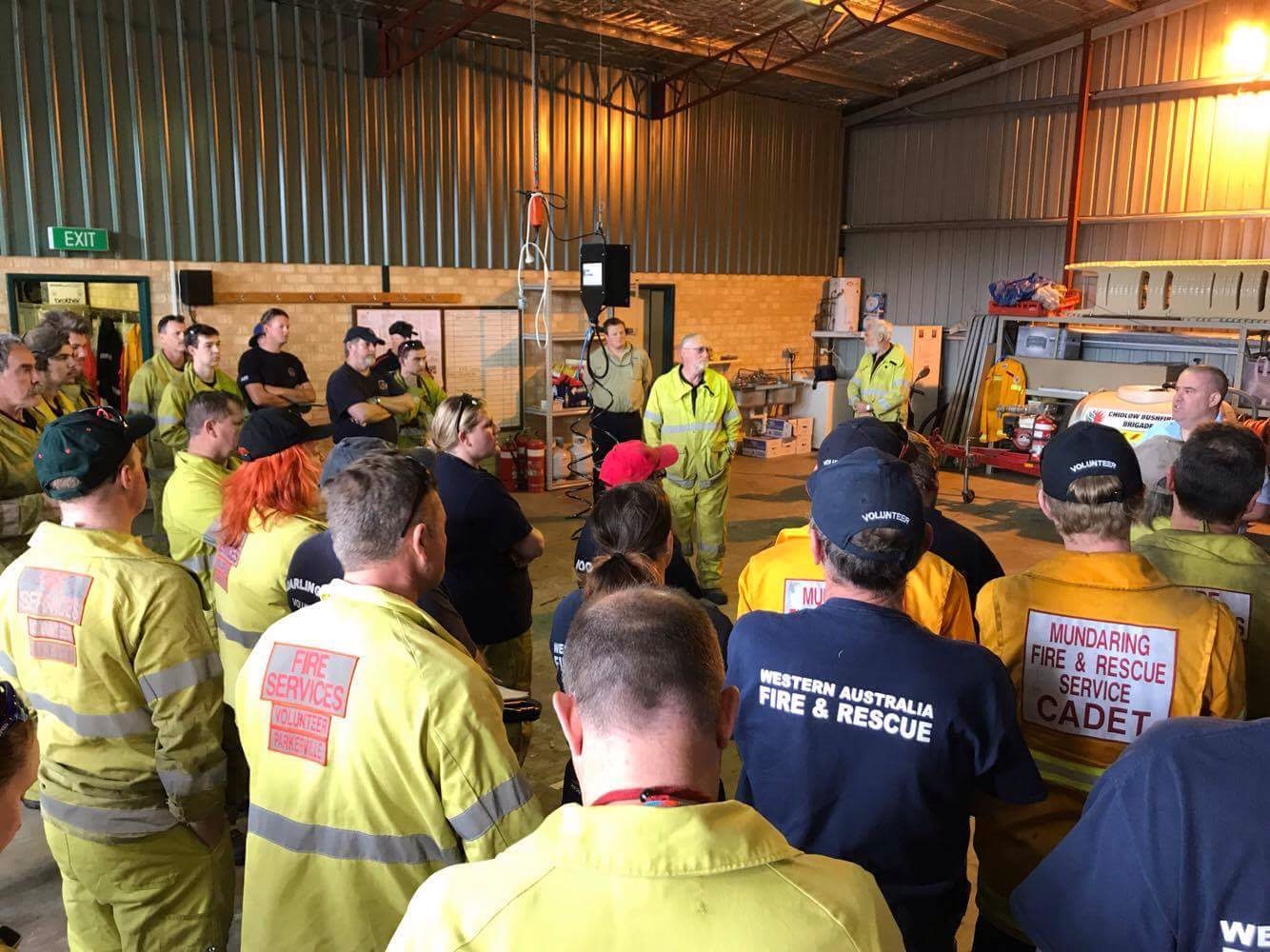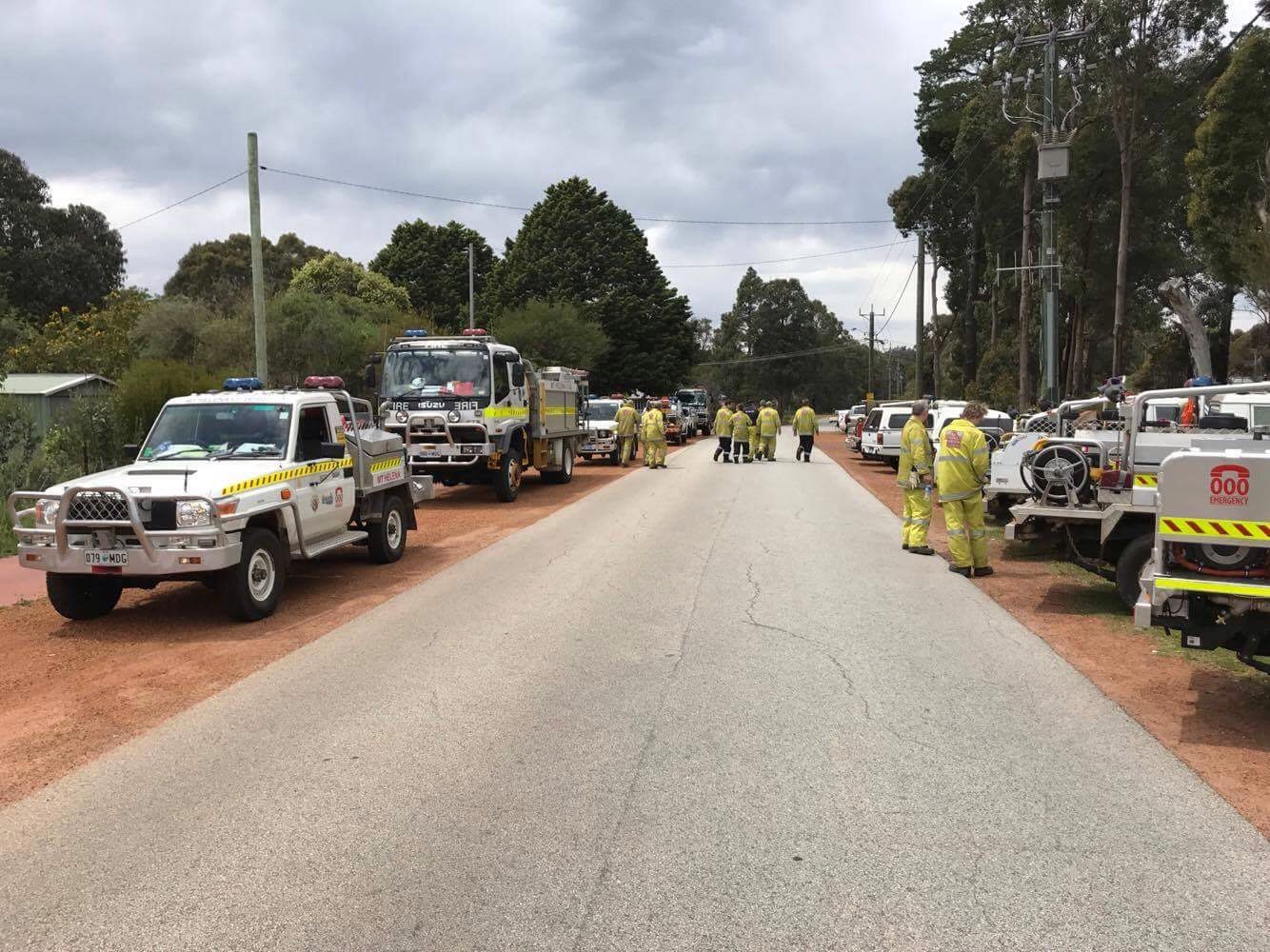 What is always wonderful about these excerises, is the support of the residents.  The residents allowed the brigades to enter and access their properties.  We thank them for their support and patience.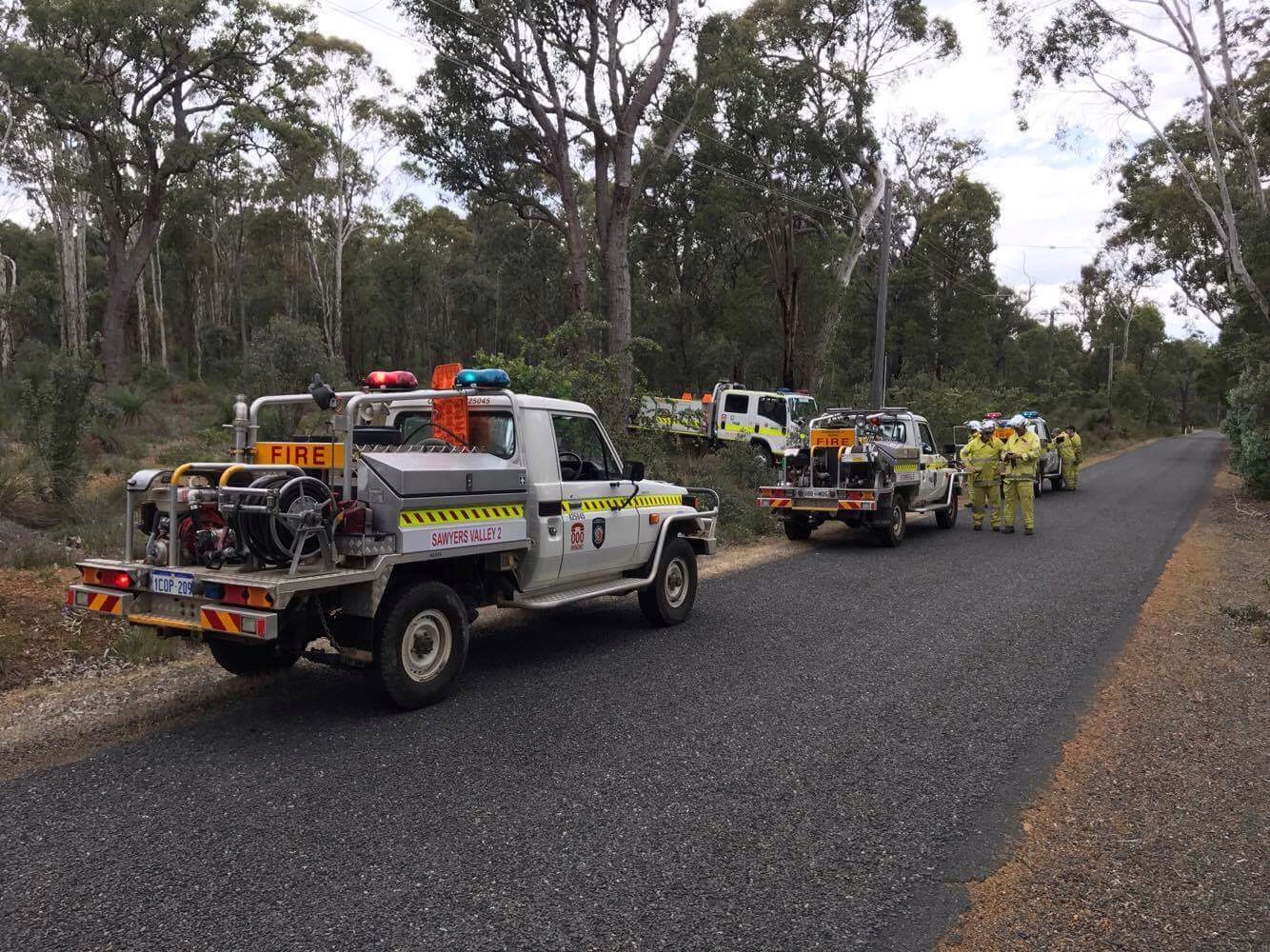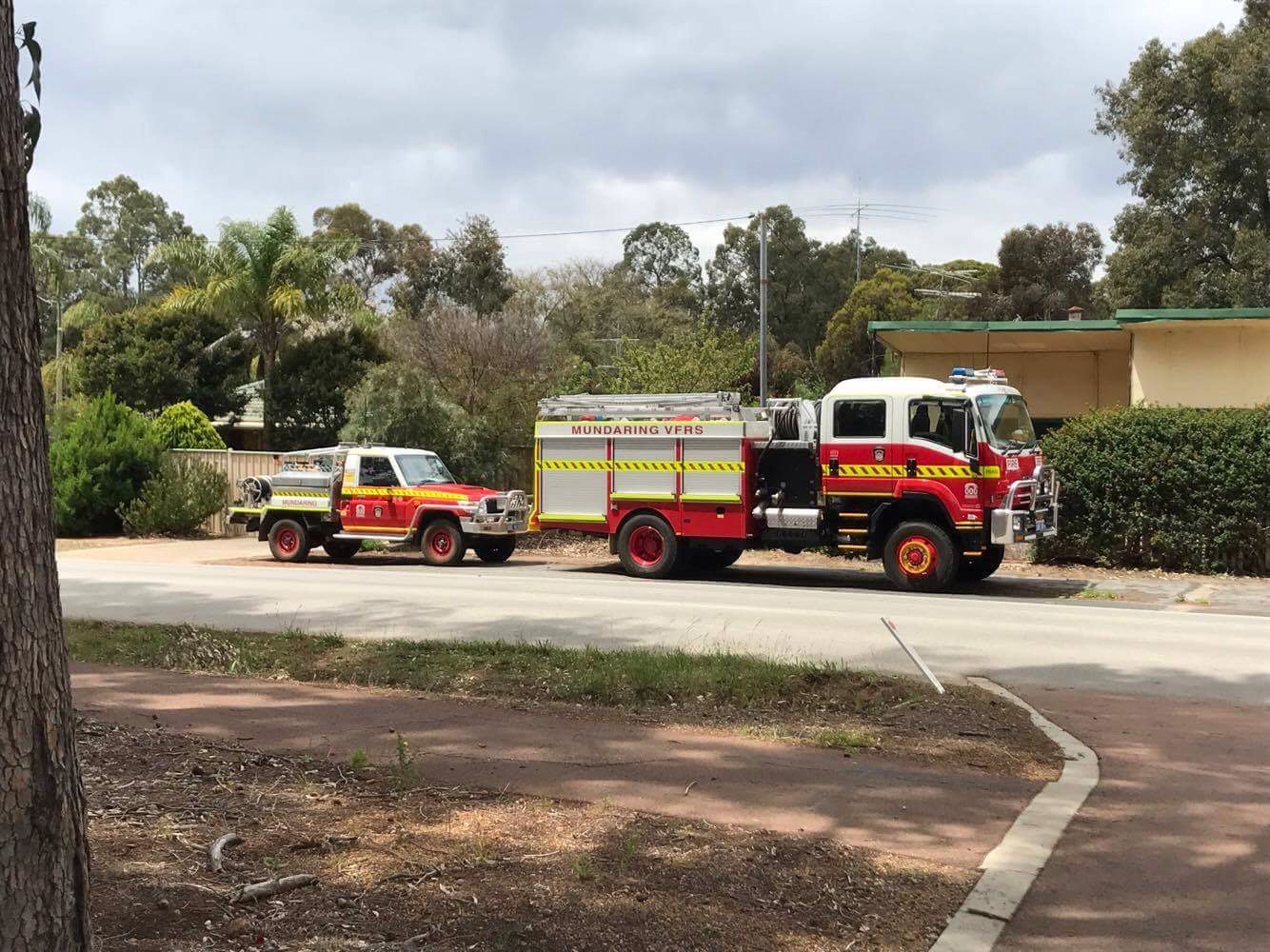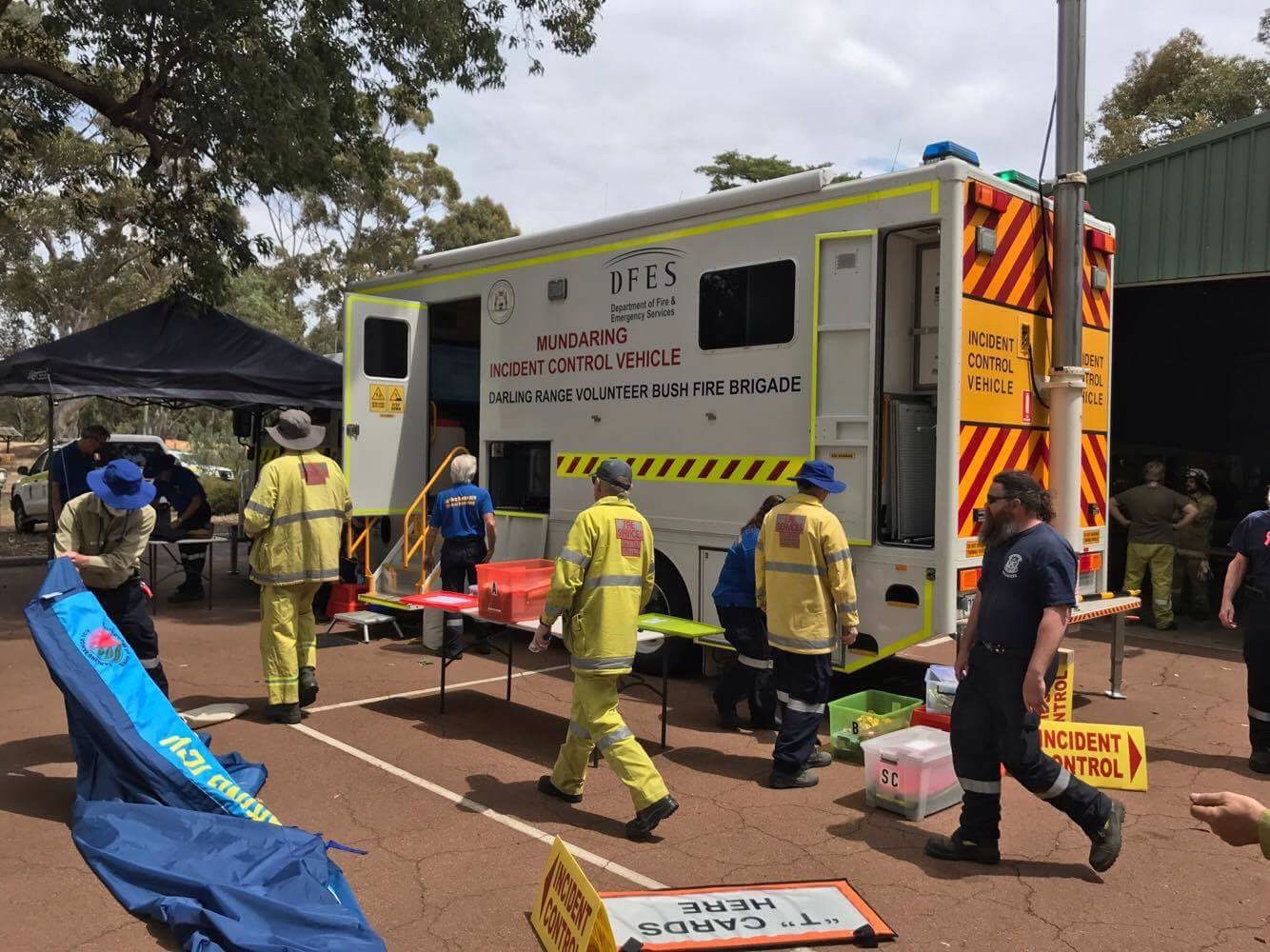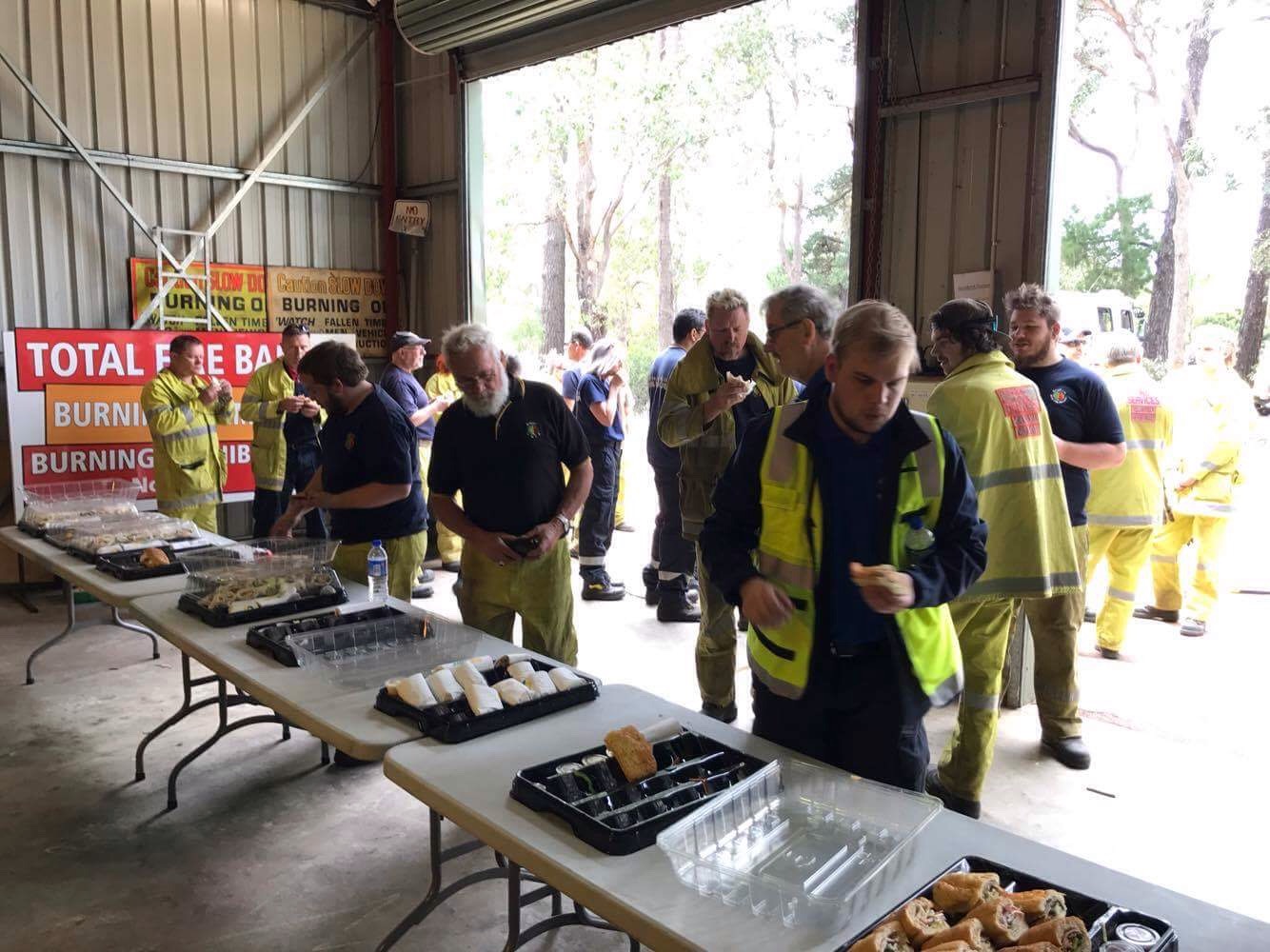 Not only is there the opportunity to work with other brigades but we all get to have a great spread and a yarn afterwards.
Swap Meet Fundraiser
This year the weather was kind and we managed to organise a very successful Swap Meet.  Thank you to the community members who came along and supported us as either buyers or sellers.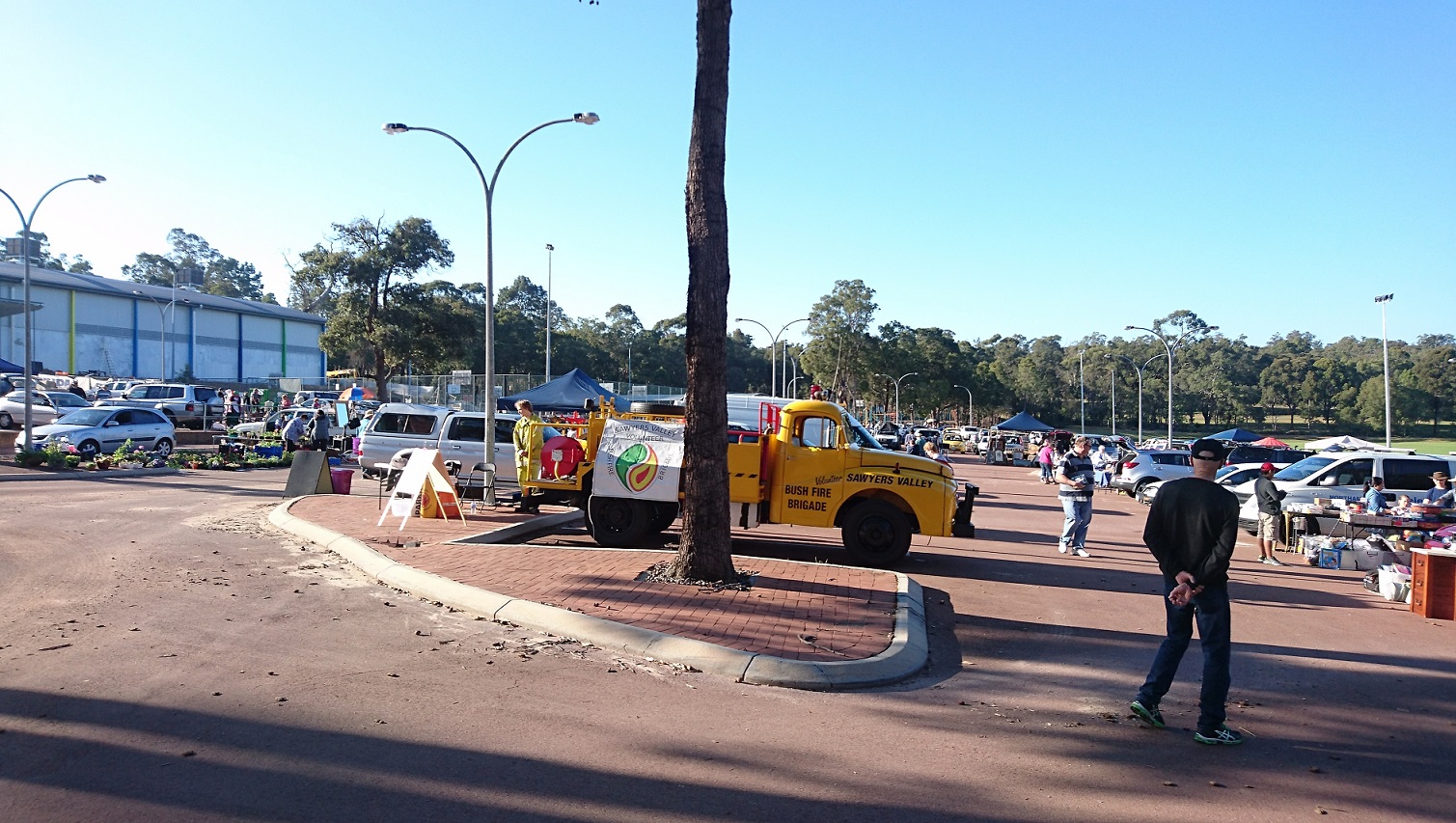 We were further supported by local businesses, with TJ Signs in Sawyers Valley making us some awesome banners.  Two local business allowed us to advertise the banners in front of their business so we would also like to thank Stockfeed West in Sawyers Valley and Specialty Feeds in Glen Forrest for hosting our banner.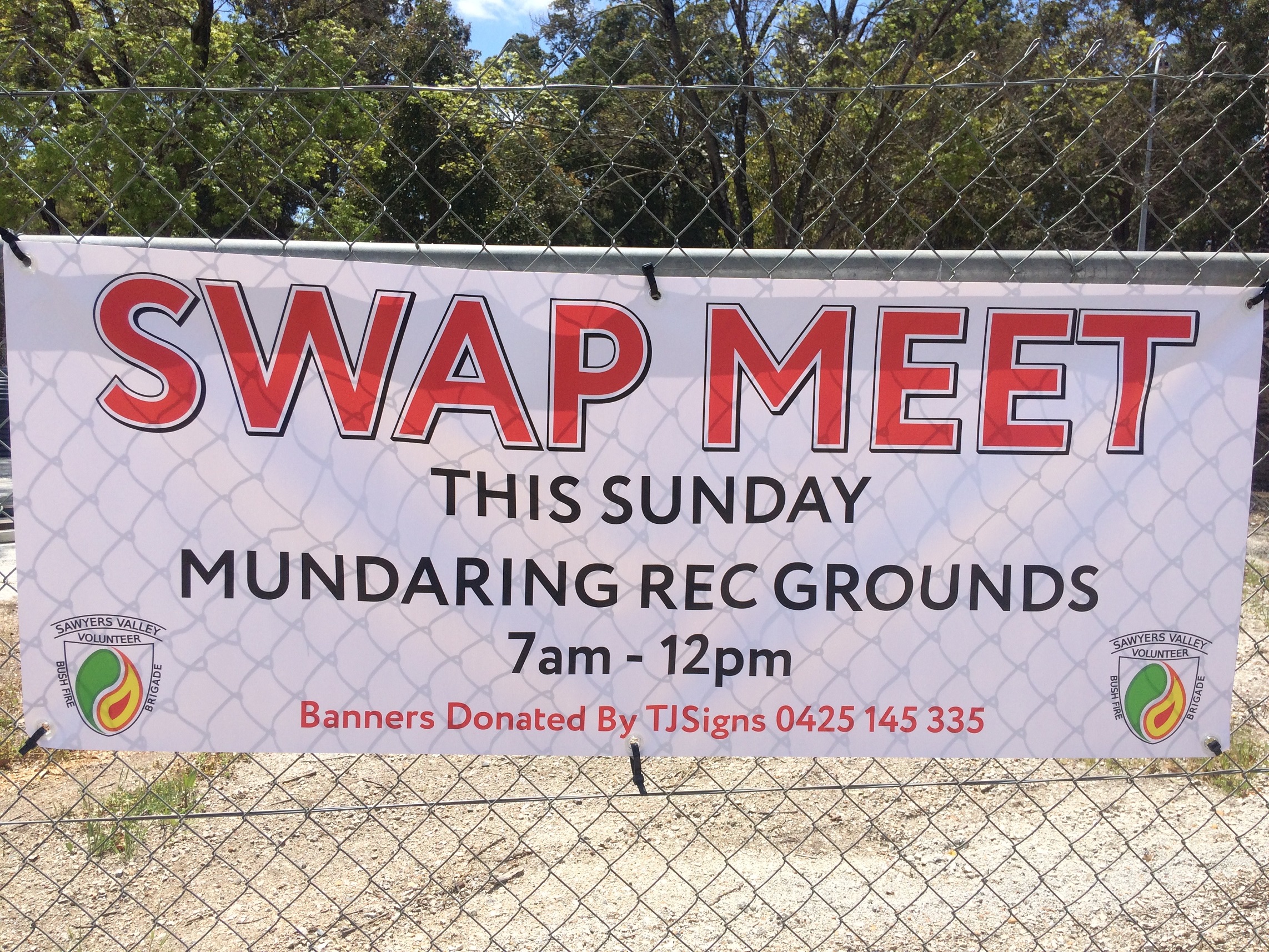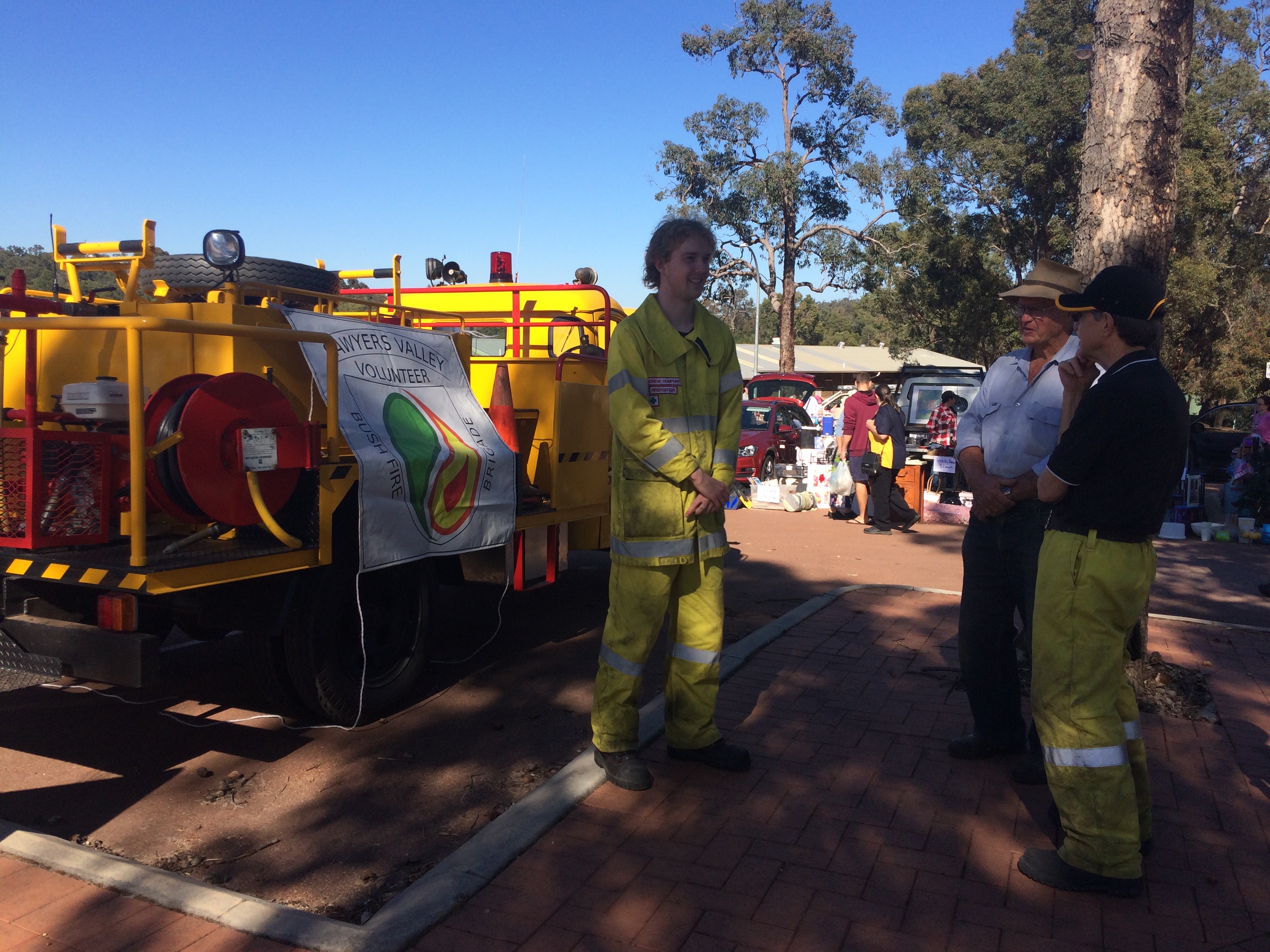 Above right, one of our retired firefighters dropped in to say hello to Keith and Andrew.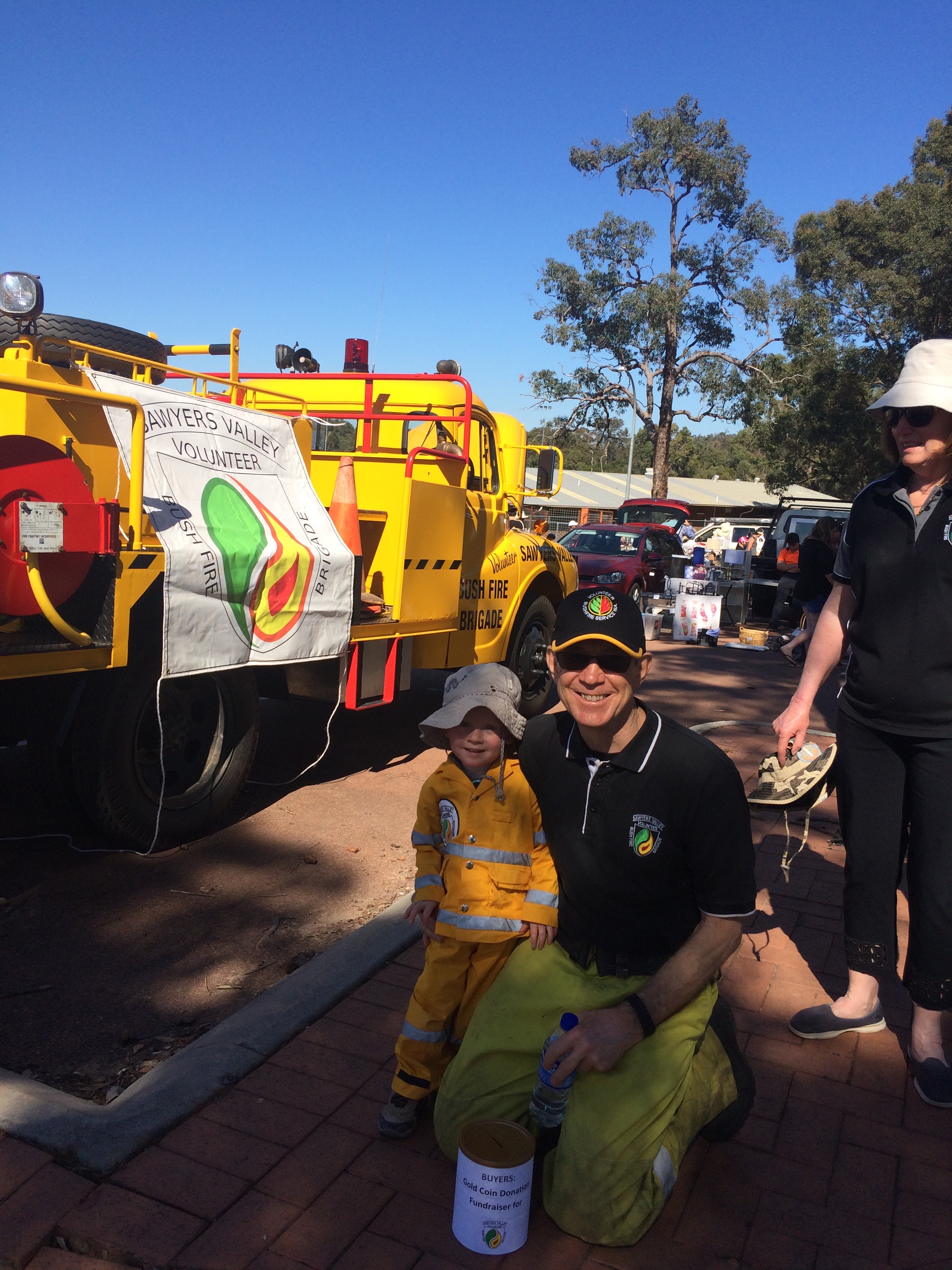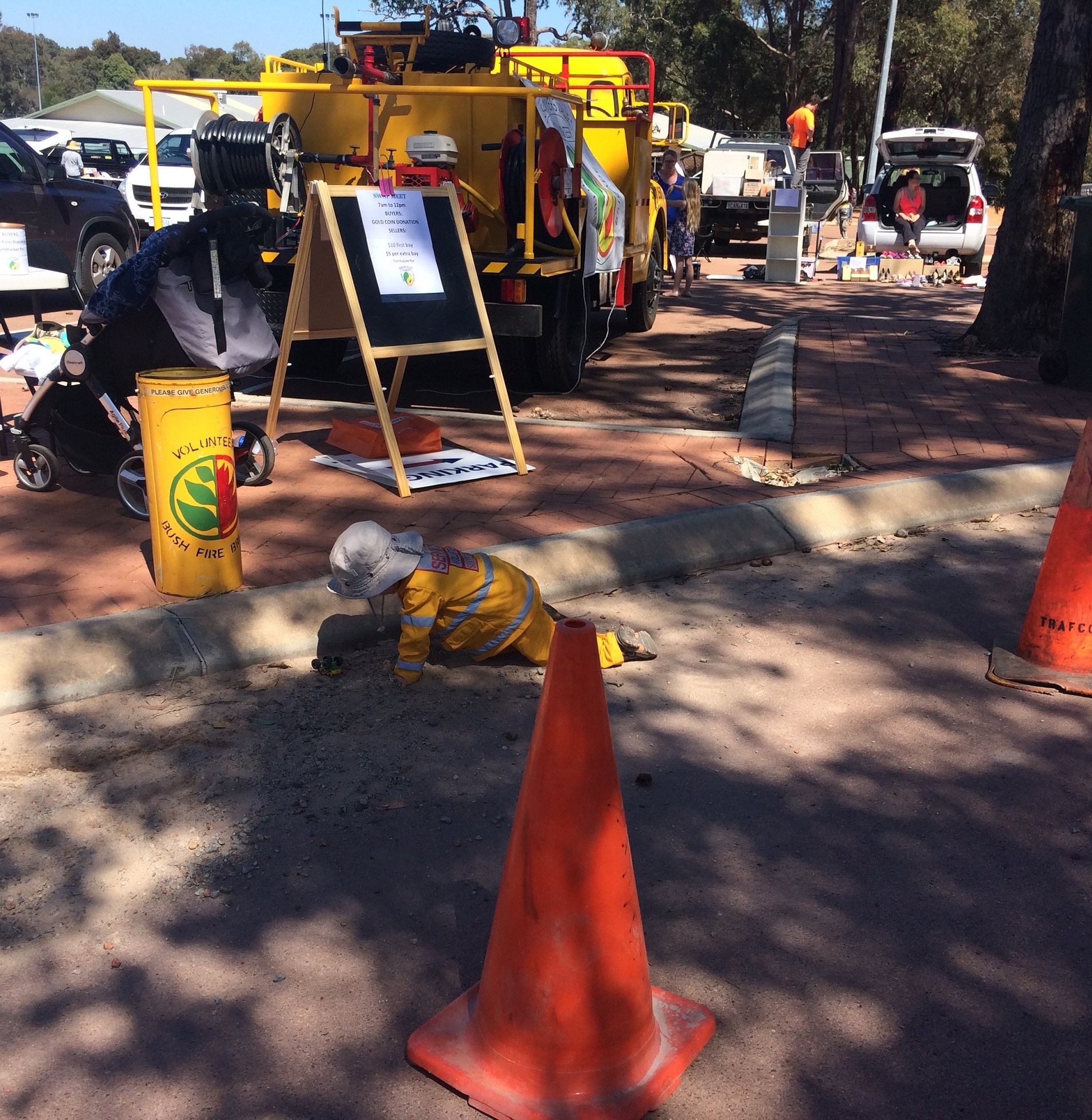 We train them young in Sawyers Valley, here is young Alex with his very proud grandparents.  Looks like he is putting in some containment lines there in the sand.
Mundaring Firefighters School
Somehow a few of our members found time to improve their skills and qualifications at Mundaring Firefighters School.  A few of our different members recently passed: Introduction to Fire Fighting, Bush Fire Fighting, their MR Driver's License, Sector Commander and Structural Firefighting.
Below, the correct way to use a fire blanket or sneak up on your instructor.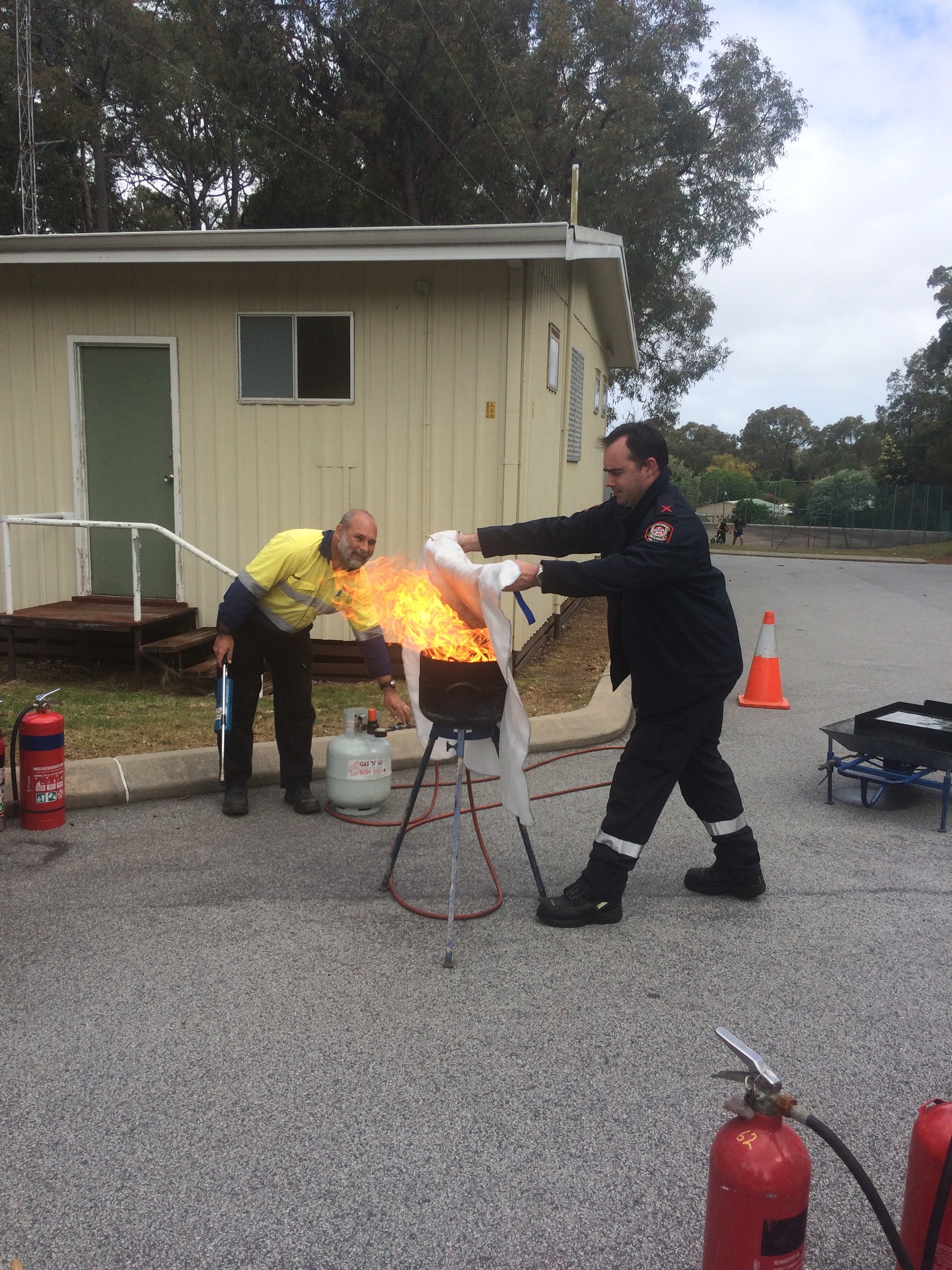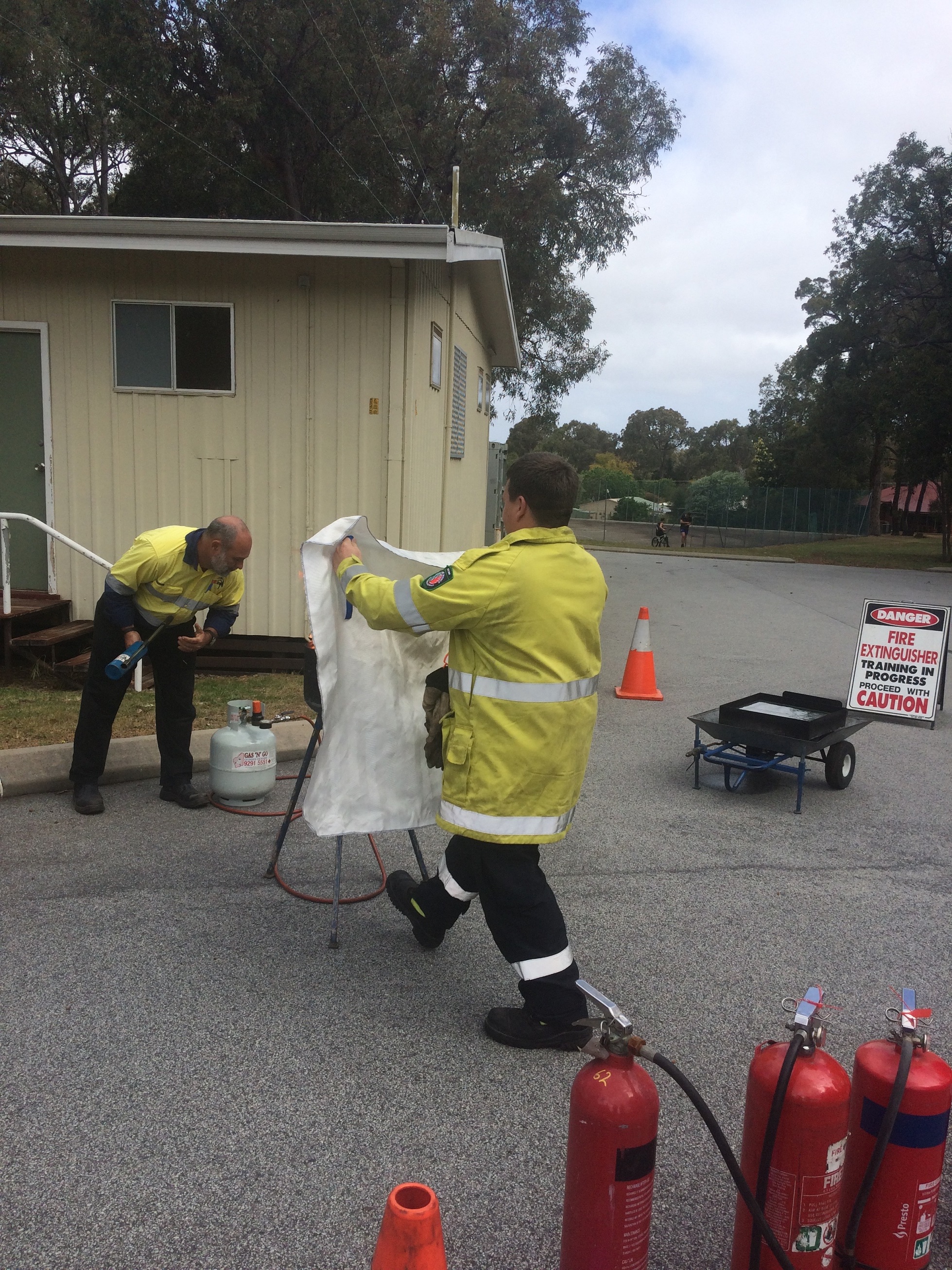 Below left, Rob being quite tall is not afraid of heights, hauls up a fire extinguisher.  Right, we learn how to sneak up on basketball players with a hose by first spraying a fine mist to stun them, then a fine jet to take them out.  Not really, it is a technique for approaching a house fire without losing your eyebrows.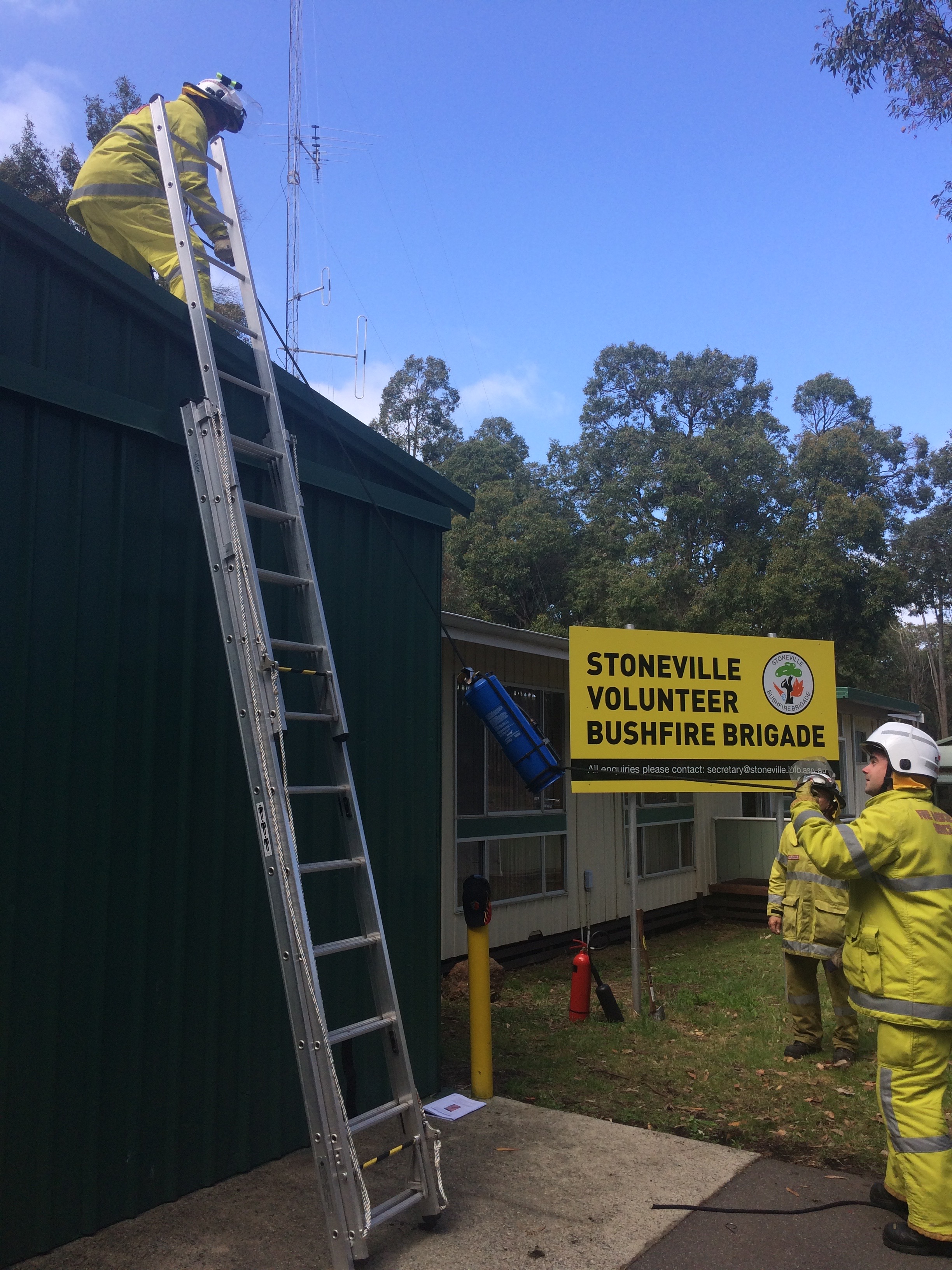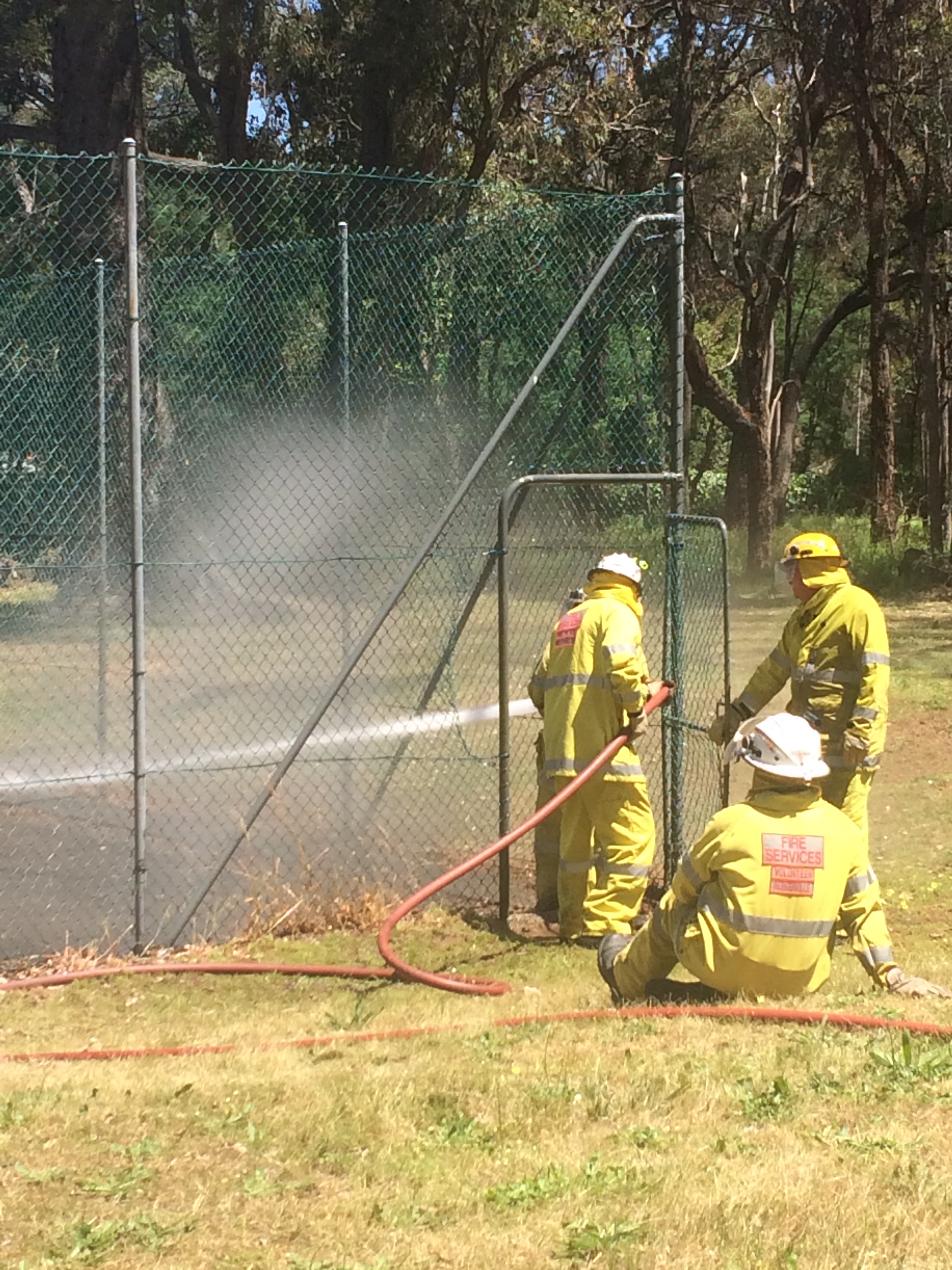 Hazard Reduction Burn in Chidlow
Just a few photos from the Hazard Reduction Burn near the pipeline in Chidlow this month. There were white, yellow, red, and blue hats at the burn, so quite a bit of diverse talent and expertise.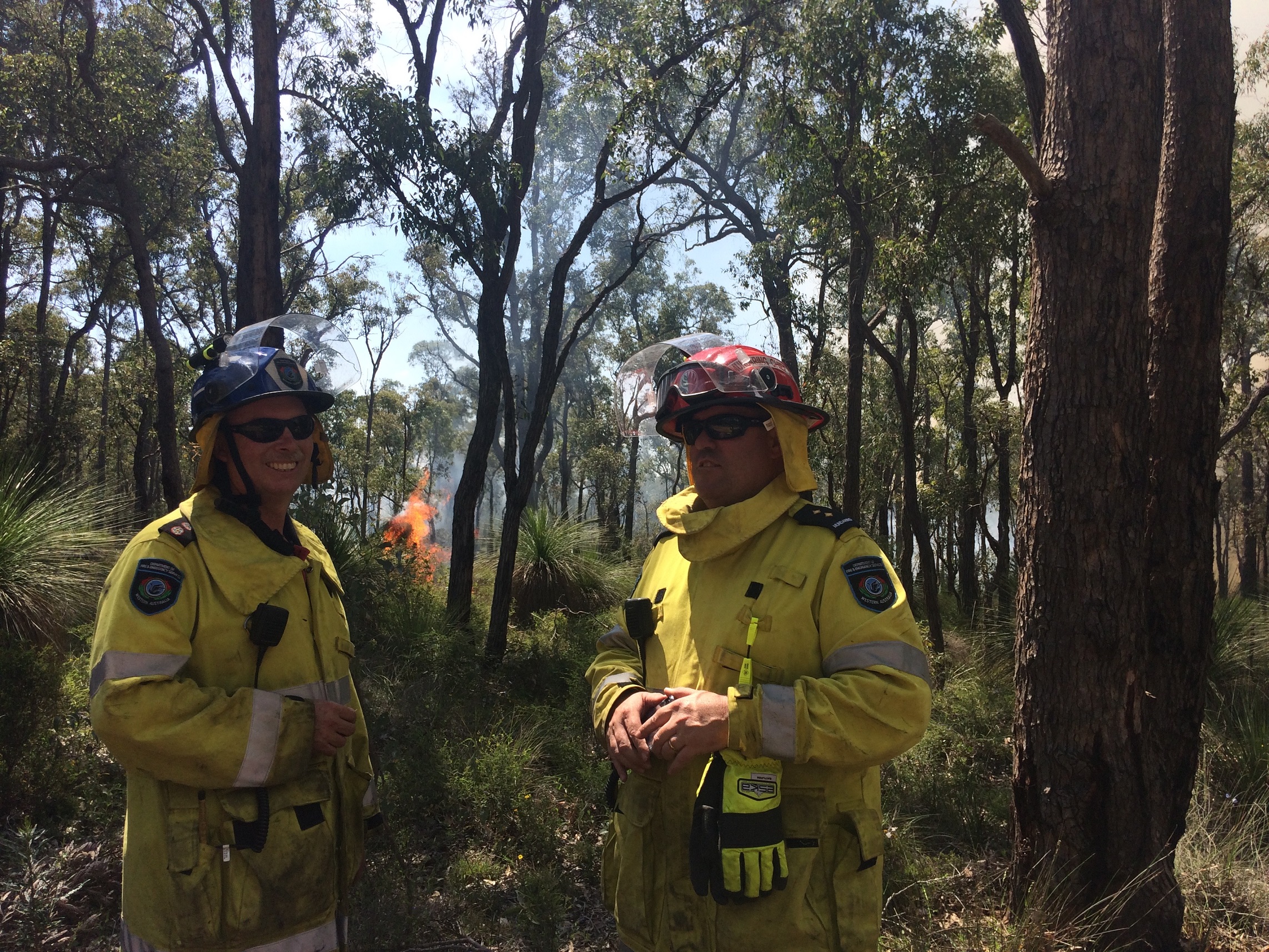 The pipeline as a barrier added to the challenge and created a certain degree of amusement when we needed to climb over. Must thank the crew for not taking my photo in those instances.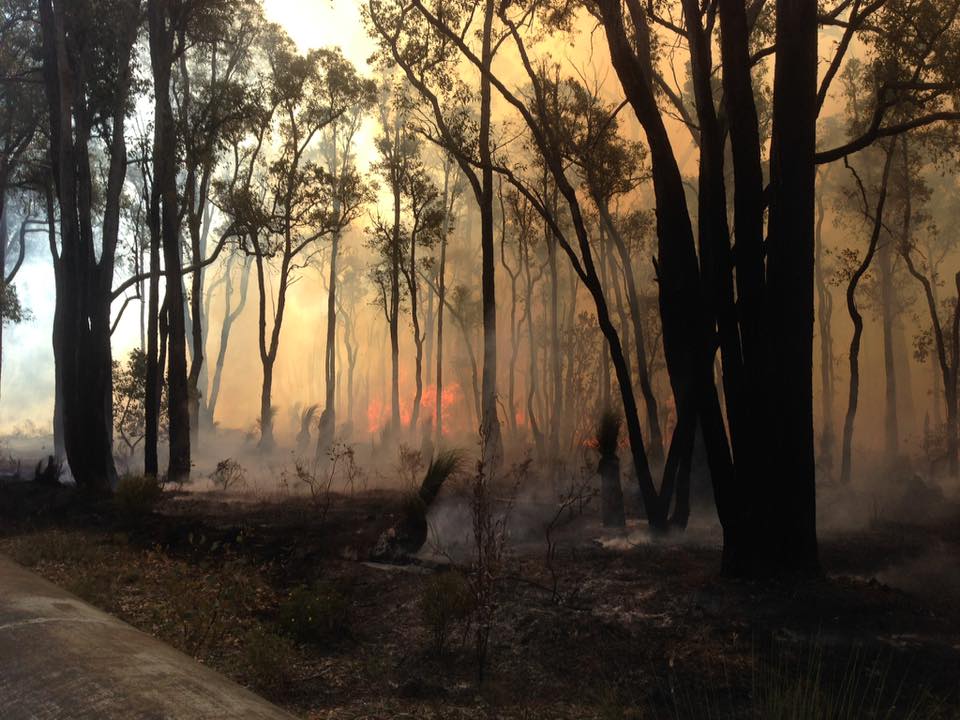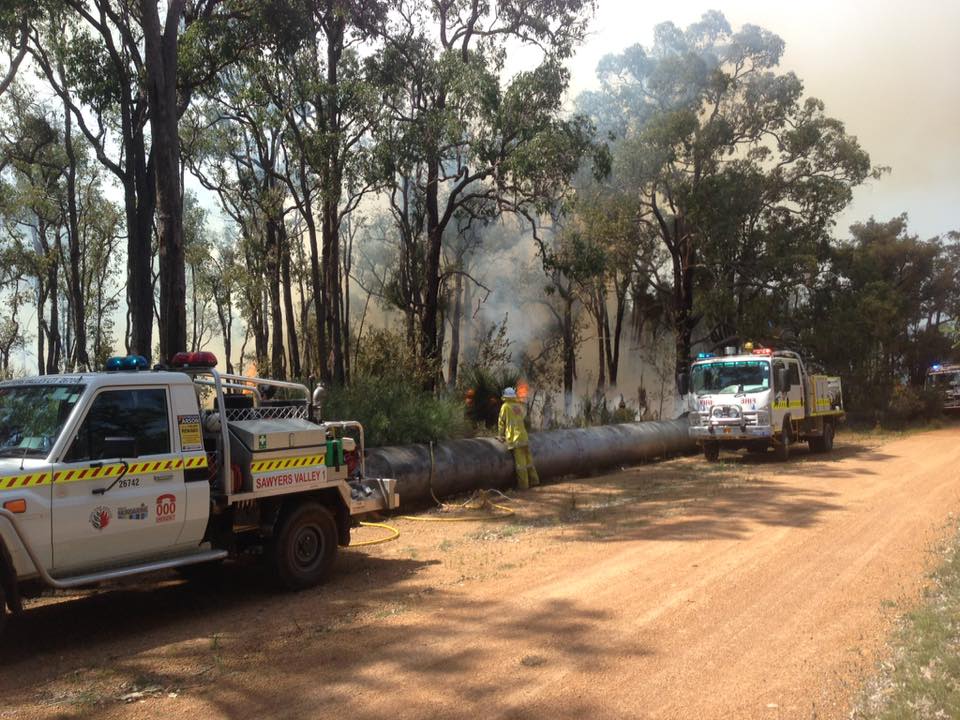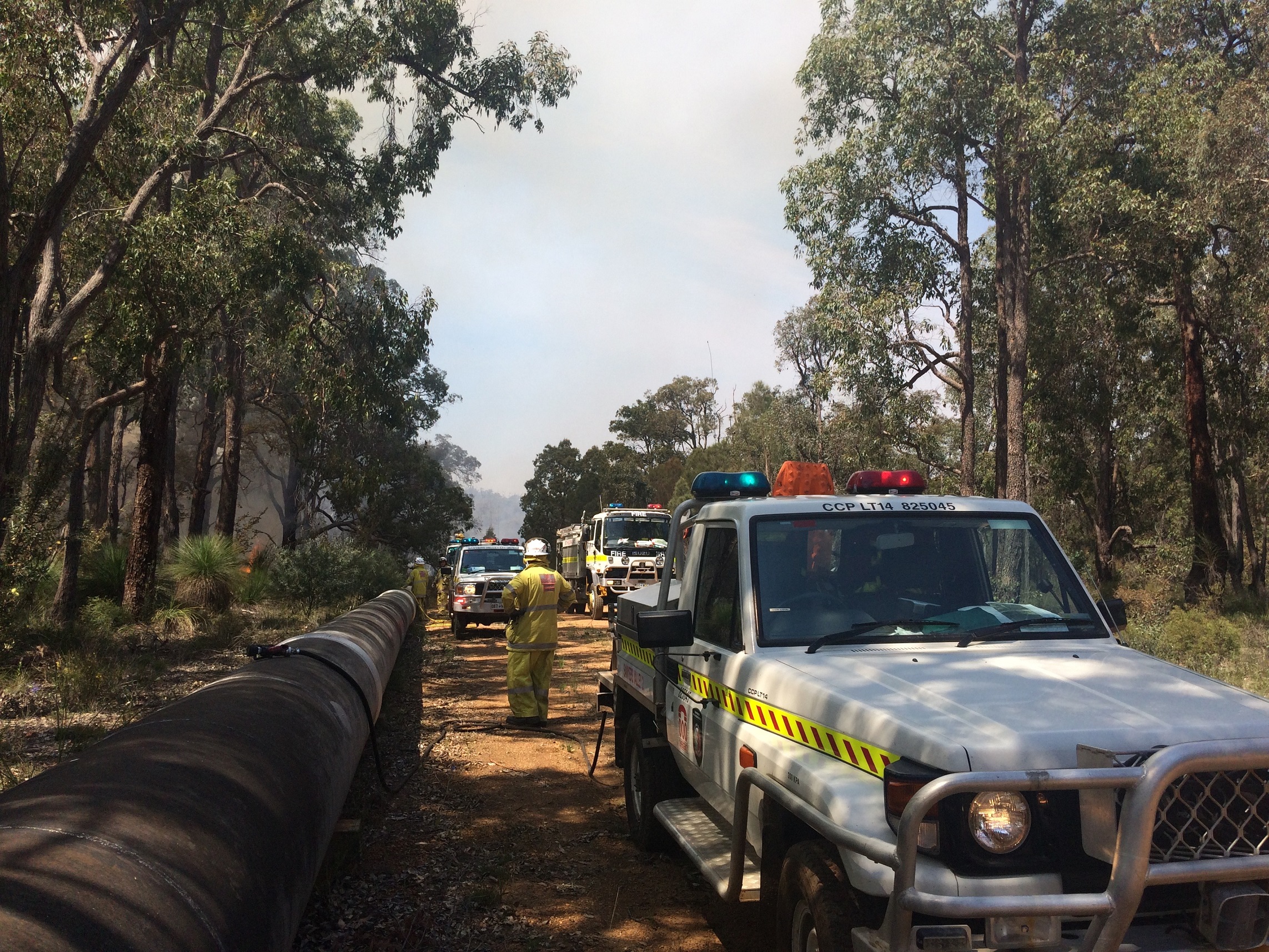 [Photos courtesy of Dave. W, Keith, Michelle, Rob and Andy]