Fire-Free January
January was almost fire-free.  The local area has had its lowest number of call-outs in eight years.  Excellent!  We did have one call to a false alarm on the morning of Australia Day.   Here are Drew, Andy and Murray in the back of the 1.4 heading out.  Since the day was over 40C, they were very glad to be able to turn around and come home again when no fire was found.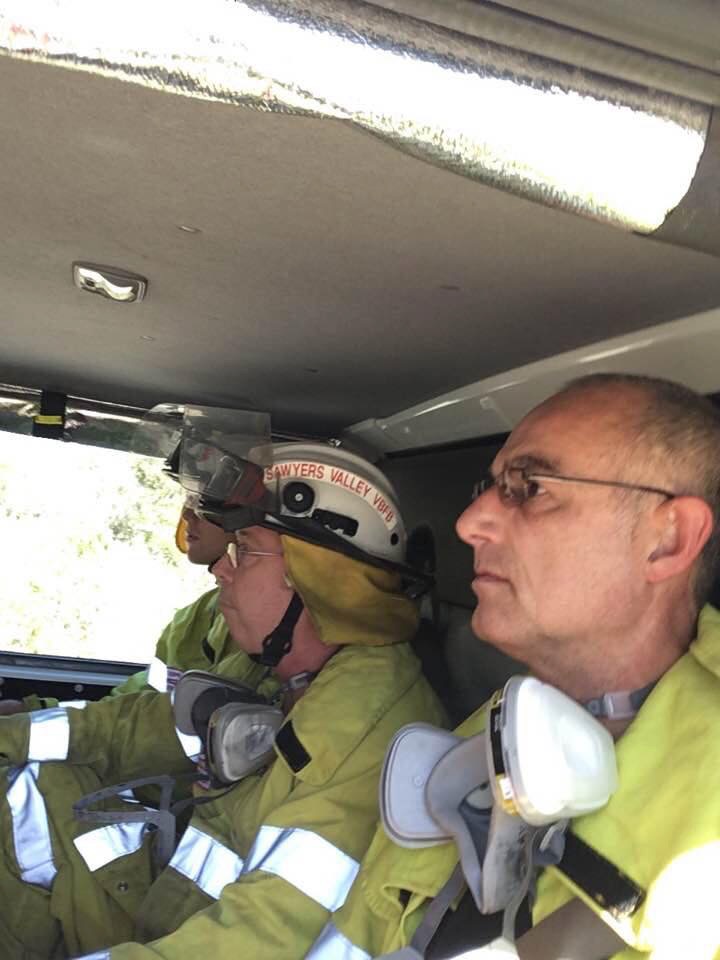 We are of, course, very happy about the lack of local fires.  We have been very lucky so far this summer.  In the meantime, we have kept up our training, and if and when one happens and we get the call, we'll be ready whether the fire is near or far.
Our training this month has been really valuable and interesting.  We have been into the meeting room to learn all about the new Automatic Vehicle Locator (AVL) that will help to keep us safe in future.  It was good to see all the turnout shirts lined up in the classroom!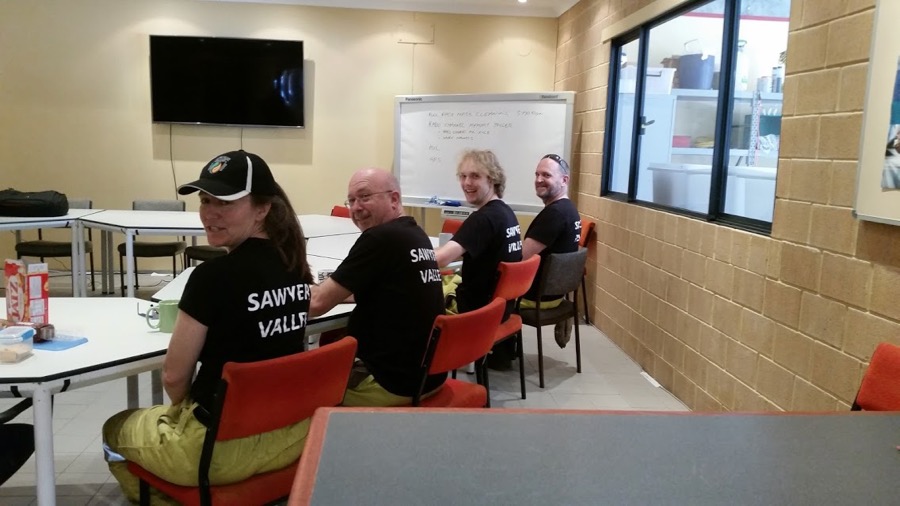 After that it was time to head out onto the tracks and make sure the AVL could handle tough terrain without going off.  Mirline did a great job of negotiating some rough parts of the powerline trail.  This was her first ever drive of the 1.4 and she did great!  (So did the AVL!)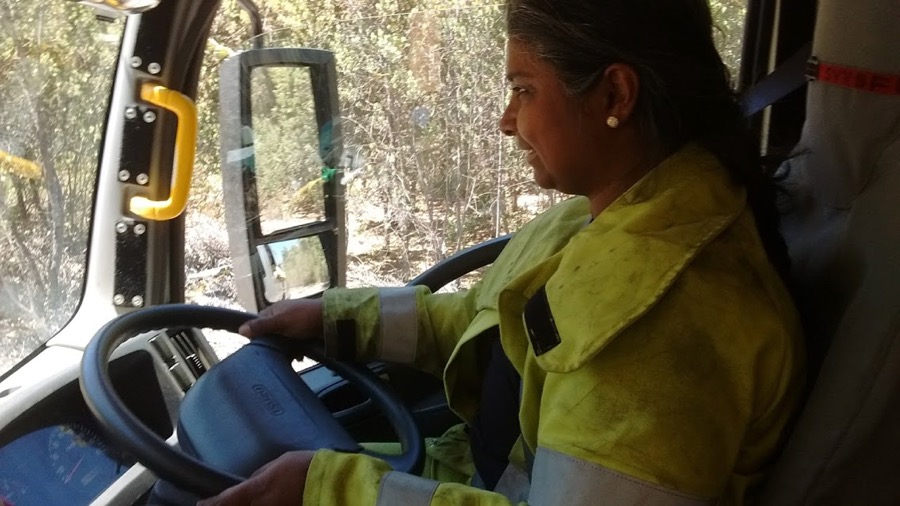 She said her crew in the back, and Andrew sitting beside her, were fantastic companions. They encouraged and advised her, but never made her feel like she couldn't do the job.  Way to go team! 
Here are three of the back seat crew; Andy, Murray and Warren.  Murray and Warren seem to have got such a shaking that their PPE jackets have fallen off!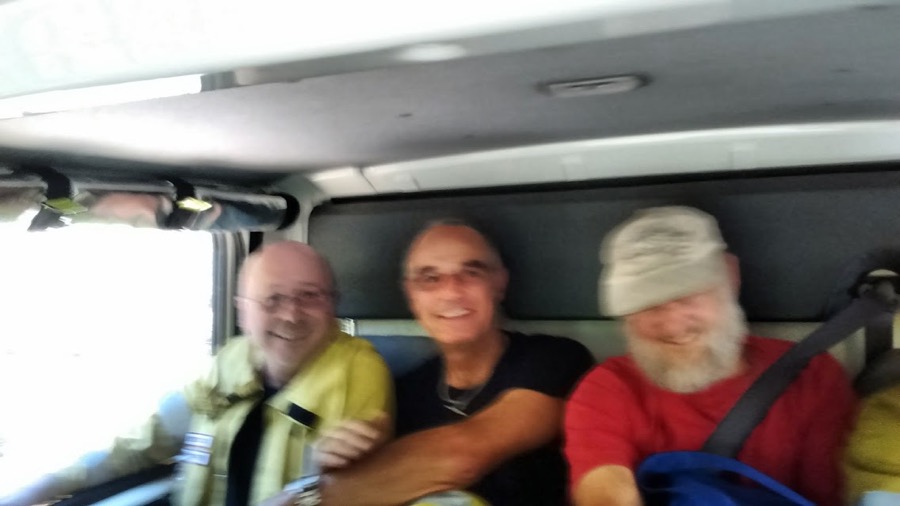 Here is a view of the 1.4 on the trail, taken from the Light Tanker.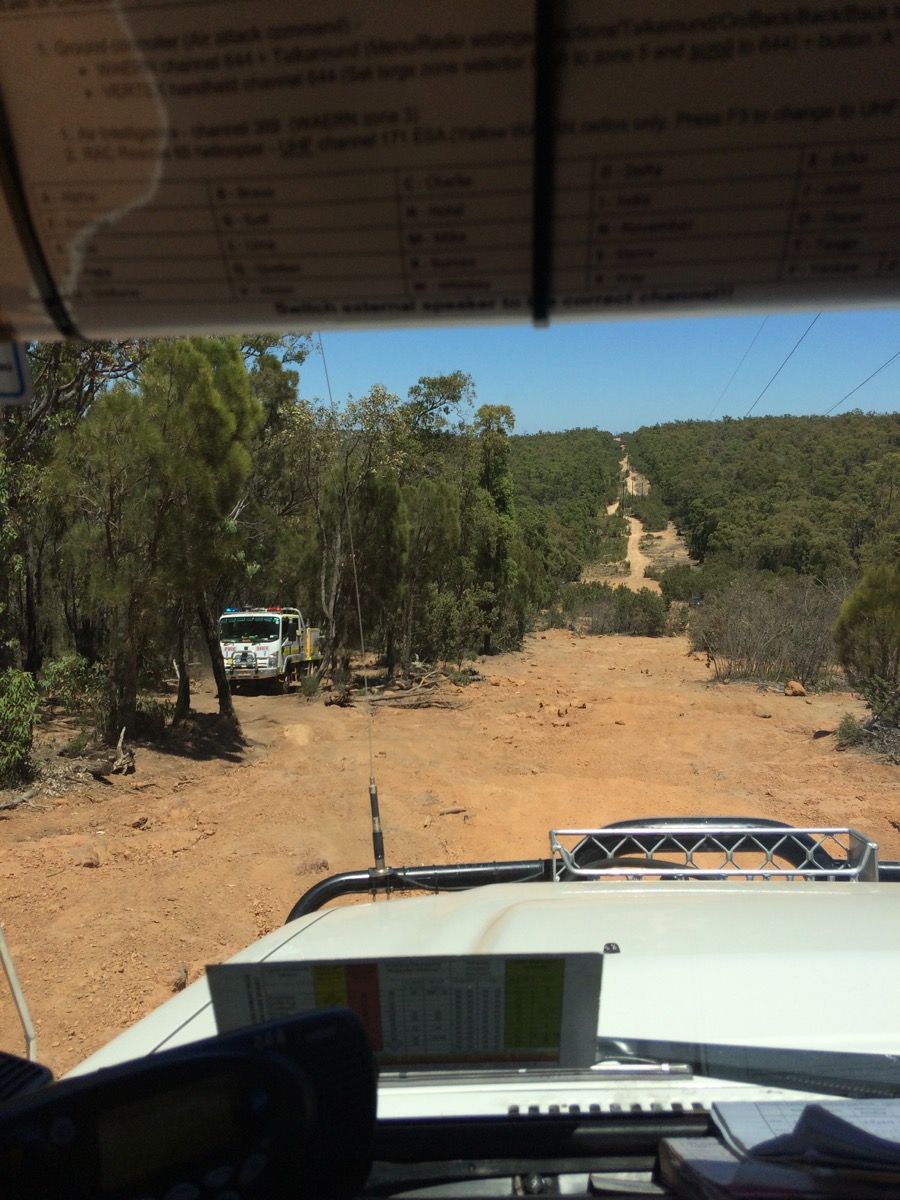 On another Saturday, we did a training exercise where we had to work in pairs to back the vehicles around an obstacle course, first using only hand signals and then only a radio, while we had pumps and radios going full blast, just as they would be on the fireground.
Here is Jen O sending Pierre backwards.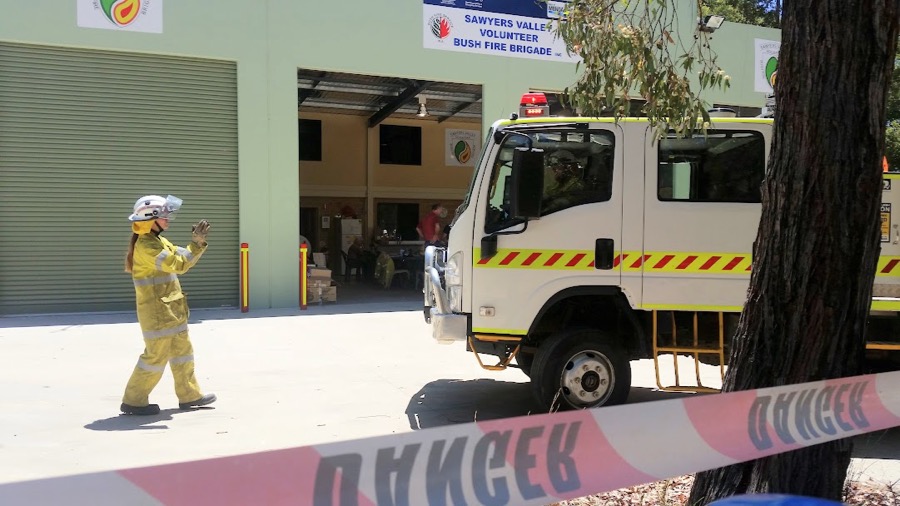 Here is Pierre taking his turn at directing Jen O backwards between the fence and witches hats.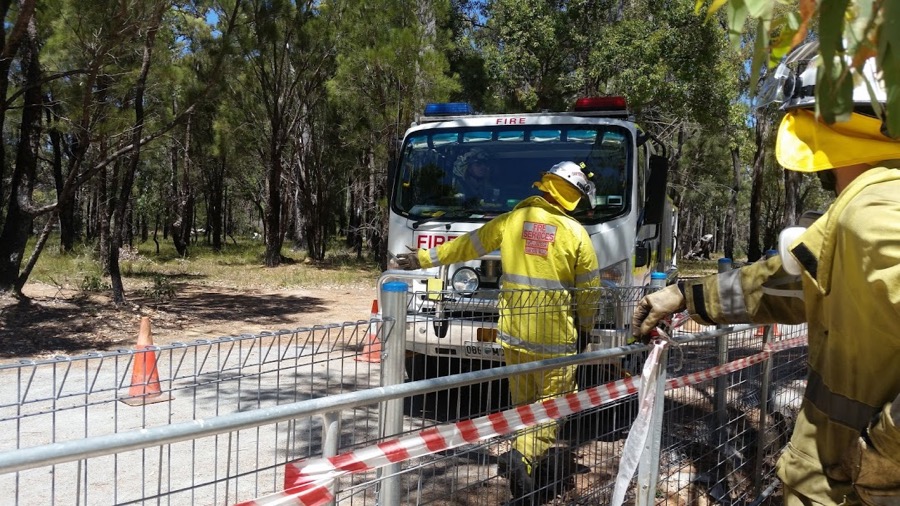 Last Saturday, as the station sweltered under a baking hot, humid sun...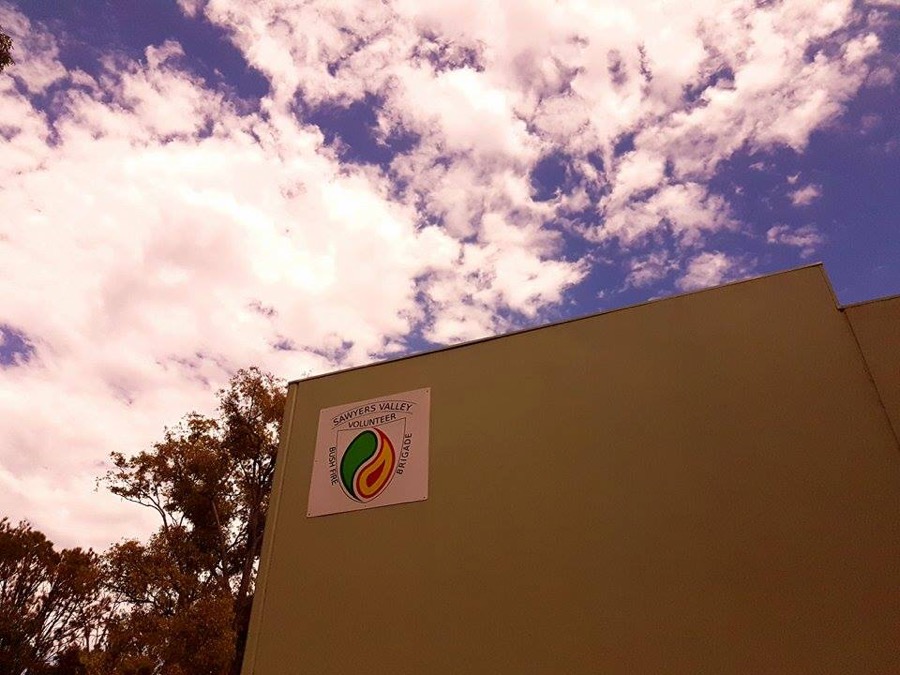 ...we did an interesting exercise.  We practiced responding to all the changing conditions on a fireground.  Everything from hop-over fires to collapsing crew members was suddenly brought to the attention of the crews, and they reacted admirably.  We all agreed it was a great exercise, and there are plenty more scenarios for us to try, so we'll be having another go at this activity soon.   We want to be ready for anything!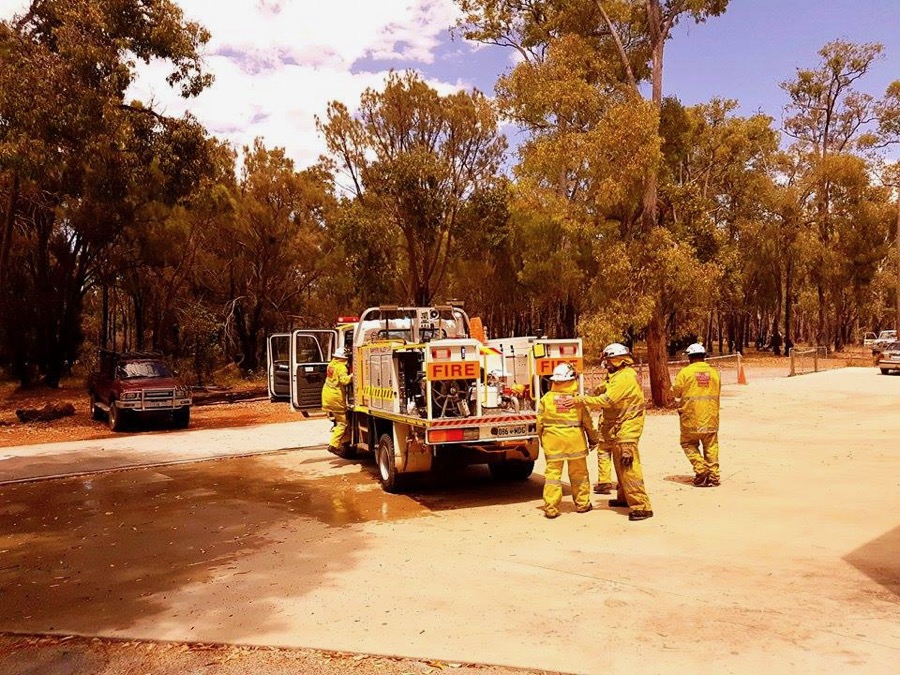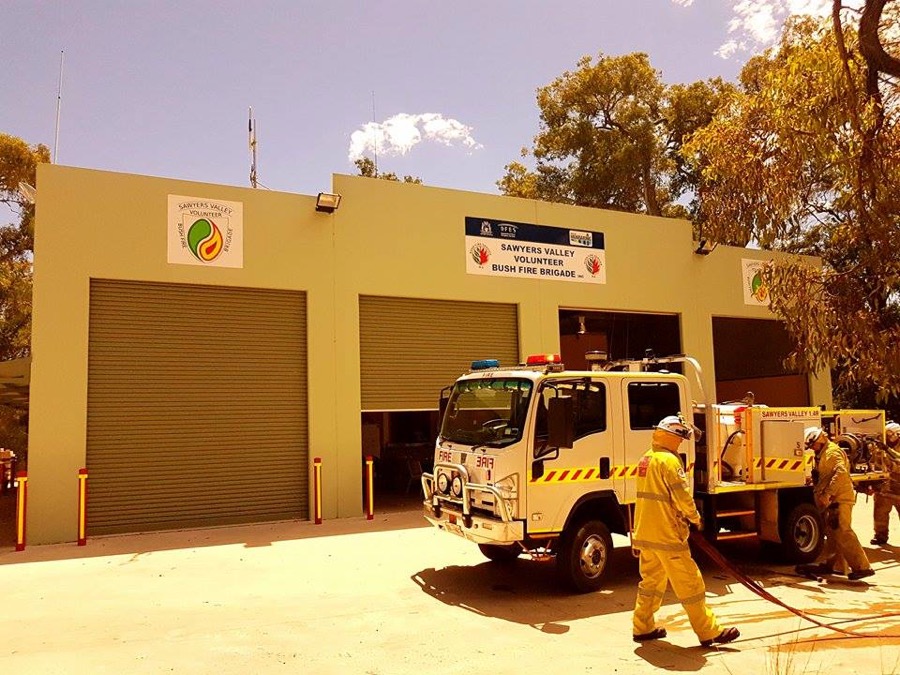 We also gave the LT and 1.4 a very thorough going over.   The station has been a cheerful hive of activity every Saturday, and cup of tea time is always a jolly affair.                     
The 1.4's spare tyre gets a pressure check and top up from Jen and Rob.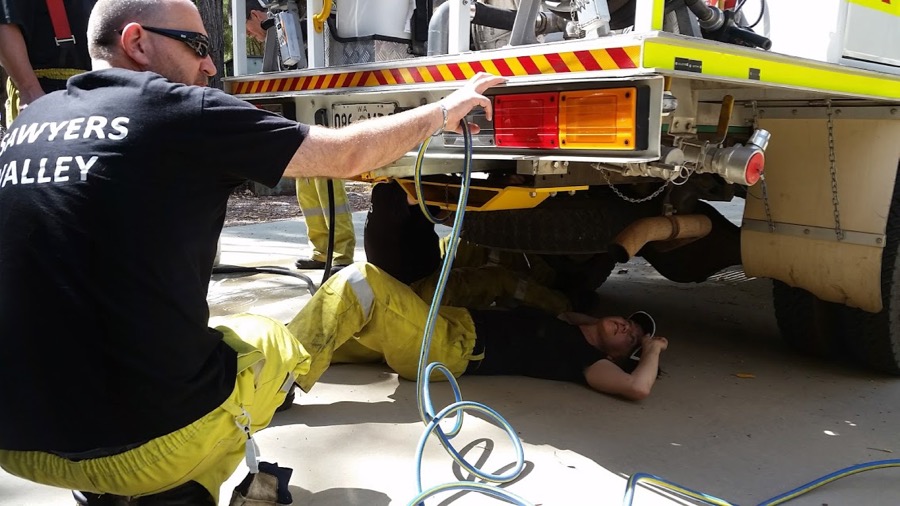 Then the hoses get a good clean from Mirline, Gogs and Angus.
All sorts of things going on here!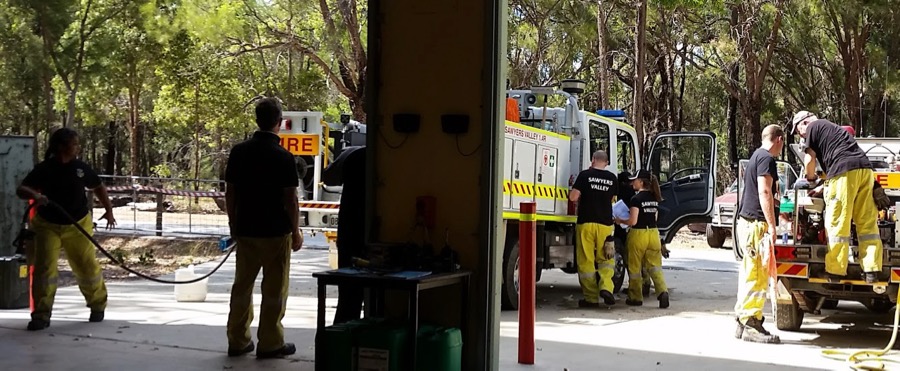 It is just wonderful to see everyone working together towards our common goal of keeping our community safe, and we get to have all sorts of fun, challenges and learning as a bonus.  What a great bunch of people!  Good work everyone!
Fantastic photos this month were taken by Murray, Michelle, Gogs, Andrew and Tina.  Don't forget to send Tina any photographs you would like to see in the news.