A Busy October.
It has been a very busy month for our Brigade, and there are so many fantastic photos that it is hard to know which ones to use!
We'll start by showing this photo, which was actually taken last month but only became available more recently.  It is the members of the Brigade who went along to support Angus for his award nomination. Don't we look smart?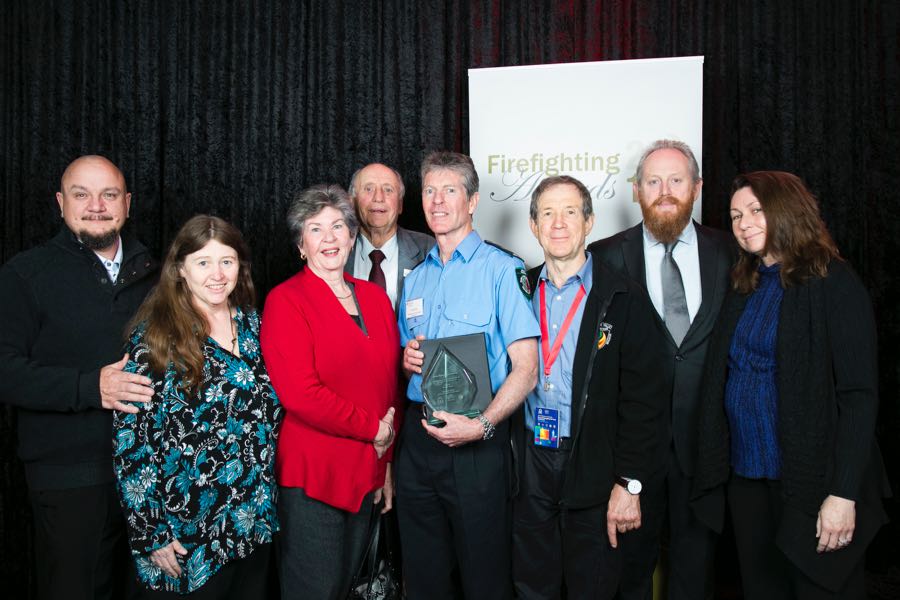 We have done many Hazard Reduction burns this month. Some by day...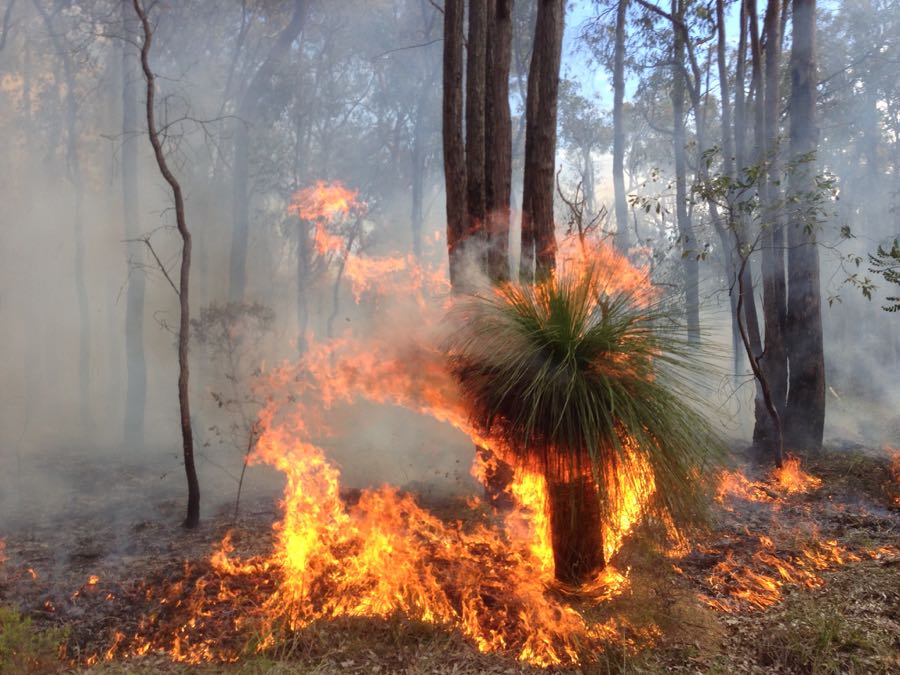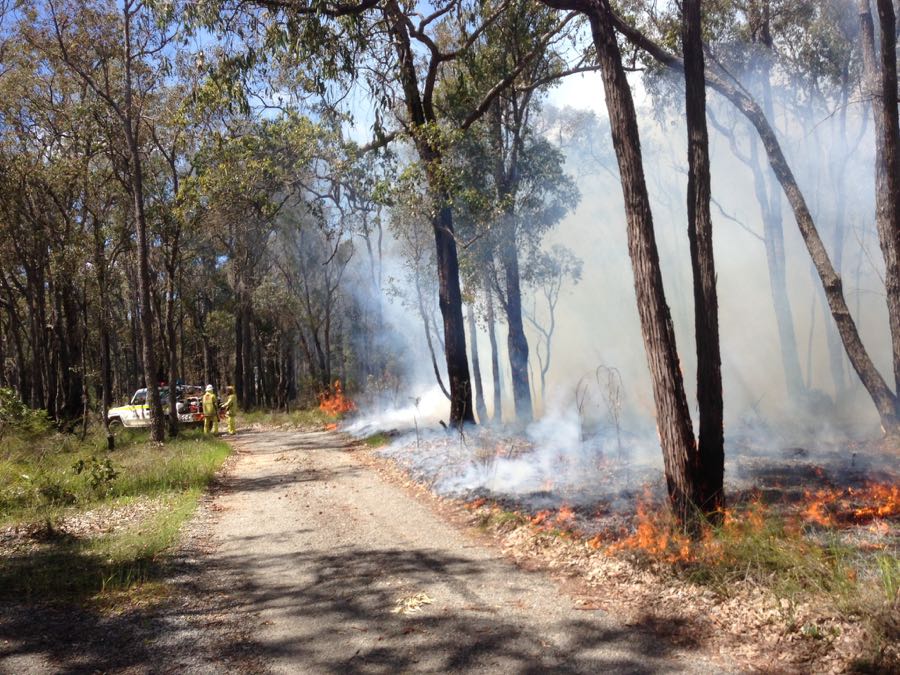 And some of our burns have been done starting in the afternoon and going into the night, which can make for some spectacular scenery.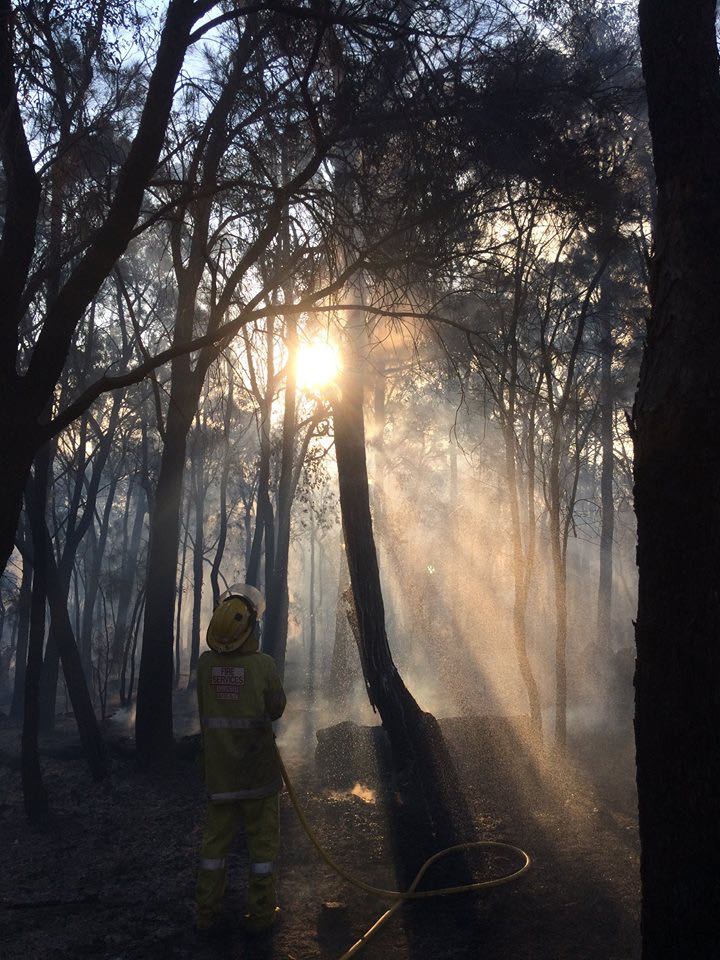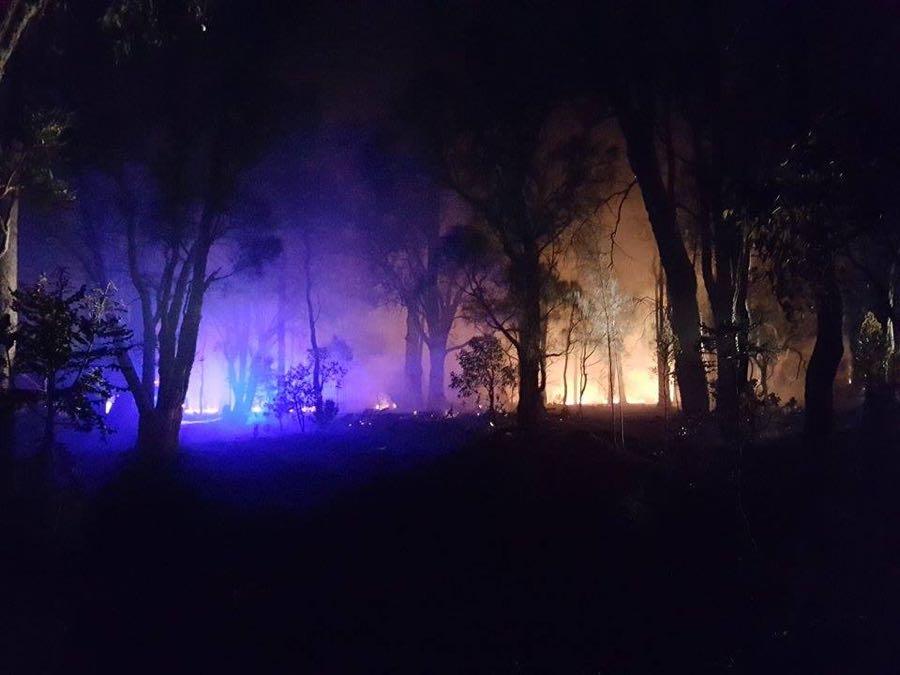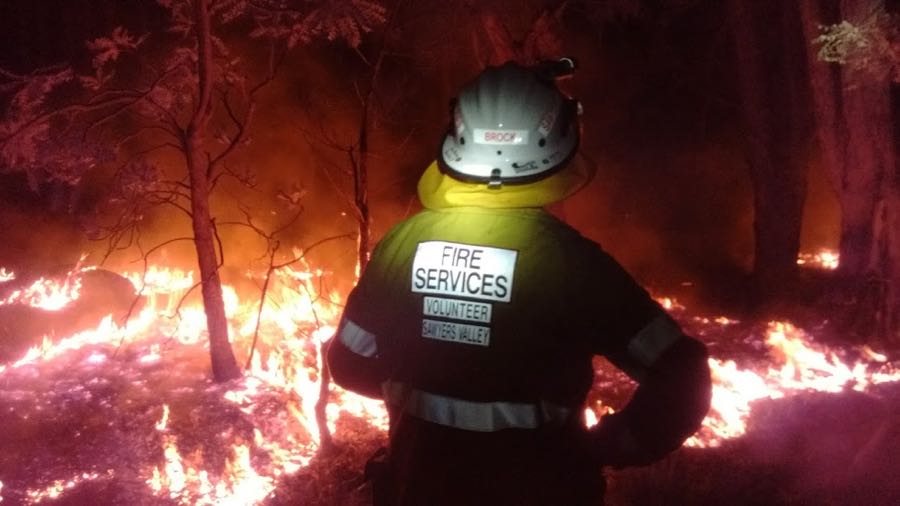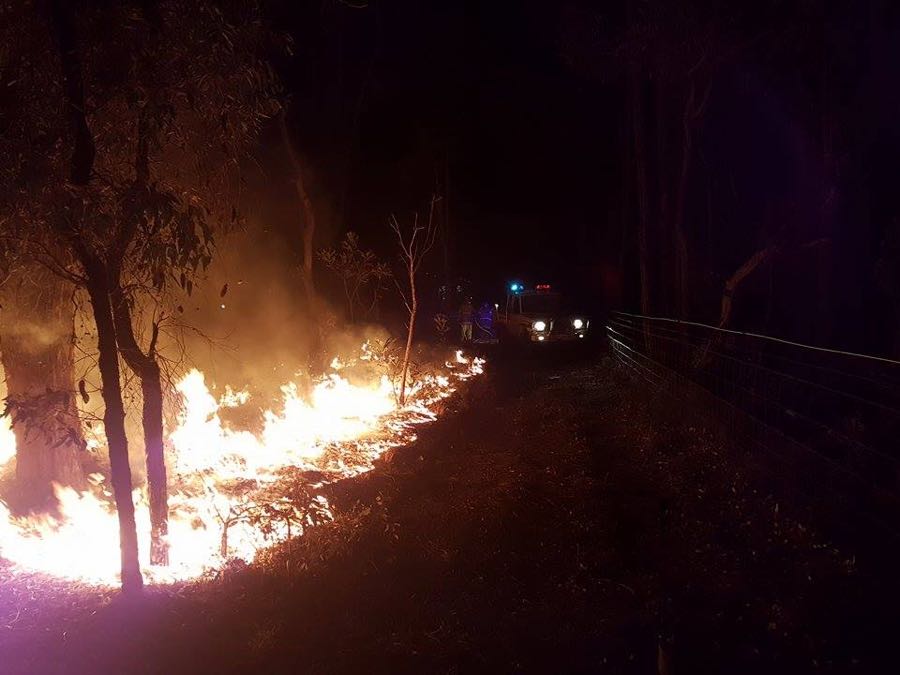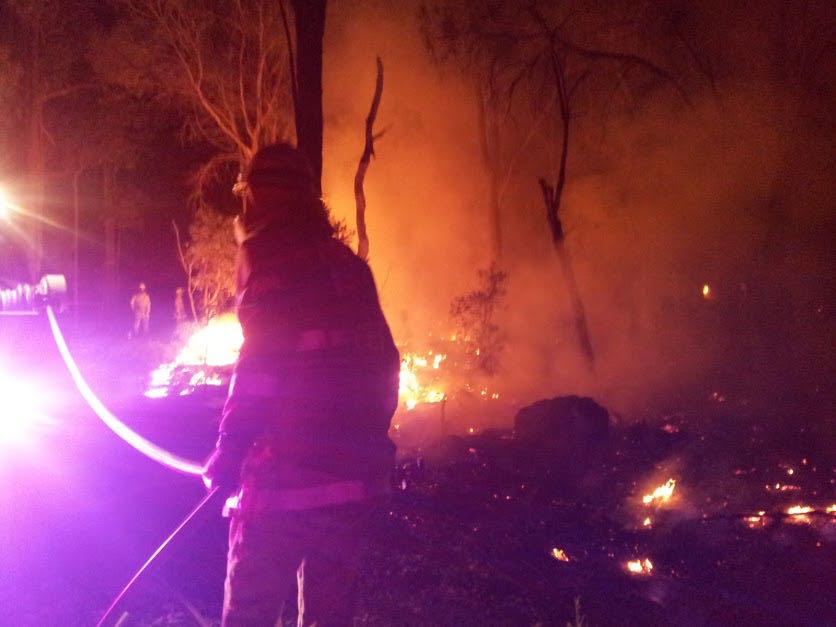 Four of our new members finished their basic training this month. Andrew H, Michelle,  Phil and Rob have all been out to burns too, and are already proving themselves to be useful team-mates.  Well done guys and gal!
This is our youngest Andrew of five. Not sure what he is doing here, perhaps demonstrating a disco move?  :)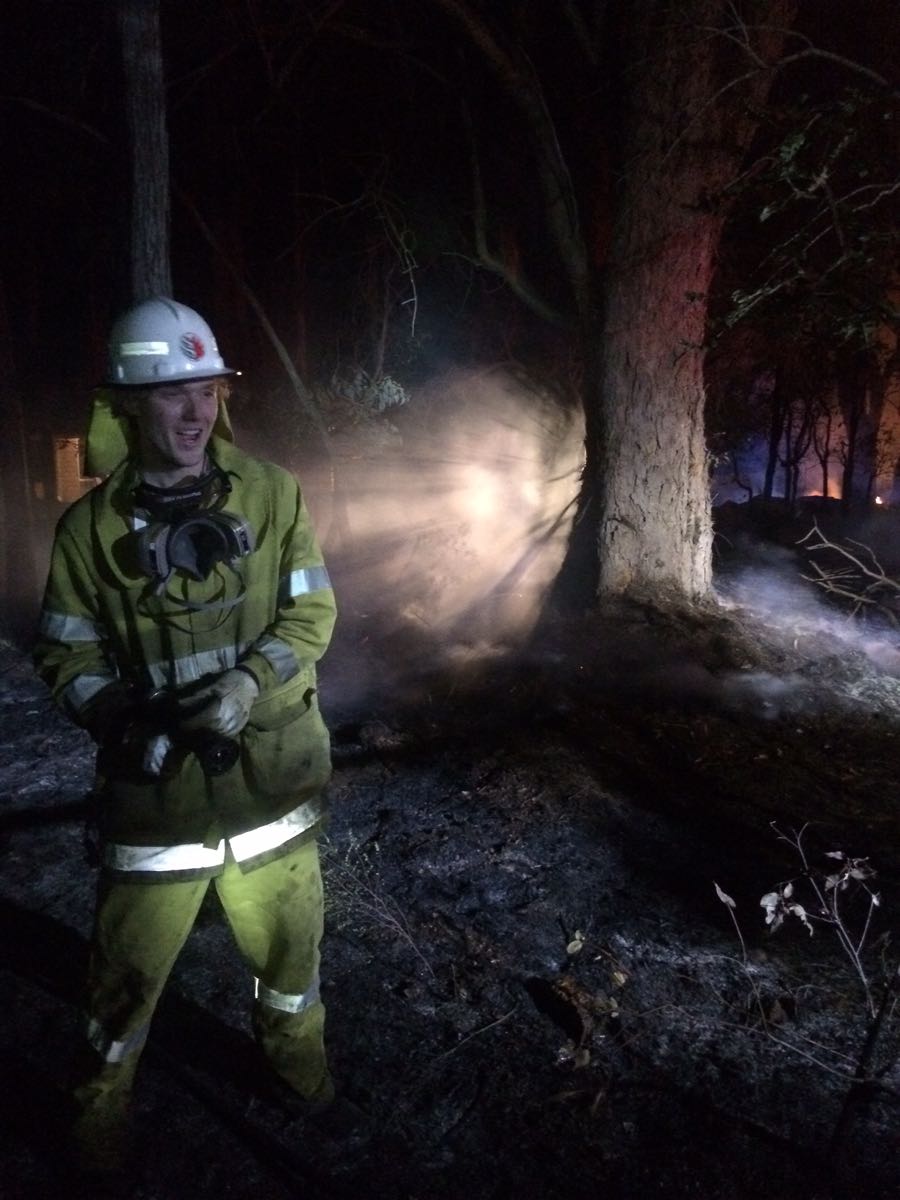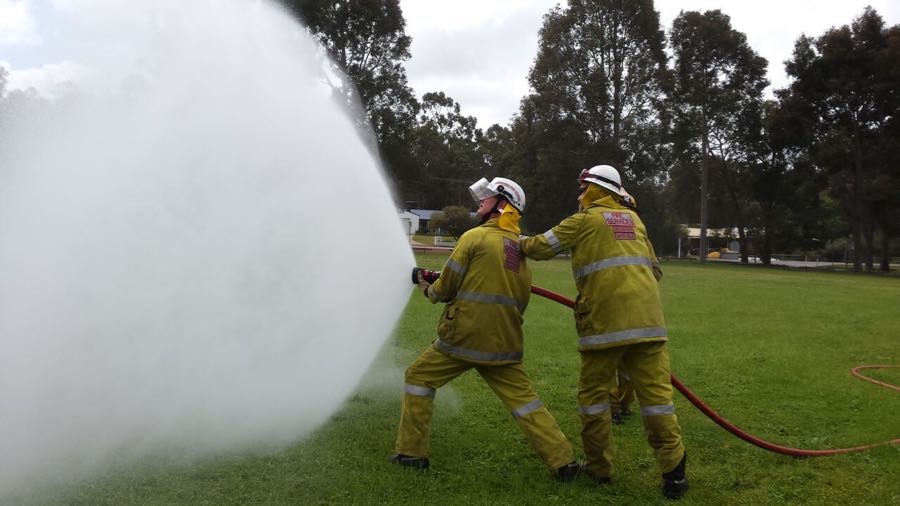 That's Phil and Rob showing good style on the hose at training. 
Saturday Schedules have been well attended, apart from a couple of weekends where we have had quite a posse of Sawyers members at the Mundaring Fireschool for Basic or Structural training. Here we are revisiting the art of Drafting with Training Officer, Andrew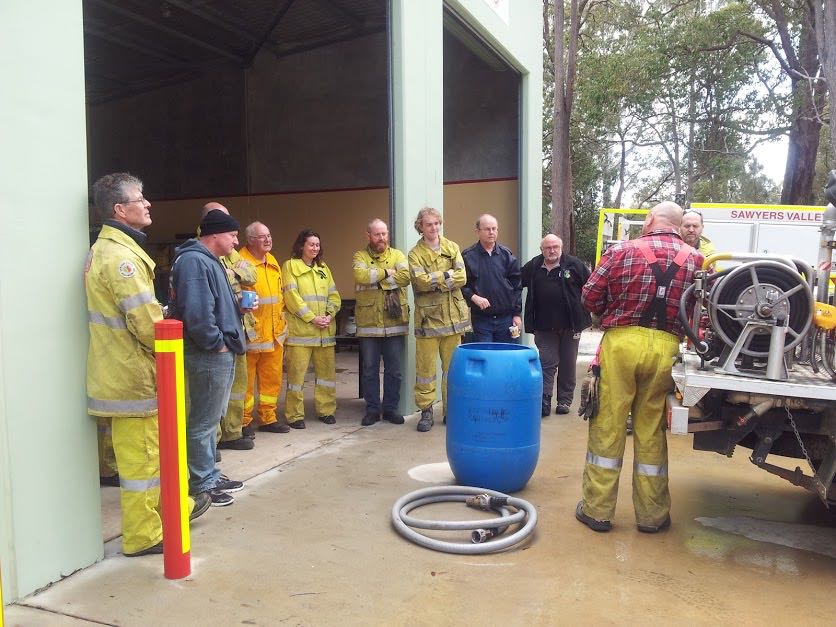 This month we had a lovely breakfast barbecue, but sadly, we didn't get any photos, because we were too busy enjoying the tasty food and chatting.  Many thanks to the members who supplied and cooked and baked our brekky.  We also welcomed this year's ten (!) new team members for the coming fire season, with a choccie frog and a nice new bandanna to wear on the fireground.  It is only a fun token of our esteem, but we do appreciate you all very much! 
Sister Fireys, Jen and Tina, had their other sister, PJ, visit from Qld and were snapped having a bit of fun showing her how not to test a hose.   PJ had a lovely time visiting the station and maybe she'll join a brigade in her own home town now that she's seen what it is all about.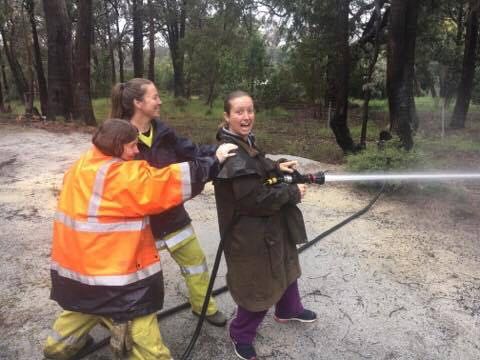 Someone else likes to visit the station with his mum, too.  Little Blake is rather keen on the old Austin, which has had its new fuel tank fitted and is one step closer to getting back on the road. Santa Run here we come!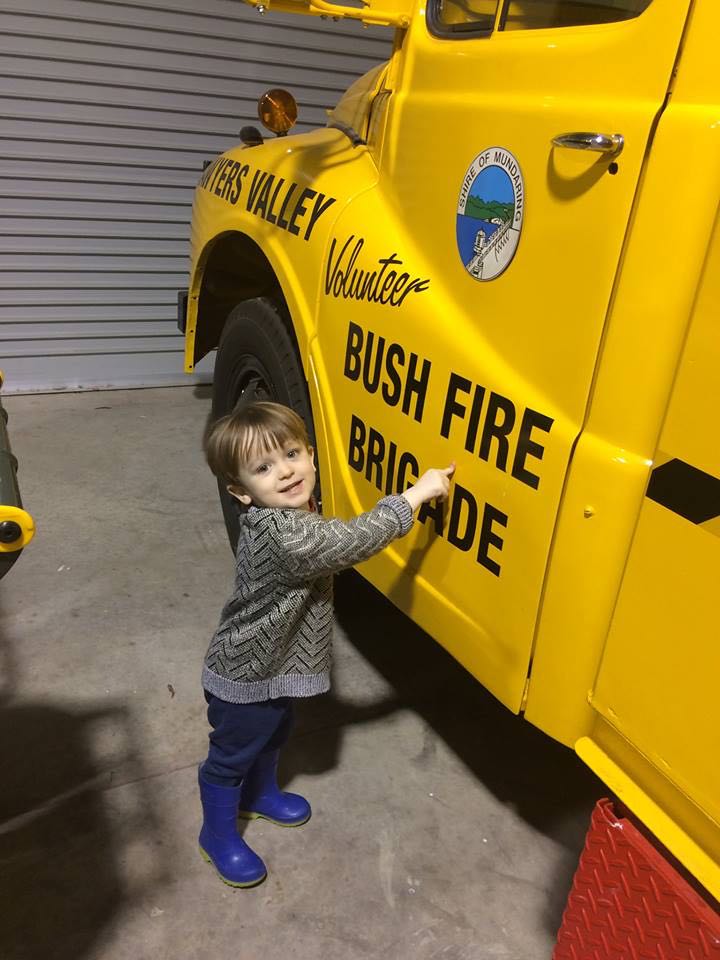 Blakey's mum, Michelle, did a fantastic job of organising a Swapmeet to fundraise for the Brigade this month.  It turned out to be a bit of a stormy day, but they still raised a little under $700, so well done to everyone who came along to help.  Michelle has also been a total trooper about turning out to HRBs and is always a cheerful presence in our Brigade, whatever we are up to.  Go Michelle!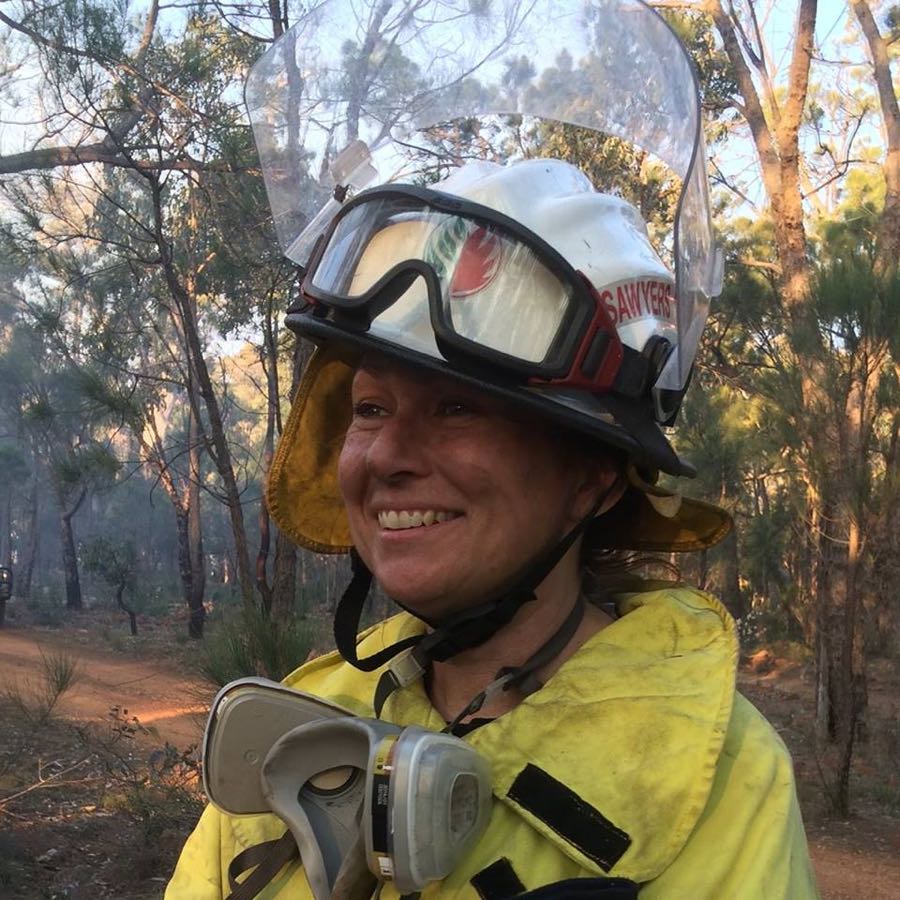 We have also had our new automatic hose reel fitted to the Light Tanker, which was very exciting, after an amazing effort by our friendly Fundraising Team.  So many people and organisations helped us to raise the money, and we have thanked them all heartily as we've been going along on this fundraising journey, but we would have taken a lot longer to get our new reel if it wasn't for the matching Smarty Grant we received from the Mundaring Shire for $1836 dollars to get us over the line!  Our Shire is always very supportive of all the Mundaring Brigades, and we can't thank them enough for giving us this extra support.  We'll put out out the fires faster for you now! 
Special thanks also go here to Allan from Mt Helena Brigade, who got us the reel for a fantastic price and fitted it for nothing, with the kind help of Paul, also from Mt Helena Brigade.  We are so grateful for your kind help!
Andy is seen here modelling our new hose reel.  Andy loves a new bit of technology so he is even more excited than the rest of us!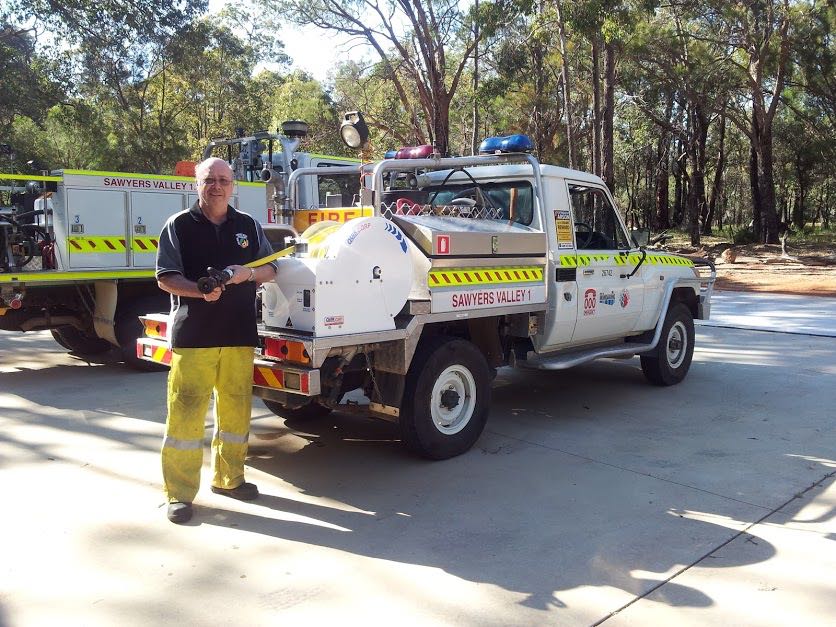 We'll end our news this month with this pair of great photos of Jen and Andy, showing how enjoyable this job can be, even when it is also being hard and dirty.  The joy of being part of a team that is focused on good work shines in these smiles.   We are all very lucky to have such fantastic people to work beside.  Go Team!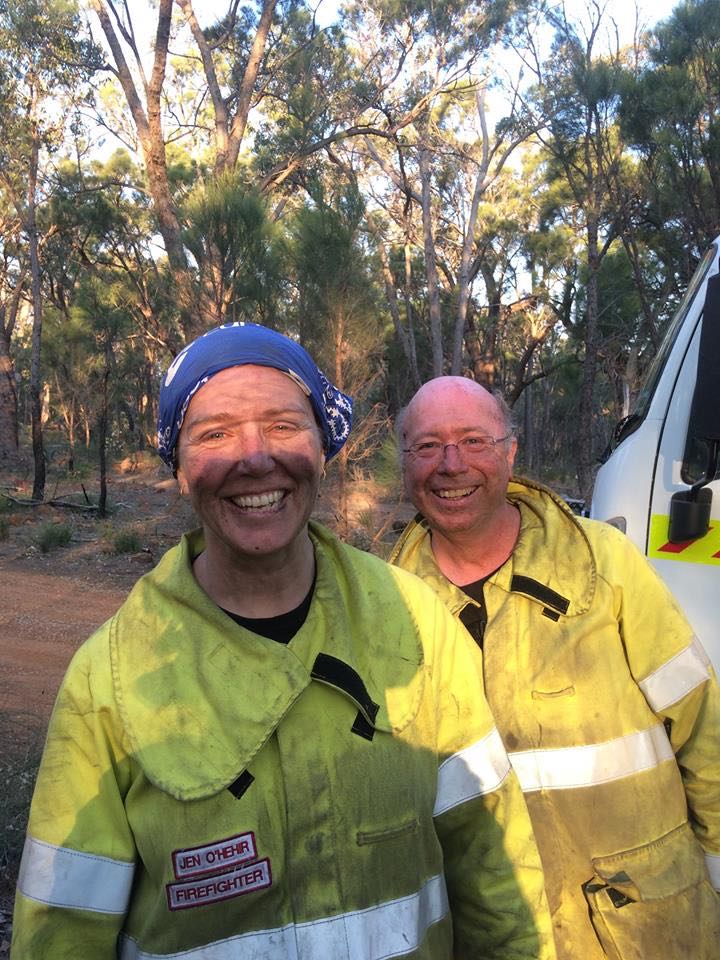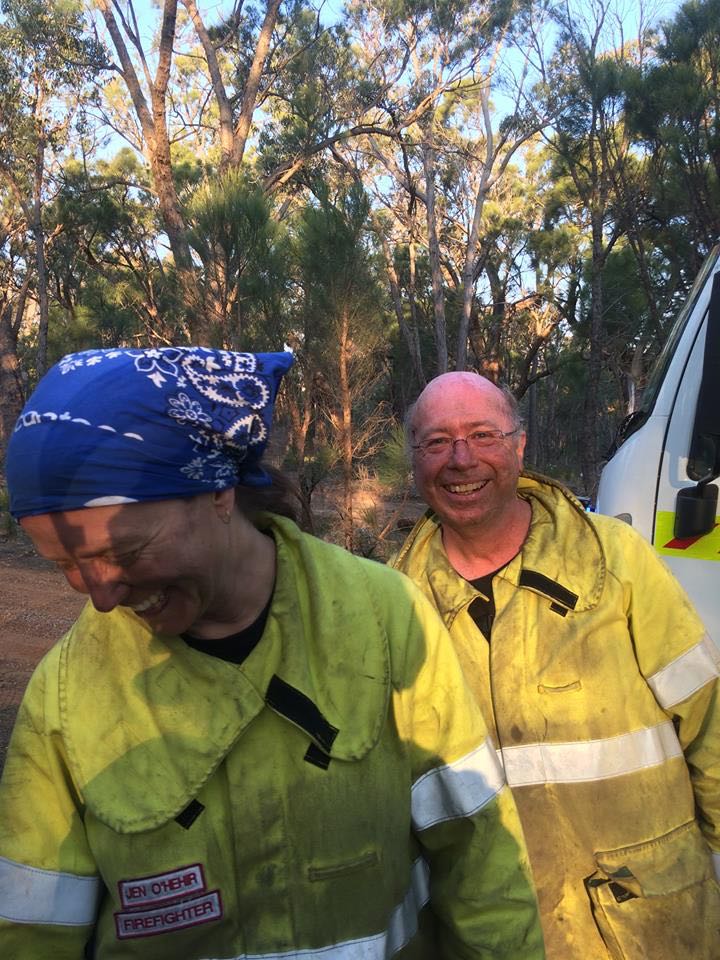 Wonderful photos this month come from Gogs, Michelle, Andy, Craig, Tina, Andrew and an official DFES photographer.  If you take a photo you'd like to see here, please send it to Tina before the end of the month.